The Largest Cities In Connecticut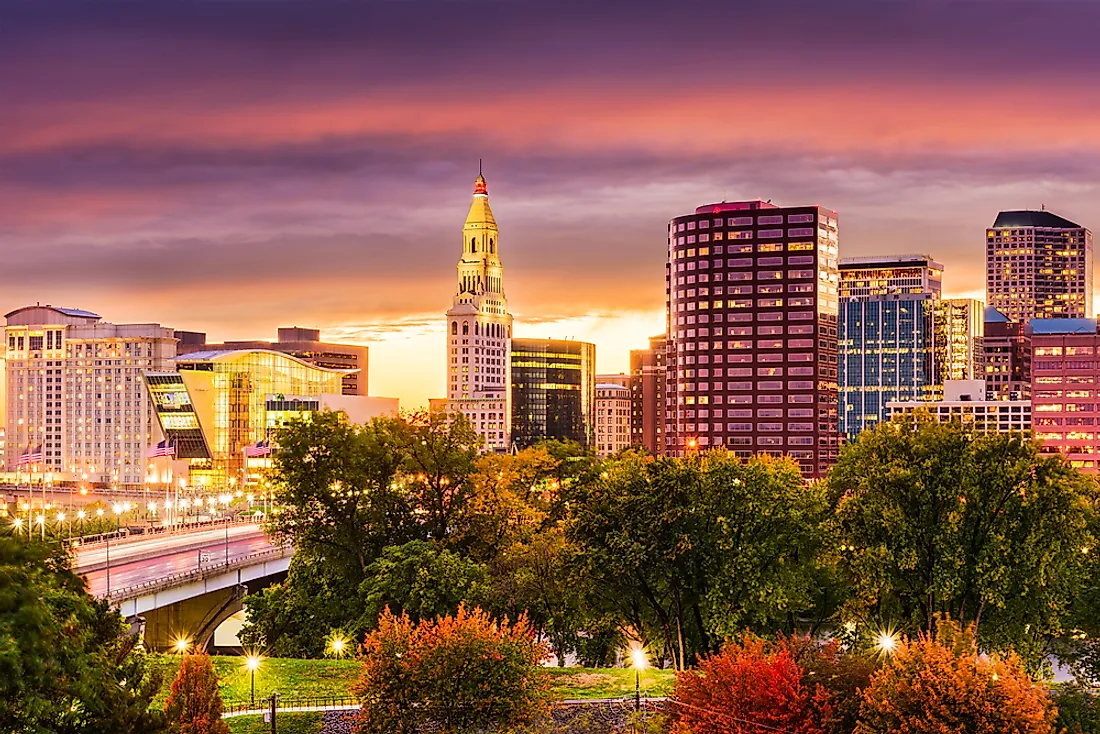 The Northeastern US state of Connecticut is home to a population of 3,574,097 individuals (as of 2010). It is located in the New England region of the country. The fundamental administrative level in Connecticut is the New England town. 169 towns are present in the state. Of these, 19 have been chartered as cities. Connecticut has the highest HDI and per-capita income in the county. Here is a list of the largest cities in Connecticut.
The Most Populous Cities In Connecticut
Bridgeport
A historic seaport city, Bridgeport is the largest city in Connecticut. It is located in Fairfield County where the Pequonnock River drains into the Long Island Sound. The population of the city is around 144,229 individuals. It is New England region's 5th most populous city. Previously a thriving industrial center, Bridgeport's economy is currently primarily service-based. Two hospitals present in Bridgeport, the St. Vincent's Medical Center and the Bridgeport Hospital, are the largest employers in the city.
New Haven
With a population of 129,779 people, New Haven is Connecticut's second biggest city and the country's first planned city. It is located in the New Haven County on New Haven Harbor along the shore of Long Island Sound. New Haven was founded in 1638 by English Puritans. It now hosts the prestigious Yale University. It is the largest employer and taxpayer in the city. Other important economic sectors of New Haven are biotechnology companies, professional services, financial services, retail trade, etc. New Haven is often regarded as the Cultural Capital of Connecticut since its houses many museums, music and theater venues, etc.
Hartford
The capital city of Connecticut is Hartford, its third largest city. Located in the Hartford County, the city hosts a population of 124,775 individuals. Due to a large number of insurance companies headquartered in Hartford, the city is often nicknamed as the "Insurance Capital of the World". The city, founded in 1635, is one of the oldest cities in the country. The country's oldest publicly funded park, Bushnell Park, is located in this city. The oldest public art museum, the Wadsworth Atheneum, is also in Hartford. Mark Twain, the renowned author, also lived here and completed some of his most famous works in the city.
Stamford
The fourth largest city in Connecticut, Stamford, hosts a population of around 122,643 people. It is located in the Fairfield County of the state. The city has a thriving economy. It has the second largest financial district in the New York metropolitan region after New York City itself.
Waterbury
The fifth largest city in Connecticut, Waterbury, is located on the Naugatuck River's banks. It is located in the New Haven County and has a population of around 110,366 individuals. It is New England's 9th largest city and the 10th biggest city in the New York Metropolitan Area.
The Largest Cities In Connecticut
| Rank | City | County | Population |
| --- | --- | --- | --- |
| 1 | Bridgeport | Fairfield | 1,44,229 |
| 2 | New Haven | New Haven | 1,29,779 |
| 3 | Hartford | Hartford | 1,24,775 |
| 4 | Stamford | Fairfield | 1,22,643 |
| 5 | Waterbury | New Haven | 1,10,366 |
| 6 | Norwalk | Fairfield | 85,603 |
| 7 | Danbury | Fairfield | 80,893 |
| 8 | New Britain | Hartford | 71,254 |
| 9 | Bristol | Hartford | 61,353 |
| 10 | Meriden | New Haven | 59,653 |