Largest Banks In The United States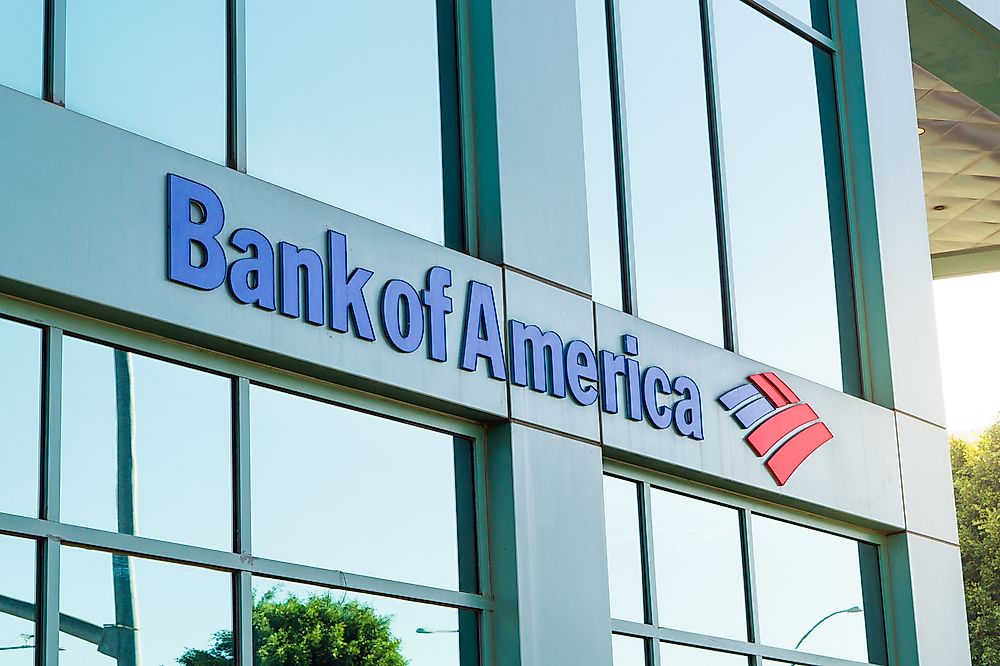 Roles Of Banks In The US Economy
Banks serve many functions in society. For one thing, billions of taxes are generated by the banking sector every year. Wealth created by the banks strengthen the national purchasing power, which results in a more stable economy. In addition, banks are important employers. The top 20 banks in the US employ more than 1.2 million people - JP Morgan Chase & Co alone employs more than 228,000 people. The majority of Americans deposit their money in checking and saving accounts in banks for safe keeping.
The 5 Largest Banks In The US By Assets
1. JP Morgan Chase & Co. - $2,534 Billion
JP Morgan Chase & Co was formed as a result of a merger of several banking companies in 1996. It is a multinational banking and financial service provider with its headquarters in New York City. Currently, it is the largest bank in the US.
With an asset base of 2.53 trillion, JP Morgan Chase & Co also ranks within the top ten for all global investment banks. The bank employs more than 228,000 employees and operates in over 100 countries. It provides financial services to millions of customers, small businesses and many of the world's prominent corporations, institutions, and governments.
2. Bank of America (BoA) - $2,281 Billion
The Bank of America was formed on October 17, 1904, by Amadeo Giannini. It was initially known as the Bank of Italy. The bank is an American multinational banking and financial service company with its headquarters in Charlotte, North Carolina. It is ranked second in terms of the asset base behind JP Morgan Chase & Co. It has 5,100 banking outlets, 16,300 ATMs, and more than 150,939 employees.
3. Wells Fargo - $1,951 Billion
Wells Fargo is the third largest bank in the US by total assets. The banking institution was founded on March 18, 1852, by Henry Wells and William Fargo. Its headquarters are in San Francisco California. Wells Fargo is the world's largest bank in terms of market capitalization and the third largest in the US by with an asset base of $1.951 trillion.
4. Citigroup - $1,843
Citigroup was founded on June 16, 1812. Citibank is the consumer division of the financial service multinational Citigroup with its headquarters in Manhattan, New York. In North America, Citibank has 983 branches. It provides standard banking transactions, market insurance, credit cards and online division which claims 15 million users.
5. Goldman Sachs Group - $916
Goldman Sachs Group was founded in 1869 by Marcus Goldman and Samuel Sachs. It is headquartered in New York. The firm's first investment was pioneering the use of commercial papers for investors and entrepreneurs. As of 2016, the bank had nearly 35,000 employees; its total assets amounted to $916 billion. The company operates in Asia, Europe, and the Americas.
The Largest Banks In The US
| Rank | Bank | Total Assets (In Billions of USD) |
| --- | --- | --- |
| 1 | JPMorgan Chase | 2,534 |
| 2 | Bank of America | 2,281 |
| 3 | Wells Fargo | 1,951 |
| 4 | Citigroup | 1,843 |
| 5 | Goldman Sachs | 916 |
| 6 | Morgan Stanley | 851 |
| 7 | U.S. Bancorp | 462 |
| 8 | TD Bank, N.A. | 380 |
| 9 | PNC Financial Services | 380 |
| 10 | The Bank of New York Mellon | 371 |
| 11 | Capital One | 366 |
| 12 | HSBC Bank USA | 273 |
| 13 | Charles Schwab Corporation | 243 |
| 14 | State Street Corporation | 238 |
| 15 | BB&T | 221 |
| 16 | SunTrust Banks | 205 |
| 17 | American Express | 181 |
| 18 | Ally Financial | 167 |
| 19 | Barclays | 157 |
| 20 | USAA | 155 |