Economics
The Largest Banks In The World
Chinese banks dominate the scene with the Industrial and Commercial Bank of China being the biggest bank in the world.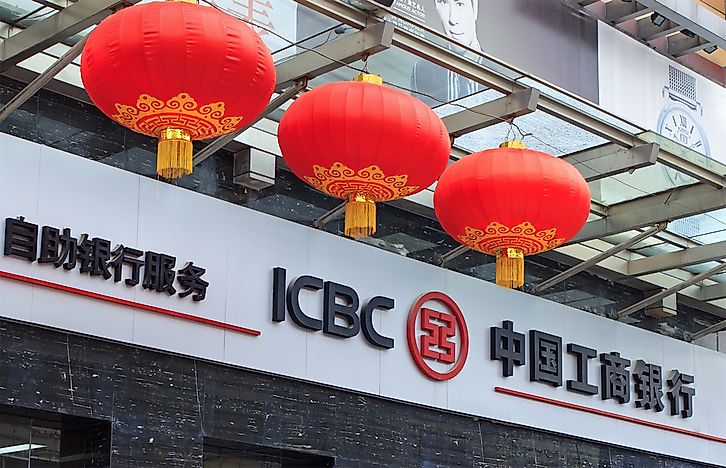 A bank's profitability and liquidity depend on the amount of assets it holds. Assets play a significant role in determining the size of the bank. Assets also show the worth of a bank and include both liquid wealth and property owned by the bank that can be converted to cash. Assets are divided into two types, current assets, and non-current assets. The basic accounting equation for calculating asset is liabilities plus stakeholders' equity. The ranking of banks is on the value of assets they own.
The Giants Of The Banking World
Industrial and Commercial Bank of China (ICBC)
Industrial and Commercial Bank of China is an international financial company and by far the largest bank in the world on asset value. ICBC is a government owned bank which initially began as a limited company in 1984. As of 2017 the bank has an asset value of US$ 3,473.09 billion. In 2006 ICBC was listed in the stock market in both Shanghai and Hong Kong. The bank has continued to grow to form a strong customer base, market competitiveness, market innovation, and a diversified business structure. The ICBC has a total of 490 million retail customers and 5,320 thousand corporate customers with its branches spread across Asia, Europe, America, and Oceania.
China Construction Bank Corporation (CCB)
The China Construction Bank Corporation was founded in 1954 and is the second largest bank in the world on asset value. Initially called People's Construction Bank of China, the bank is also the 6th largest company worldwide. CCB has 13,629 branches locally in China and several branches in different parts of the world. CCB has a total asset of US$3,016.45 billion.
Agricultural Bank of China (ABC)
The ABC was established in 1951 and comes as the third largest bank in the world. It has its central operations in Beijing with several branches spread across China, Tokyo, Hong Kong, London, New York, Frankfurt, Sydney, Singapore, and Seoul. In total ABC has 24,000 branches and retail customers totaling 320 million while the corporate clients total 2.7 million. In 2010 ABC went public, fetching the biggest IPO in the world. In 2015 ABC was ranked third by Forbes as the most valuable company with an asset value of $ 2,815.92 billion.
The Future Of Banking Operations
The biggest financial institutions have evolved into complex institutions offering a broad range of financial services to international markets, controlling trillions of dollars in both cash and assets. With innovation and technology, banks are identifying new business and markets and developing customized products and services. With globalization, minimal regulations, consolidation, and diversification the banking industry is likely to become even more complex in coming years.
Below is a list of the world's largest banks. All data comes from the S&P Global Intelligence Report.

The Biggest Banks In The World
| Rank | Bank | Total Assets (USD Billions) | Headquarters |
| --- | --- | --- | --- |
| 1 | Industrial and Commercial Bank of China | 3,473.09 | Beijing, China |
| 2 | China Construction Bank Corporation | 3,016.45 | Beijing, China |
| 3 | Agricultural Bank of China | 2,815.92 | Beijing, China |
| 4 | Mitsubishi UFJ Financial Group | 2,626.29 | Tokyo, Japan |
| 5 | Bank of China | 2,611.43 | Beijing, China |
| 6 | JPMorgan Chase & Co. | 2,500.00 | New York, United States |
| 7 | HSBC Holdings PLC | 2,374.15 | London, United Kingdom |
| 8 | BNP Paribas | 2,189.27 | Paris, France |
| 9 | Bank of America | 2,187.70 | Charlotte, United States |
| 10 | Wells Fargo & Co. | 1,930.12 | San Francisco, United States |
| 11 | Credit Agricole | 1,816.97 | Montrouge, France |
| 12 | Citigroup Inc. | 1,790.68 | New York, United States |
| 13 | Mizuho Financial Group | 1,752.19 | Tokyo, Japan |
| 14 | Deutsche Bank | 1,675.96 | Frankfurt, Germany |
| 15 | Sumitomo Mitsui Financial Group | 1,648.66 | Tokyo, Japan |
| 16 | Barclays PLC | 1,495.84 | London, United Kingdom |
| 17 | Societe Generale | 1,453.91 | Paris, France |
| 18 | Banco Santander | 1,413.68 | Santander, Spain |
| 19 | Groupe BPCE | 1,302.72 | Paris, France |
| 20 | Bank of Communications | 1,209.18 | Shanghai, China |