The Largest Artificial Islands In The World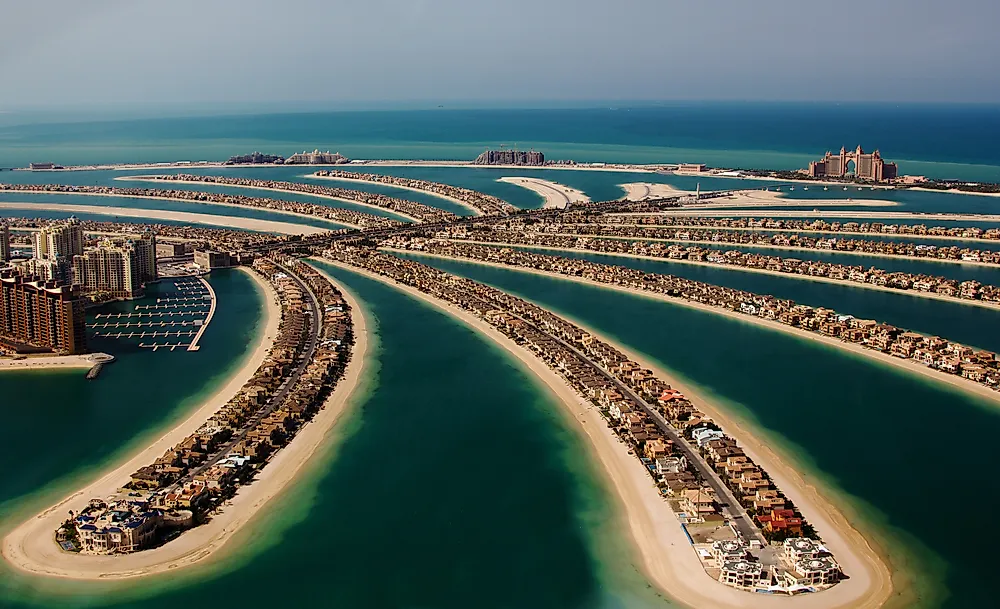 The world has watched with awe, tinged with some disapproval for the environmental consequence, of the construction of the spectacular artificial Palm Islands in Dubai. However, they were not the first artificial islands. Island construction dates back to pre-historic times in ancient Egypt, Ireland, Scotland, and Mexico. Artificial islands are man-made structures that are not created by natural forces. They can, however, expand on existing islets or combine many small islets, or build and consolidate natural reef formations. In earlier times floating structure built in shallow waters were the norm.
Artificial islands have been used for ceremonial purposes (in the past), to create isolated spaces for airports or to expand existing real estate or to accommodate growing dense settlements.
The Largest Man-Made Islands
Flevopolder-The Dutch Island
The Dutch have been expanding Holland since two millennia, in a region that is an estuary. They have tried to reclaim land from the North Sea by creating dikes to keep the waters away, or by draining lakes, to produce land called polders. It has been a slow process, with some setbacks when the sea flooded the areas. These polders are maintained dry by pumping water away as their height has not been raised. However, the 970 square kilometers island now makes up the 12th province in Netherlands and has 400,000 inhabitants. It supports agriculture and tourism. It boosts shipyards dating back to the Dutch India Company, and even a nature reserve.
Arabian Islands
The artificial islands of Yas Island, Palm Jebel Ali, and Palm Jumeirah in the United Arab Emirates total 39.5 square kilometers. These flattened palms shaped islands are easily recognizable even from space. Dubai and Abu Dhabi, which are two of the seven Emirates, are situated on the coast of the Persian Sea. Yas Island lies in Abu Dabi and the other two in Dubai. They are all world famous tourist attractions but were also created to serve luxurious real estates to billionaires. These islands have many leisure and entertainment centers and have added more than 500 kilometers of beach. The Palm islands were created by spraying sand dredged from the Gulf of Persia. Palm Jumeirah was built with only sand and stones and no artificial building material like steel or concrete.
Japanese Islands
Not satisfied with the 6,852 islands that are part of their archipelago, the Japanese have created more artificial islands than any other country. Four of which are ranked among the ten largest man-made structures. Of the four, two serve as International airports. Kansai was the first of the airports to come up on an artificial island, followed by the Chubu Centrair. Rokko Island, a 20-year long project was completed in 1992, and provides space for residence, working, recreation, and study.
Other Islands
Hong Kong added 75% of land by reclamation to expand the existing natural island at Chek Lap Kok to make space for its international airport. The Willingdon Island was also constructed by enlarging a natural small islet in the Lake of Kochi in the state of Kerala in south India. The sand used to build it was obtained when the backwaters of the lake were dredged to build the port at Kochi. It is part of an important maritime commercial base.
Environmental concerns of artificial islands
Though the islands have been important for commerce, they come at a high environmental cost. They change wave action and sediment deposition patterns on coastlines, leading to coastal erosion. Moreover, they also destroy marine habitats like coral reefs and threaten the existence of many marine species.
The Largest Artificial Islands In The World
| Rank | Island | Size (Sq km) | Location |
| --- | --- | --- | --- |
| 1 | Flevopolder | 970.00 | Flevoland, Netherlands |
| 2 | Yas Island | 25.00 | Abu Dhabi, United Arab Emirates |
| 3 | Kansai International Airport | 10.68 | Osaka, Japan |
| 4 | Hong Kong International Airport | 9.40 | Hong Kong |
| 5 | Palm Jebel Ali | 8.00 | Dubai, United Arab Emirates |
| 6 | Chubu Centrair International Airport | 6.80 | Tokoname, Japan |
| 7 | Palm Jumeirah | 6.50 | Dubai, United Arab Emirates |
| 8 | Rokko Island | 5.80 | Kobe, Japan |
| 9 | Fundao Island | 5.23 | Rio de Janeiro, Brazil |
| 10 | Port Island | 5.20 | Kobe, Japan |
| 11 | Willingdon Island | 3.96 | Port, Naval Base |