World Facts
The Largest Islands in Australia
Tasmania, which is also a state of Australia, is the country's largest island.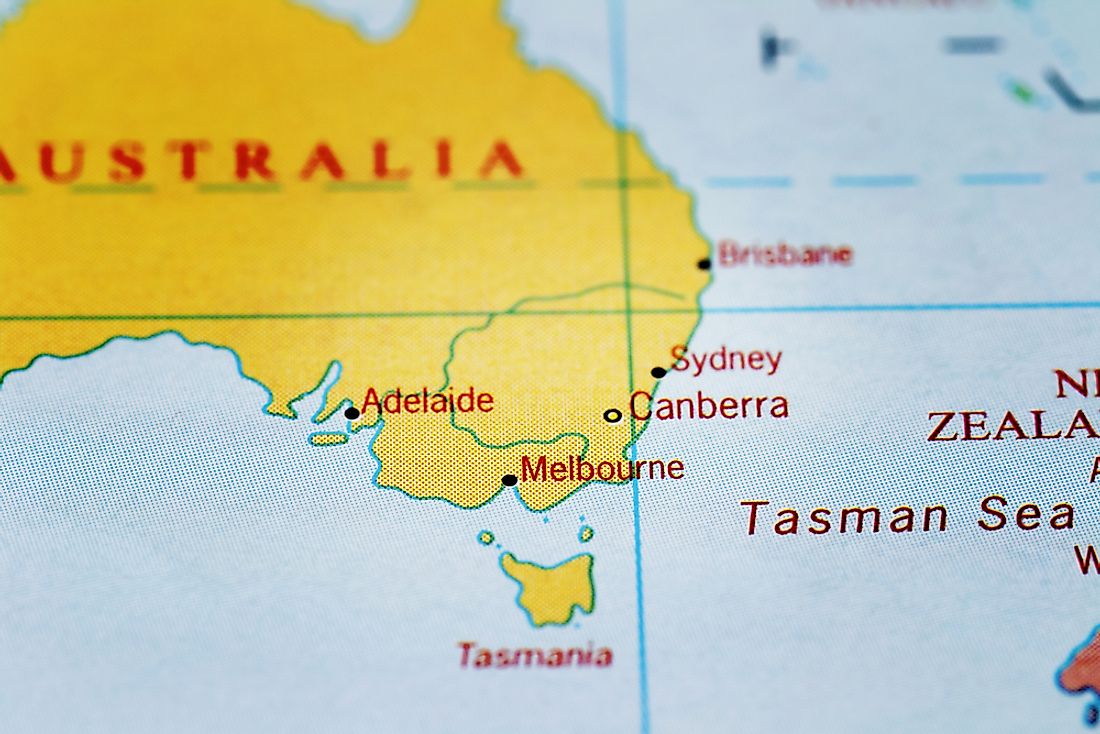 Australia is an independent state comprising the Australian mainland, Tasmania Island, and many other islands. Australia is the sixth-largest state on the planet and the biggest in Oceania. Australia has a population of about 26 million and occupies an area of approximately 2,969,907 sq miles. Australia is the driest, flattest, and oldest inhabited continent on the planet. Sydney is the biggest Australian city while Canberra is the capital city.
Largest Australian Islands
Tasmania
Tasmania is the 26th largest island on the planet and the biggest in Australia. Tasmania is surrounded by 334 islands. It is the only Australian state that is not in Mainland Australia. Tasmania is situated about 150 miles from Mainland Australia and 1,600 miles from Antarctica. Mainland Australia is separated from Tasmania by the Bass-Strait. Tasmania is an Australian Island state with a population of approximately 533,308 people. The island was occupied by the native population for about 30,000 years before it was colonized.
Melville Island
Melville Island, also referred to as Yermainer, is the second biggest Australian Island, which occupies an area of about 2,234 sq miles. Melville Island is located in the Timor Sea, off Northern Territory's coast. The largest settlement on Melville Island is Milikapiti, which is inhabited by over 559people, followed by Pirlangimpi (440 people). Melville Island, together with Bathurst and other nine uninhabited islands, are referred to as Tiwi Islands. Abel Tasman was the first European to see the island in 1644.
Kangaroo Island
Kangaroo Island is the third biggest Australian island right after Melville and Tasmania islands. Kangaroo Island is situated in South Australia, about 8.4 miles from Adelaide. The island is 90 miles long east/west and about 34 miles from its widest to narrowest points. The Island's coastline is about 336 miles long, and its highest point is at Flinders-Chase national park. The 981 ft high Mount MacDonnell is the second-highest point on the island. Kangaroo Island is separated from Fleurieu Peninsula by the Backstairs passage and from Yorke Peninsula by Investigator-Strait.
Groote Eylandt
Groote Eylandt is the fourth biggest Australian island and the largest in Carpentaria Gulf, which occupies an area of about 882 sq miles. The Warnindhilyagwa people own Groote Eylandt. Groote Eylandt is 390 miles from Darwin and 31miles from the Northern Territory. Groote Eylandt is 37miles long (south to north) and 31miles (west to east). Groote Eylandt is a low-lying island with an average height of about 49ft with Central Hill attaining a height of about 719ft. the island was named in 1644 by Abel Tasman.
Other Large Islands
Australia has about 8,222 islands within its maritime boundaries that vary in size, with Tasmania being the largest. Out of all these Australian islands, only nine islands are larger than 390 sq miles. Fraser Island is the fifth largest Island in Australia, and it is 160 miles from Brisbane. Bathurst Island is part of the Northern Territory and the second largest of all the 11 Tiwi Islands. Flinder Island is the seventh-largest Australian island, which occupies an area of about 528 sq miles. King Island is the eighth largest in the country, and it is situated in the Bass Strait. Mornington Island is the ninth largest Australian island and the biggest of the 22 islands forming the Wellesley islands group.
Largest Islands in Australia
| Rank | Island | Land Area (km sq) |
| --- | --- | --- |
| 1 | Tasmania | 65,022 |
| 2 | Melville Island | 5,765 |
| 3 | Kangaroo Island | 4,374 |
| 4 | Groote Eylandt | 2,285 |
| 5 | Fraser Island | 1,840 |
| 6 | Bathurst Island | 1,692 |
| 7 | Flinders Island | 1,330 |
| 8 | King Island | 1,121 |
| 9 | Mornington Island | 1,002 |
This page was last updated on November 6, 2019.
Citations
Your MLA Citation
Your APA Citation
Your Chicago Citation
Your Harvard Citation
Remember to italicize the title of this article in your Harvard citation.