World Facts
The Highest Urban Settlements In The World
The city of La Rinconada, located at a height of 16,728 in the Peruvian Andes, is the world's highest inhabited city.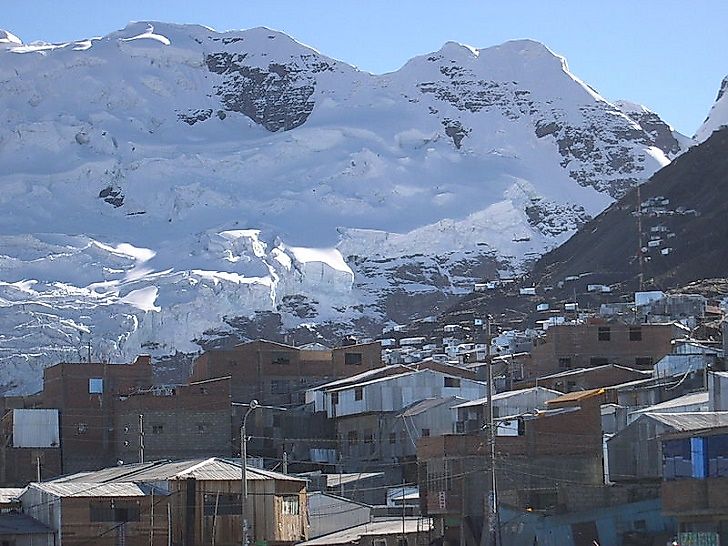 One of the most curious human behaviors is living at high altitudes. Where many plants and animals are unable to survive, humans have managed to adapt and settle into communities at extreme heights. Being at high altitude is difficult for many people because of the lower levels of oxygen, but inhabitants of these areas have evolved specific biological adaptations, either hematological or respiratory, which allow them to survive with lower oxygen in the air. Where are high altitude communities found? This article takes a look at some of the highest settlements in the world and how people there live.
Highest Human Settlements in the World
La Rinconada, Peru

The highest known human settlement in the world is high in the Andes mountains in La Rinconada of Puno, a district of Peru. This community is located at 16,728 feet above sea level. What brought the majority of individuals this high up the mountain is the nearby gold mine. Here, men (women are not allowed in the mines) work for 30 days without salary. On the 31st day, they fill bags with as much earth and rock as they can carry and proceed to sift through the materials looking for gold. They keep what they can find and, if there is no gold, they earn nothing for the month. Women are permitted to work in the dump sites where earth movers discard extra earth and rock from the mining site. They sift through what has been dumped looking for gold. After such hard work, women and men go home to houses without plumbing. This town grew too fast for such planning, it went from being a prospector camp to sustaining 30,000 people in just 8 years from between 2001 and 2009, when the price of gold rose over 200%.
Wenquan, China

After La Rinconada, is Wenquan in Qinghai, China at 15,980 feet above sea level. Founded in 1955, this small city is located north of the Tanggula mountains in the Qinghai-Tibet Plateau. The few tourists who have visited here claim it is not much of a town. The Tanggula Pass is nearby which is the route to reach the Tibet Autonomous Area.
Korzok, India

The third highest community in the world is 15,000 feet above sea level. Korzok, in Ladakh, Jammu, and Kashmir, India, is home to Changpa nomads. The major economic activity is herding the sheep that produce pashmina wool. This wool has increased in value over the last few years which has significantly boosted the economy here. Agriculture, mainly barley and oats, also plays a big role in daily life of the residents. Horses plow the crops. Of note is the Korzok monastery located nearby which is around 500 years old.
Parinacota, Chile

Following Korzok is Parinacota in the Arica-Parinacota region of Chile. The elevation here is 14,435 feet. The town is surrounded by the Lauca National Park and the population is only 29. There is a small, 17th Century church here with watercolor painted murals.
Other Towns and Cities in the Sky
After these cities, other high altitude settlements above 14,000 feet are Dolpa in the Karnali Zone of Nepal (14,301 feet) and Mina Pirquitas in the Jujuy Province of Argentina (14,240 feet). After these communities, those still located in the greater than 13,000-foot altitude range are Colquechaca in the Potosi Department of Bolivia (13680 feet), Qarabolaq in the Wakhan District of Afghanistan (13,579 feet), and Chatyndy in the Ohh Province of Kyrgyzstan (13,166 feet). Finally, the last place on this list of high settlements is Laya in the Gasa District of Bhutan at 12,533 feet above sea level.
Role in Tourism
Because humans are fascinated by the unknown, high elevation places are popular as tourist destinations. Tourism can often improve the local economy, however, increased numbers of people, particularly tourists, can also have a negative impact on the surrounding environment. Tourists, sometimes without meaning to, leave a mark on the landscapes and biodiversity. Some communities, like Korzok in India, have looked for solutions to this problem. Korzok offers a home-stay program that allows curious tourists to experience life in the Himalayas in a sustainable manner.
The Highest Urban Settlements In The World
| Rank | Town/City | Location | Height (in feet) |
| --- | --- | --- | --- |
| 1 | La Rinconada | Puno, Peru | 16,728 |
| 2 | Wenquan | Qinghai, China | 15,980 |
| 3 | Korzok | Ladakh, Jammu and Kashmir, India | 15,000 |
| 4 | Parinacota | Arica-Parinacota, Chile | 14,435 |
| 5 | Dolpa | Karnali Zone, Nepal | 14,301 |
| 6 | Mina Pirquitas | Jujuy Province, Argentina | 14,240 |
| 7 | Colquechaca | Potosi Department, Bolivia | 13,680 |
| 8 | Qarabolaq | Wakhan District, Afghanistan | 13,579 |
| 9 | Chatyndy | Ohh Province, Kyrgyzstan | 13,166 |
| 10 | Laya | Gasa District, Bhutan | 12,533 |
About the Author
Amber is a freelance writer, English as a foreign language teacher, and Spanish-English translator. She lives with her husband and 3 cats.
This page was last updated on April 25, 2017.
Citations
Your MLA Citation
Your APA Citation
Your Chicago Citation
Your Harvard Citation
Remember to italicize the title of this article in your Harvard citation.