The Easternmost Point in North America Is Actually West of Alaska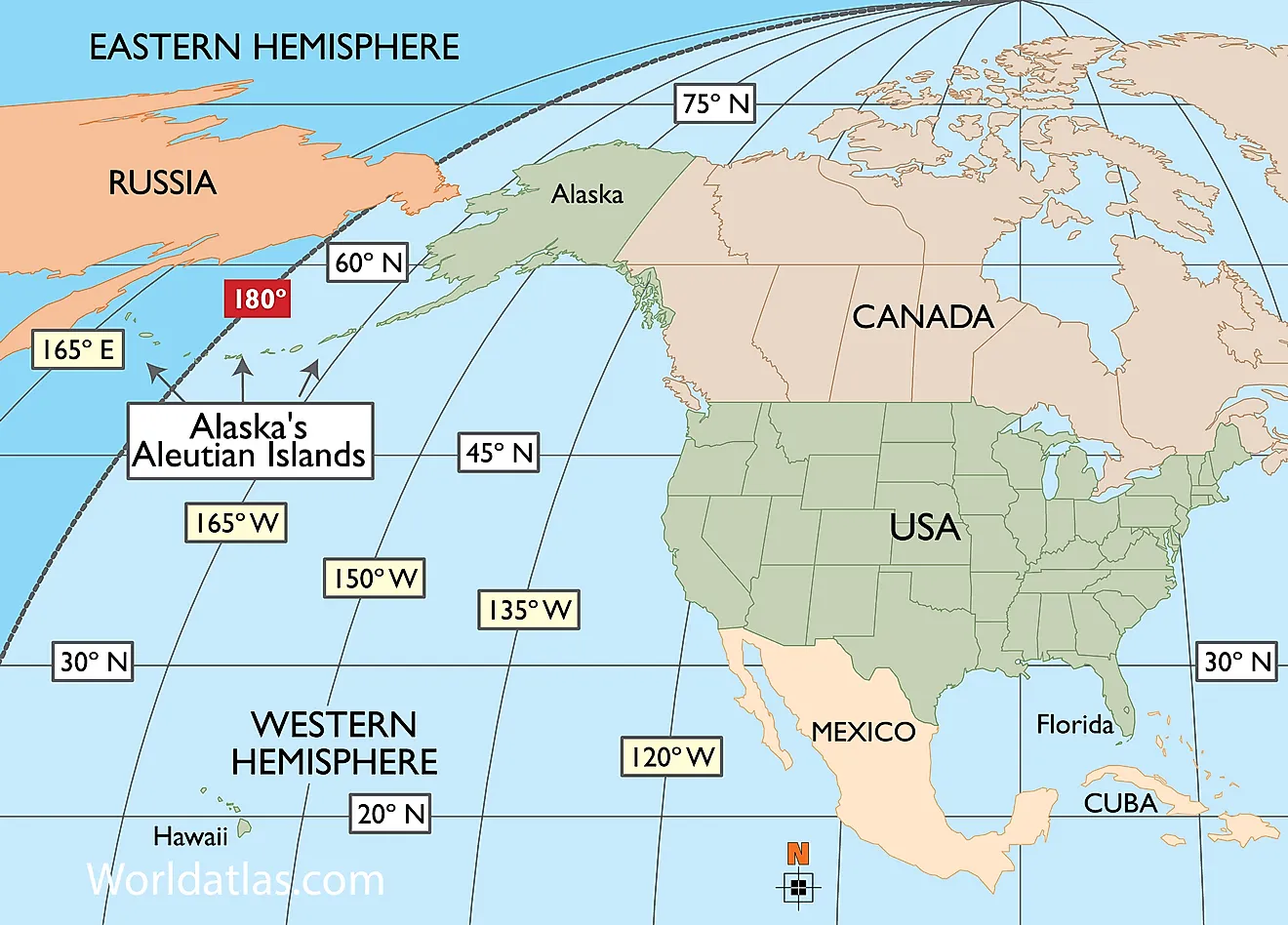 Amatignak Island in Alaska with gps coordinates 51°16′7″N 179°8′55″W is the westernmost point in all U.S. territories by longitude
Semisopochnoi Island in Alaska with gps coordinates 51°57′42″N 179°46′23″E – easternmost point in all U.S. territory by longitude
In the contiguous United States, the farthest east anyone can travel Sail Rock, Lubec, Maine (coordinates: 44°48′45.2″N 66°56′49.3″W).  The furthest east you can travel is Point Udall, St. Croix, U.S. Virgin Islands (coordinates 17°45′19″N 64°33′54″W). Both these spots are not actually the easternmost point of the United States. That designation belongs to the state of Alaska, which also happens to have the westernmost point of the United States with Amatignak Island (coordinates 51°16′7″N 179°8′55″W). "Wait. What?" you may be asking. "How can Alaska have both the easternmost and westernmost points in the United States?" In short, it has to do with hemispheres and the 180th Meridian.
Divison Between Western and Eastern Hemispheres
The circle that the prime meridian and 180th Merdian make divide Earth into the Eastern Hemisphere and the Western Hemisphere. The U.S falls almost completely in the Western Hemisphere. There are plenty of islands and territories on the eastern half of the planet: Saipan, Guam, and Wake Island, to name a few. All of these Pacific islands sit on the other side of the 180th meridian, which separates the eastern hemisphere from the west, and are technically east of the mainland United States.
Most Eastern Point in the United States
Alaska's Aleutian Islands arc right up to the edge of the Western Hemisphere at the 180th Meridian making Amatignak Island (51°16′7″N 179°8′55″W), Alaska the westernmost point in the U.S. Longitudinally, Alaska also has an easternmost point, Semisopochnoi Island (51°57′42″N 179°46′23″E), as the Aleutian Islands cross the 180º Meridian, into the Eastern Hemisphere. That makes Alaska the most northern, western, and eastern state, longitudinally, in the U.S.