It is an unfortunate truth that there have been dozens of school massacres in the United States, particularly throughout the last thirty years. They often result in high death tolls and unimaginable grief for those involved. Even though they are in actuality quite rare, these traumatic events have many people concerned about their safety and that of their children. As a result, national gun debates are being waged fiercely, an issue which deeply divides the American people. While the country struggles with how to prevent future shootings and bombings, it is important to never forget the ones that came before. From the Bath School disaster to Virginia Tech, the following six cases are the deadliest school massacres in American history.
Bath School Disaster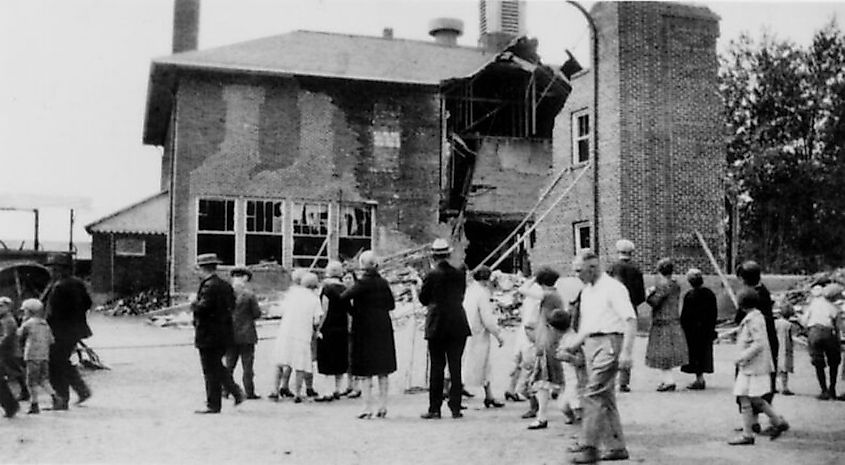 The Bath School disaster was a pair of bombings that took place in 1927 at Bath Consolidated School in a small township in Michigan. Andrew Kehoe (55) methodically planned out his attack, spending months placing dynamite and explosives around the school. On May 18 at 9:45 am, they detonated by way of alarm clock. After killing his own wife, Kehoe drove his truck up to the school and fired a rifle at metal debris and additional dynamite hiding in the backseat. He died in this second explosion along with several others. Overall, the bombings killed 44 people—38 of which were schoolchildren—and left 58 injured. A later investigation found other explosives under the south wing that failed to detonate.
When the school originally opened in 1922, local taxes were raised as a means to pay for it. Kehoe found this a great financial burden and blamed these additional taxes for the foreclosure proceedings against his farm. At his homestead following the attacks, a note was found saying: "criminals are made, not born." The ruins of the school were quickly demolished. Today, a commemorative park marks the site. The Bath School Disaster is the worst school bombing in American history.
Columbine High School Massacre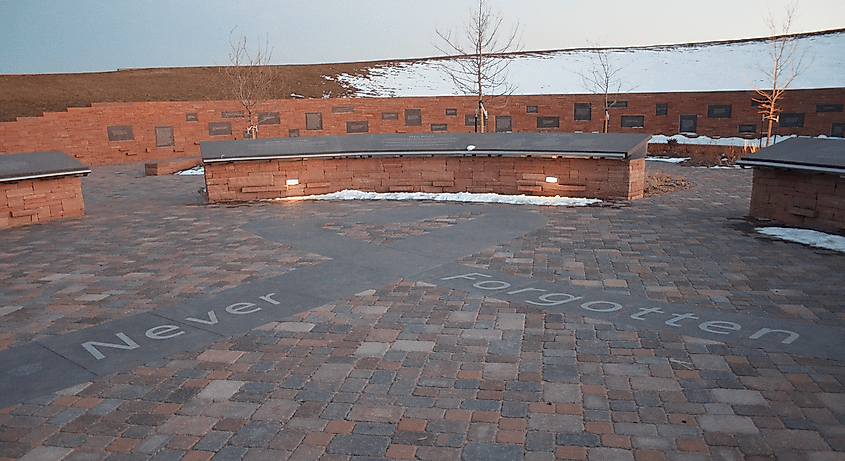 On the morning of April 20, 1999, Eric Harris (18) and Dylan Klebold (17) entered Columbine High School in Littleton, Colorado. Sporting trench coats, they opened fire, killing twelve students and one teacher. 24 were injured. Most of the bloodshed occurred in the school's library where, shortly after noon, Harris and Klebold turned the guns on themselves. Following the massacre, it was reported that they had also planted a bomb that failed to detonate.
It was initially thought that the gunmen were purposefully targeting athletes, minorities, and Christians, but it was later determined that they chose their victims at random. In terms of motive, one theory suggests that Harris and Klebold were bullied and had committed the attack as an act of revenge; however, others speculate that they merely wanted to create a nightmare that would shock the country. A video was found shortly after the shooting of them apologizing to their parents for what they were about to do. The massacre at Columbine was at the time the worst high school shooting in US history. It is also considered to be the event that has most shaped the modern gun control debate.  
Sandy Hook Elementary School Shooting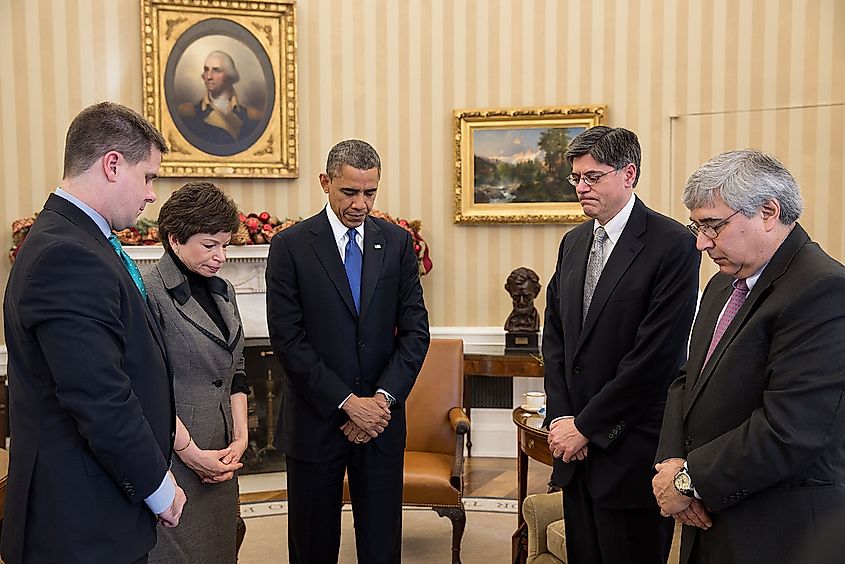 On December 14, 2012, Adam Lanza (20) rocked the nation when, after killing his mother, he drove to Sandy Hook Elementary School in Newtown, Connecticut. He entered through a window and immediately took down the principal and school psychologist. The attack was broadcast over the PA system, prompting teachers to take action in accordance with the lockdown protocol. Law enforcement arrived within minutes, but sadly, Lanza managed to kill twenty children—the majority of whom were six or seven—and six school administrators before killing himself. Two were left injured.
Lanza's weapons of choice were firearms that his mother had previously purchased, including a .22-calibre rifle and an AR-15, the civilian semiautomatic version of the military M16 assault rifle. Motive could not be conclusively determined, although many people relate it to mental illness. Following the massacre, President Barack Obama addressed the nation with tears in his eyes. Public outrage led to a push for federal changes to gun laws, but the bill did not pass; however, a number of states have since amended their local laws. In 2014, the school was demolished and replaced by a new one with a series of surveillance cameras.   
Stoneman Douglas High School Shooting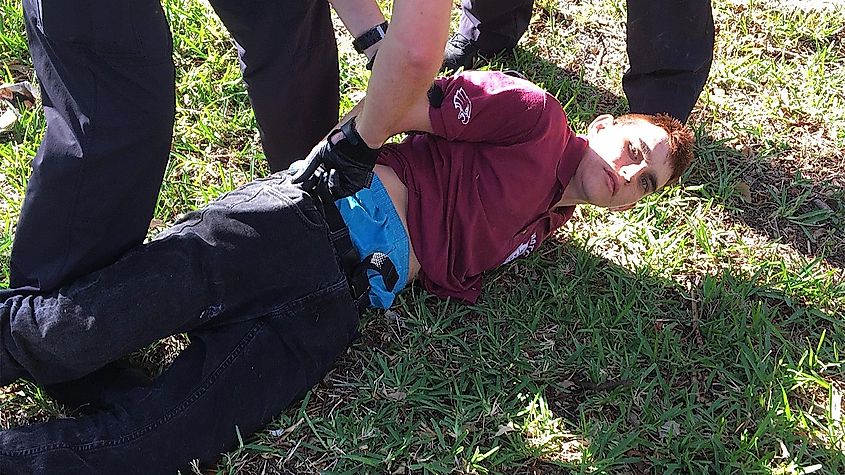 In 2018, Nikolas Cruz (19) opened fire at Marjory Stoneman Douglas High School in Parkland, Florida. It was Valentine's Day. Cruz had recently been expelled for disciplinary reasons and was currently enrolled in a different school in the same district. He arrived in an Uber carrying a big black bag. A security guard spotted the young man and did nothing. A freshman caught Cruz loading his rifle in the bathroom and told a staff member, but they, too, failed to act. Armed with a semiautomatic AR-15 rifle, Cruz killed seventeen people and left more than a dozen injured. The massacre took only five minutes and 32 seconds. The gunman escaped in the crowd of fleeing students, but was later arrested off campus.   
Cruz was charged with seventeen counts of premeditated murder. He had a history of racist comments and supposedly had ties to white supremacists, often voicing his desire to shoot police and anti-fascist protestors. Six months prior to the attack, the FBI had been alerted to a comment he made on YouTube stating: "I'm going to be a professional school shooter." Nothing came of it. Immediately following the attack, the surviving students launched a push for stricter gun control. A little over three weeks later, new gun laws were passed in Florida.
University of Texas Tower Shooting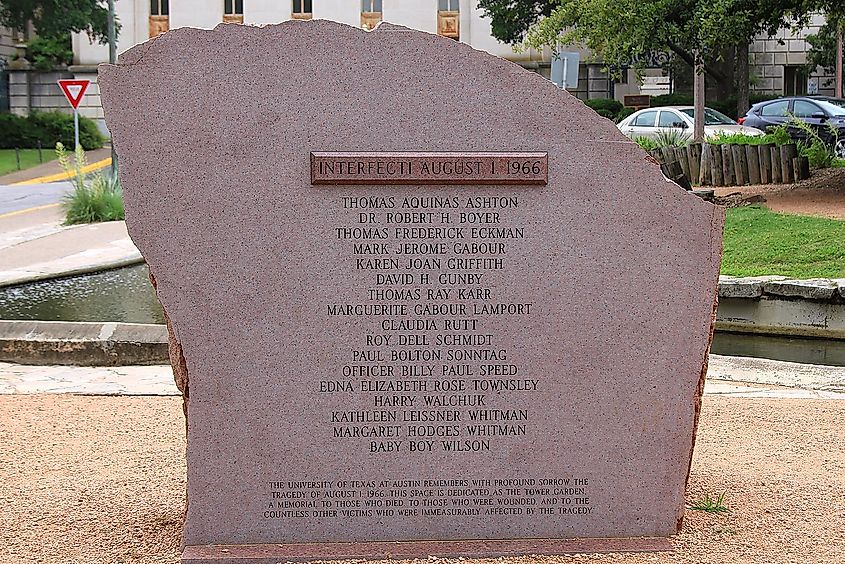 Charles Whitman (25) was a student and ex-Marine who would go down in history as the "Texas Tower Sniper." On August 1, 1966, he fired down at the passersby below from the clock tower at the University of Texas in Austin. He killed fourteen people and injured 31 others. After a horrifying ninety minutes, four law enforcement officers surrounded Whitman on the observation deck and shot him. It was later discovered that he had killed his wife and mother prior to the attack.
Whitman grew up with an abusive father and joined the Marines in 1959 as a means of escape. He qualified as a sharpshooter and served for eighteen months at the Guantanamo Bay naval base in Cuba. He enrolled at the University of Texas on a military scholarship, but was recalled to active duty due to poor grades. He was discharged in 1964 and returned to university a year later. Meanwhile, Whitman was dealing with rage. Doctors prescribed him all sorts of medication. In his suicide note, he wrote that he did not understand himself anymore. Following his death, an autopsy revealed a tumor in his brain. Some health experts argued that it did not influence his behavior, while others suggested it might have contributed to his inability to control his emotions. Regardless, an event such as this was unprecedented for the time and ultimately sparked the creation of various SWAT teams across the country.   
Virginia Tech Shooting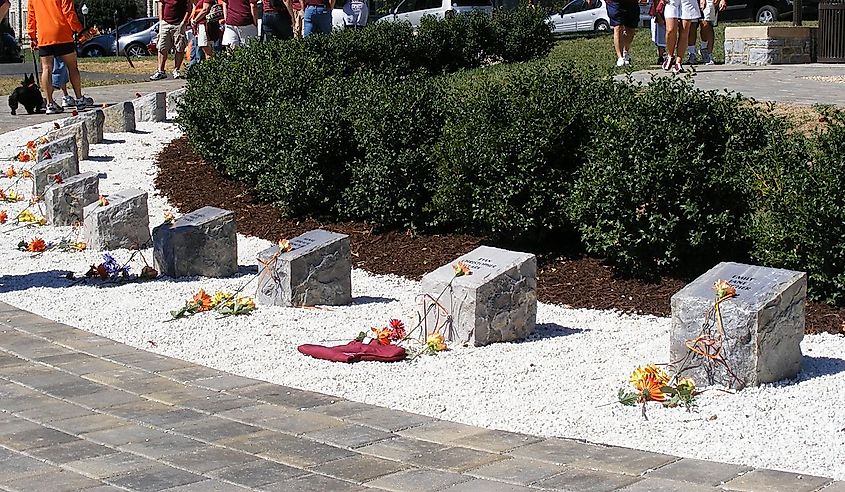 Just after 7 am on April 16, 2007, there was an active shooter at Virginia Polytechnic Institute and State University in Blacksburg. Seung-Hui Cho (23) opened fire at two locations on campus, first the dormitory, followed by an academic building where he locked the doors and went from classroom to classroom shooting at random. He killed 32 people—27 of which were students—before shooting himself. Seventeen others suffered gunshot wounds, while many more were injured from trying to jump out the window. Police arrived quickly on the scene, but unaware of the gunman's identity, they initially pursued the first victim's boyfriend.  
Earlier in the school year, certain professors and students raised concerns about Cho due to his angry and violent written class assignments. Two days following the incident, NBC News received a package from Cho containing a video of him rambling on about "wealthy brats." Besides this video, there is no evidence to suggest he targeted specific victims. Cho had a history of mental health issues, but had not been in contact with any support services since 2005. The massacre at Virginia Tech remains the worst school shooting in the United States. It was also the deadliest mass shooting in modern US history, but it was surpassed in 2016 when 49 people were killed at Pulse, a gay nightclub in Orlando.