Countries With the Most Car Accidents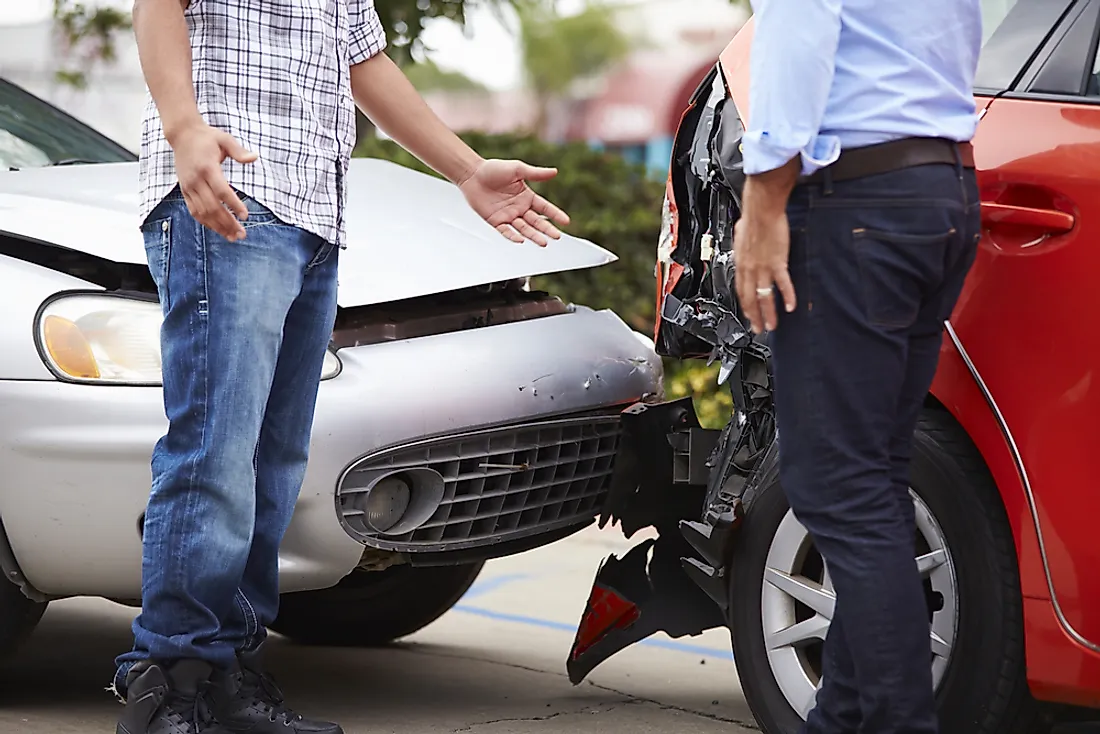 Around 3,000 car accidents occur every day around the world. Alcohol and other drugs are found to be a contributing cause in up to 22% of vehicular accidents on the world's highways and byways. Automobile-related deaths rank as the 11th most common cause of death in many places, particularly developing countries, with young people in the age groups from 5 to 24 years old possessing the highest risks. At a rate of 73.4 deaths per 100,000 people, Libya by far has the highest incidence of car accidents anywhere in the world. Libya experiences the most car accidents in the world, with 73.4 car accidents per 100,000 inhabitants. 
Public Transport Affords Little Safety in Many Places
Low and middle-income countries have less than half of the world's vehicles. Nonetheless, they contribute to over 90% of the total number of road traffic deaths. Their poorly maintained road networks and lack of resources to enforce road safety laws and medical assistance are major factors. Contrarily, the countries with the lowest rates of road accident deaths are chiefly the high-income countries that possess the necessary resources to maintain their roads at a high standard and enforce stricter road usage laws. In such countries, public transport systems are applauded for their safety records. However, in some lower-income countries, public transport vehicles are believed to be among the main causes of vehicular deaths. In Nigeria and Kenya, for example, public transport providers are known to fill up their cabins well past safe capacities, while exceeding the speed limits along their routes. They often exhibit open contempt for the rules of the road by using vehicles that are far from adequately suited to be on the road.
Low-Priced Cars, High-Priced Risks
The majority of the vehicles sold in low and middle-income countries are not able to meet basic road safety standards that approach global norms. Regulations within these countries that define what makes a vehicle roadworthy are lax, making them ideal dumping grounds for old vehicles. From there, locals often take advantage of the low costs associated with importing old vehicles that barely run and pose public health risks for their personal use. Reducing the number of car users in these countries would go a long way in reducing the road accident deaths per capita. This will be hard though, considering that only 33% of countries around the world have active policies that encourage people to walk or cycle as an alternative to driving, and limited resources will make it difficult to pass and implement policies of their own. 
Dangers to Pedestrians and Cyclists
Half of the people killed in road accidents are pedestrians, cyclists, or operators of two-wheeled vehicles. They are referred to as "vulnerable road users." In the Americas, the proportion of motorcycle deaths rose to 20% from 15% between 2010 and 2013, and in South-East Asia and the Pacific regions, the proportion is as high as 33%. Vulnerable road users are especially at risk in countries where their needs are not taken into consideration during the design phases of road construction projects. "Zebra crossings" are few and far between in places where vulnerable users are not considered, and bike lanes are almost non-existent. The problem is compounded by the fact that governments take little initiative when it comes to reducing automobile congestion on their roads. 
The Necessity of Globalized Efforts
At a conference held in Brasilia, officials from transport as well as health departments from the governments of numerous countries came together to discuss global road safety issues, and the pressing need to take action to achieve the road safety goals outlined in the 2030 Agenda for Sustainable Development. There, they discussed the passing of new laws to curb the high number of road accident deaths based on practices involving seat belt use, speed restrictions, motorcycle helmets, and child restraints. This will not be enough, however, if countries fail to act on their promises and enforce their mandates. Improvements in public transport systems will go a long way in making it safer for pedestrians, cyclists, and motorists alike who share our planet's roads. Developing countries do not deserve all the blame, as even in developed countries many motorists fail to realize that the road is for all users, not just for people driving cars. Many perceive traffic laws more as nuisances than as hard-set rules to live and drive-by.
Countries With The Highest Road Traffic Death Rate
| Rank | Country | Car Accident Deaths (Per 100,000 Inhabitants) |
| --- | --- | --- |
| 1 | Libya | 73.4 |
| 2 | Thailand | 36.2 |
| 3 | Malawi | 35.0 |
| 4 | Liberia | 33.7 |
| 5 | Democratic Republic of the Congo | 33.2 |
| 6 | Tanzania | 32.9 |
| 7 | Central African Republic | 32.4 |
| 8 | Iran | 32.1 |
| 9 | Rwanda | 32.1 |
| 10 | Mozambique | 31.6 |
| 11 | São Tomé and Príncipe | 31.1 |
| 12 | Togo | 31.1 |
| 13 | Burkina Faso | 30.0 |
| 14 | Gambia | 29.4 |
| 15 | Dominican Republic | 29.3 |
| 16 | Kenya | 29.1 |
| 17 | Madagascar | 28.4 |
| 18 | Lesotho | 28.2 |
| 19 | Zimbabwe | 28.2 |
| 20 | Benin | 27.7 |
| 21 | Cameroon | 27.6 |
| 22 | Guinea-Bissau | 27.5 |
| 23 | Saudi Arabia | 27.4 |
| 24 | Uganda | 27.4 |
| 25 | Guinea | 27.3 |