Society
Biggest Cities In Turkey
Istanbul, a transcontinental city in Eurasia, is Turkey's biggest city, and its economic, cultural, and historic center.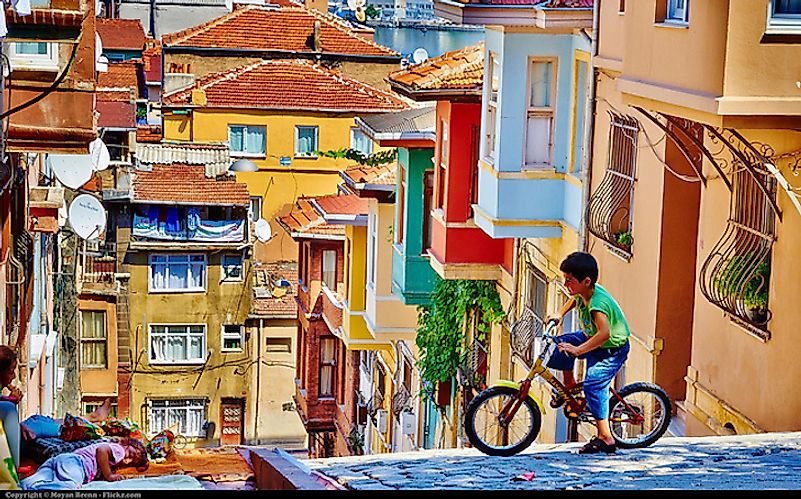 Brief History Of Turkey
Present-day Turkey has a long history of immigration and of various cultures co-existing within its borders. Evidence of civilizations dates as far back as the Stone, Iron, and Bronze Ages. During the 5th century BC, Persian rulers developed the area and built a road that allowed for transportation of goods and people. As trade increased, so too did the size and importance of port cities. Over the rule of the Ottoman Empire, which conquered the area in the 1300's, various cities became the capital at one time or another. Their importance led to increased growth and immigration. Hundreds of thousands of individuals from Spain, Portugal, Central Europe, and Russia went to Turkey during this time. In the 1920's, Turkey entered the Republican Period which brought with it Muslim refugees from Asian, Arabian, North African, and European countries as Christianity flooded their native homes.
Current Demographics
Today, the country is home to over 73 million people. The population is multi-ethnic and continues to grow at around 1.2% annually. Roughly 72.5% of the population are ethnic Turks. The remaining 27.5% are other ethnic minorities including Greeks, Jews, Albanians, Kurds, Armenians, and Georgians. The most common religious identification is Sunni Muslim.
Biggest Cities In Turkey
Istanbul
By far, the largest city in Turkey is Istanbul with approximately 13.82 million inhabitants, nearly 20% of the entire Turkish population. This city, located between the Black and Mediterranean Seas, is considered the economic, historical, and cultural center of the country. The population size grows at 3.45%, a rate faster than the national average, due to a large influx of immigrants. These individuals come from the more rural eastern part of the country in search of economic opportunity and improved quality of life. In fact, only about one-third of the city's population is originally from Istanbul. The city has a developed industrial sector that produces goods such as tobacco, olive oil, and vehicles. This industry also provides the majority of jobs in the area.
Ankara
The second largest city is Ankara where 4.47 million people reside. Half of the population is under 30 years old and hold the highest levels of education in the country. Ankara's urban area has grown in much the same way as Istanbul, with rural inhabitants coming in search of jobs. The defense and aerospace industries are big and growing here although the public sector provides the majority of employment opportunities.
Izmir
Izmir, with a population of 2.83 million, is the third most populated city in Turkey. During the 1960's and 1970's, lack of government investment in rural areas surrounding the city resulted in a large migration to Izmir. Today, the city continues to grow. Approximately 2,500 Jewish individuals call this city home, the second largest population in the country. There is also a significant percentage of people of Italian, French, and Venetian descent.
For a look at other heavily populated cities in Turkey, a list is published below.
The Influx Of Refugees
The demographics of Turkey are quickly changing due to a recent increase in asylum seeking refugees. Syria is the major source of these individuals because of the current conflict taking place in the country. Turkey has opened its doors to provide shelter to those fleeing their country and now houses over 1.7 million Syrians. Iraqis number in the hundreds of thousands. With no signs of peace on the near horizon, the probability that these refugees return home continues to diminish. This will have a drastic effect on the demographic landscape of the nation as well as the public services. As refugees are being granted work visas, the hope is that they will begin earning a living and be able to assimilate into the Turkish culture.
What is the Biggest City in Turkey?
Istanbul, a transcontinental city in Eurasia, is Turkey's biggest city, and its economic, cultural, and historic center. It has a population of around 13 million.
The Biggest Cities In Turkey
| Rank | City | Population (in million inhabitants), 2013 |
| --- | --- | --- |
| 1 | Istanbul | 13.82 |
| 2 | Ankara | 4.47 |
| 3 | Izmir | 2.83 |
| 4 | Bursa | 1.77 |
| 5 | Adana | 1.65 |
| 6 | Gaziantep | 1.47 |
| 7 | Konya | 1.14 |
| 8 | Antalya | 1.03 |
| 9 | Diyarbakir | 0.89 |
| 10 | Mersin | 0.9 |
About the Author
Amber is a freelance writer, English as a foreign language teacher, and Spanish-English translator. She lives with her husband and 3 cats.
This page was last updated on April 25, 2017.
Citations
Your MLA Citation
Your APA Citation
Your Chicago Citation
Your Harvard Citation
Remember to italicize the title of this article in your Harvard citation.