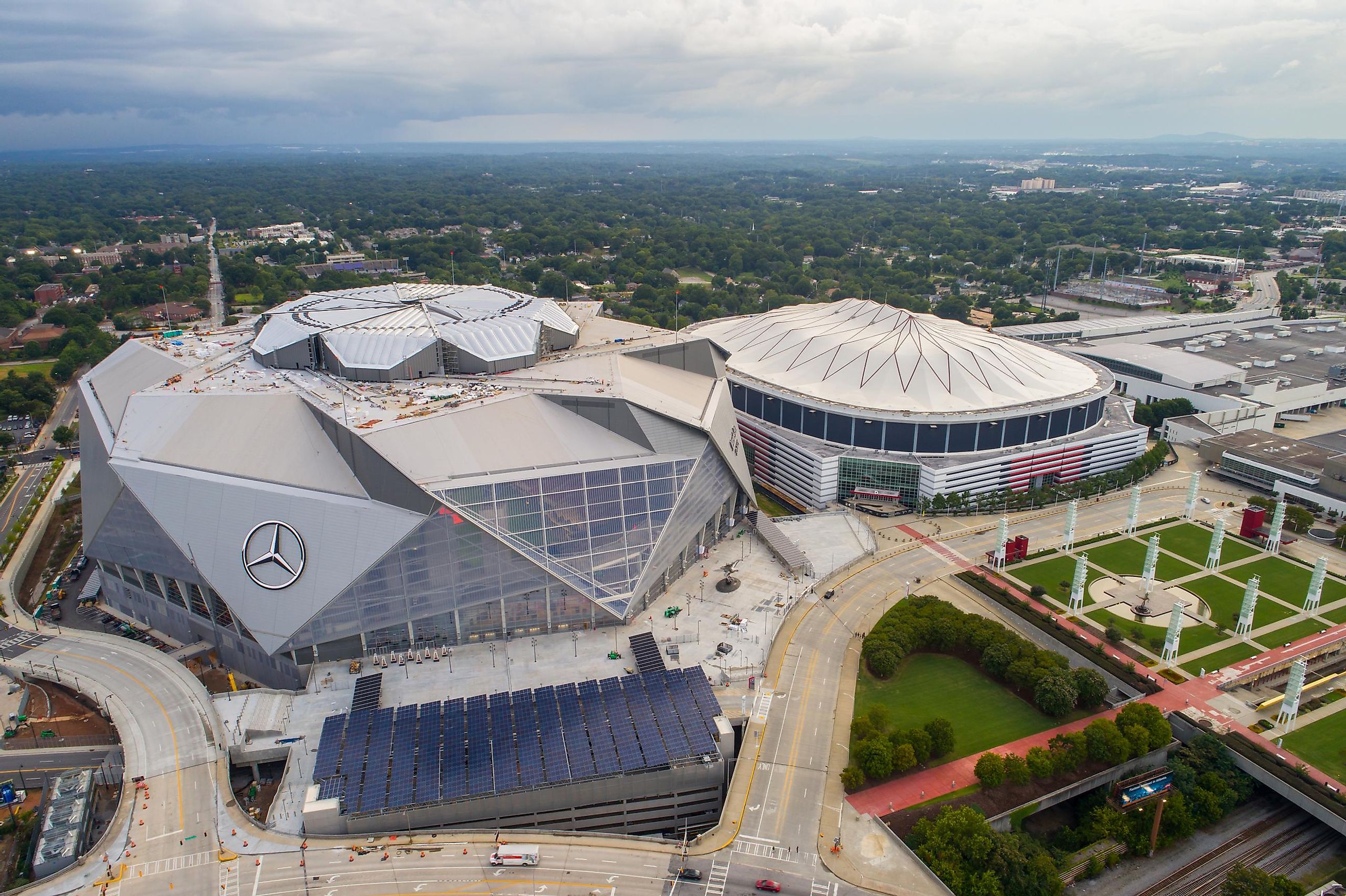 The 10 Most Expensive Stadiums in the World
Sports bring people together, especially at the world's most expensive stadiums! These state-of-the-art venues are some of the most expensive sports stadiums ever built in the modern age, from the SoFi in California to Wembley Stadium in the United Kingdom. Costing millions (if not, billions) of dollars to construct, these stadiums have multiple features like spacious seating areas, expansive parking lots, and dozens of escalators!
The 10 Most Expensive Stadiums in the World
1. SoFi Stadium ($5.50 Billion)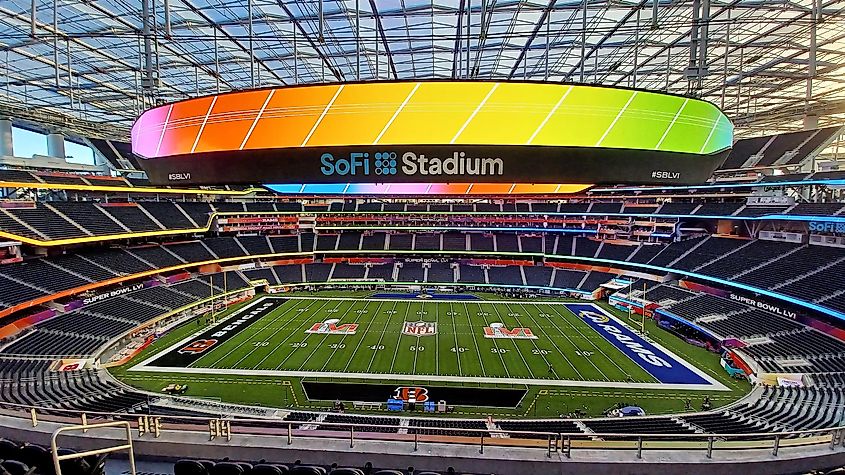 The SoFi Stadium sits in Inglewood, California and is the home of the Los Angeles Rams and the Los Angeles Chargers. SoFi Stadium is not only the most expensive stadium in the world, it's one of the first indoor-outdoor stadiums to be built. The SoFi Stadium also sits at the heart of a 298-acre development for entertainment, retail,  commercial, and recreational space in the area. This California stadium also hosted important sporting events in the past, including the 2023 College Football Championship Game and the 2022 Super Bowl LVI.
Besides being a sports' venue, it also doubles as a setting for entertainment events, including concerts and shows. It took 6 years and at least $5 billion to build this massive stadium, which spans 3.1 million square feet. Its design honors the "curves" seen along the California coast, which is complimented with its asymmetrical, transparent roof and open-concept stadium sides.
2. MetLife Stadium ($2.03 Billion)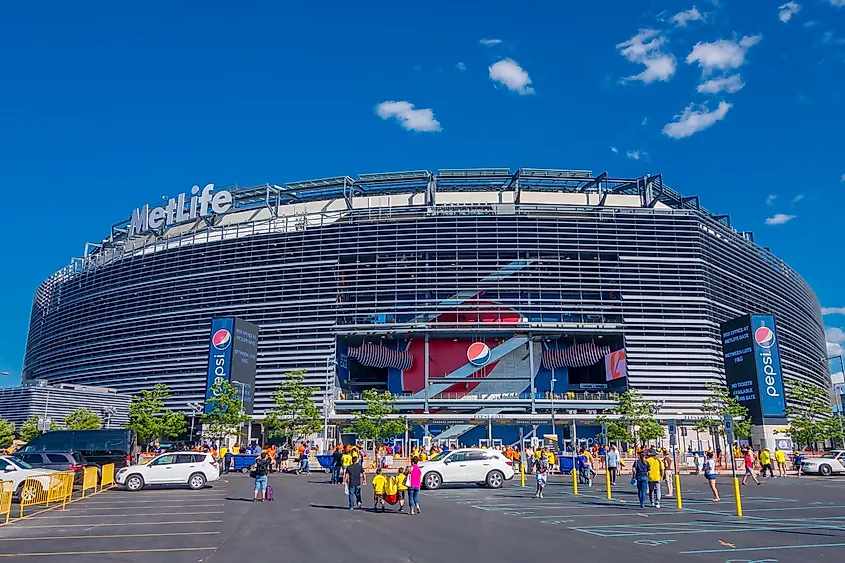 Located in New Jersey's East Rutherford, MetLife Stadium is home to the New York Jets and New York Football Giants. The MetLife Stadium opened in 2010 and has since hosted over 3,000 events, including the Super Bowl XLVIII and WrestleMania 29. In total, the stadium has a seating capacity of about 82,500 for football and soccer events (or 50,000 seats for concerts).
It costed approximately $1.6 billion to build this New Jersey stadium and the talent of 360 architects! Over the years, the stadium was recognized for its high profitability and premier venue space for sports and entertainment. Overlooking its massive size, the MetLife Stadium was the first NFL Stadium to collaborate with the United Nations Framework Convention on Climate Change's Sports for Climate Action Framework to reduce greenhouse gas emissions.
3. Allegiant Stadium ($1.90 Billion)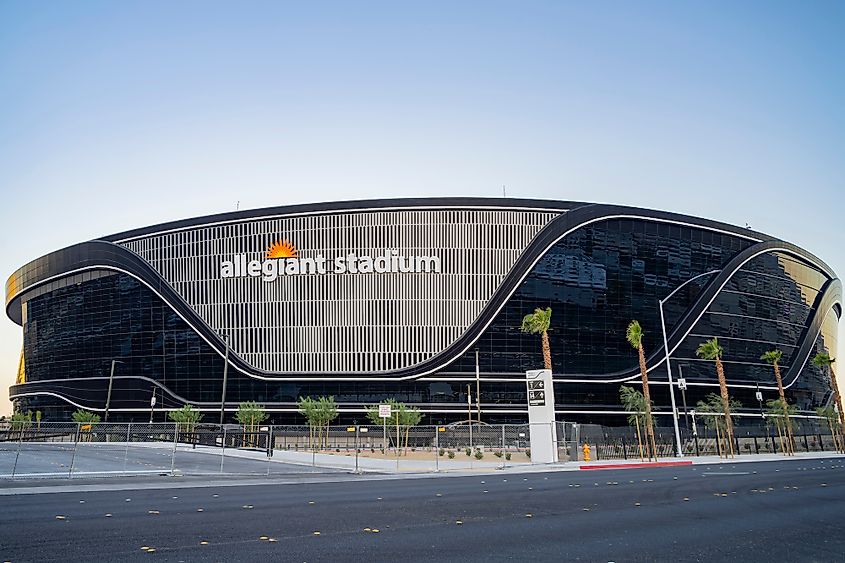 Situated in Paradise, Nevada, the stadium home to the Las Vegas Raiders and the UNLV Rebels was valued at $1.9 billion. Allegiant Stadium sits adjacent to the Las Vegas Strip, boasting a spacious venue for future NFL games and entertainment events. To build Allegiant Stadium, 28,000 tons of structural steel was necessary, alongside 105,000 cubic yards of concrete!
This Las Vegas stadium has a capacity of 65,000 people and is a fully-enclosed (yet temperature controlled) venue.  The field event space spans 95,000 square feet, complete with 75,000 square feet of video boards. Attendees will hardly miss a second of the game or event, due to the stadium containing over 2,3000 TVs. There are also 44 escalators scattered across the Allegiant Stadium.
Despite its behemoth size, the Allegiant Stadium manages to implement sustainable practices throughout its property. On average, 11,000 lbs of food scraps collected from the stadium is diverted from US landfills and converted into livestock feed for local farming activities. Meanwhile, every month, approximately over 7000 lbs of food leftover from the stadium's kitchens is donated to the a local food bank. The stadium also boasts other sustainable efforts throughout the property, including implementation of a Cigarette Waste Collection Program, energy efficiency initiatives, and recycling programs.
4. Wembley Stadium ($1.88 Billion)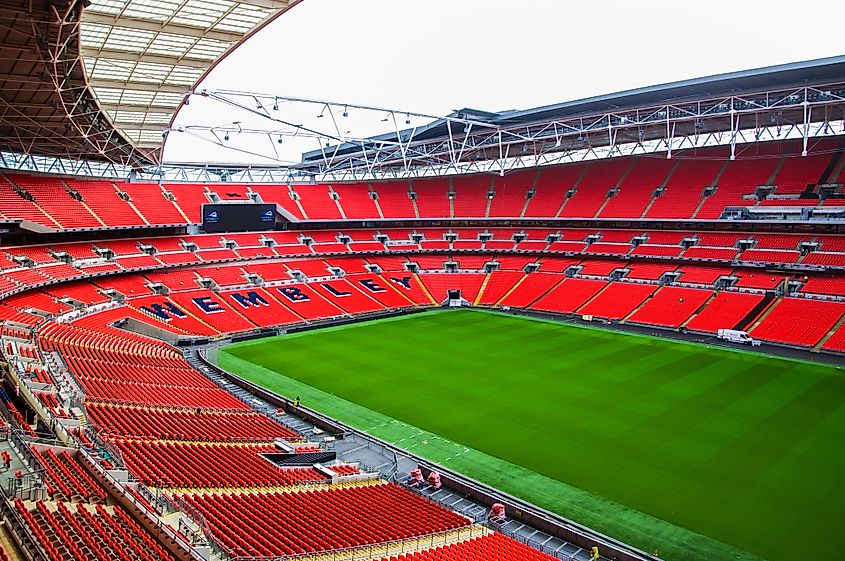 Home to England's national and women's national team in London, the famous Wembley Stadium is England's national stadium! Wembley Stadium comfortably seats 90,000 attendees, making it the largest sports venue in the UK (and the second-largest one in Europe). Europe's spacious stadium is not only known for its gigantic reputation, it's hosted some of the world's top sporting events in the world, including the 1948 Summer Olympics and the 2015 Rugby World Cup. To construct Wembley Stadium, approximately 1.1 billion pounds (or $1.5 billion) was needed. Wembley is not without its striking features, including its lighted arch that spans across the north stand. Today, this world-famous stadium is complete with 34 bars, 8 restaurants, 688 food and beverage service points, 98 kitchens, and 47 retail units. Attendees of the stadium can easily navigate through the property, thanks to its 30 escalators and 26 lifts! There are even 2,618 toilets studded throughout the Wembley Stadium!
5. Yankee Stadium ($1.82 Billion)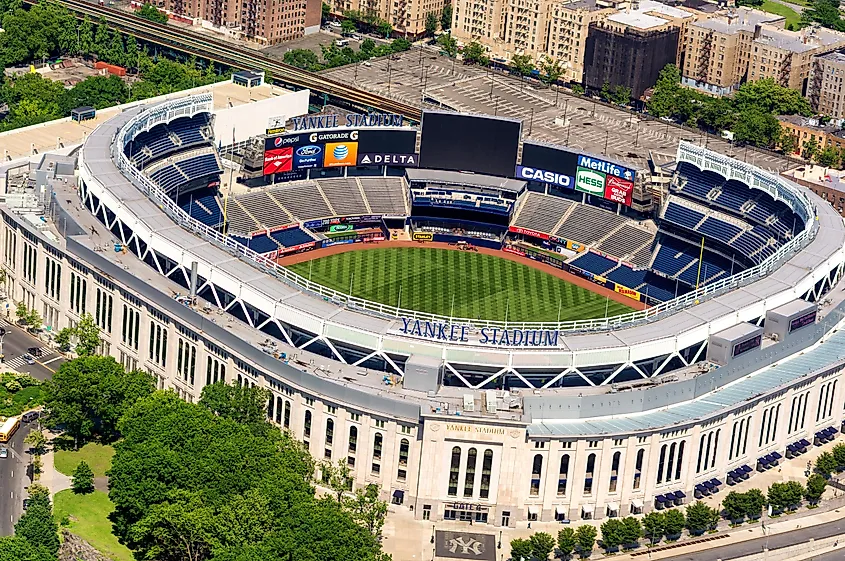 A visit to the Yankee Stadium is like a pilgrimage for sportsfans everywhere. Home to the Yankees (and the New York City's FC), New York's most famous stadium sits on East 161st Street and River Avenue, 25 minutes from Manhattan. This historic stadium first opened in 1923 and was a world-famous venue for baseball. Through the decades, the Yankee Stadium experienced renovations, specifically in the 1970s and the early 2000s, due to its deteriorating condition. To revamp the Yankee Stadium, it costed the City of New York $220 million, with a total project cost of $1.6 billion. This historic stadium can easily fit a seat capacity of 52,000 over four levels. This number includes the 30,000 seats in the first (and second) leves, as well as 56 luxury suites booked in the upper deck. 
6. Mercedes-Benz Stadium ($1.5 Billion)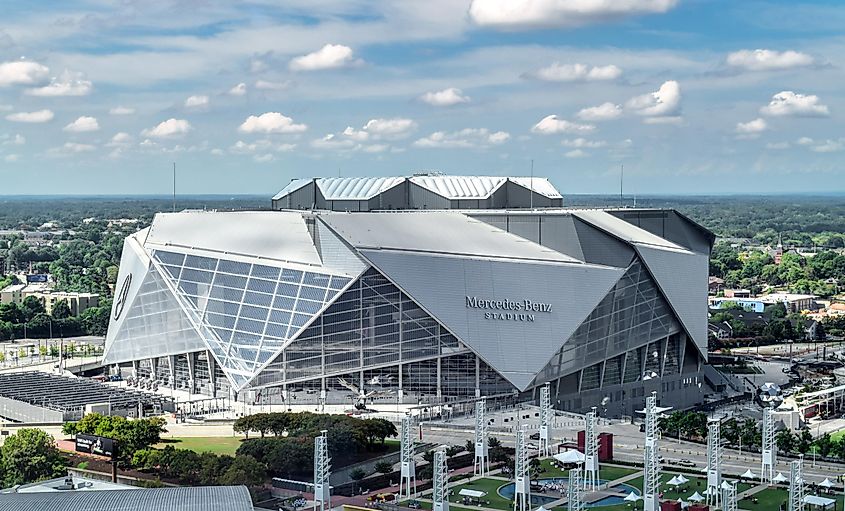 The Mercedes-Benz Stadium is as luxurious as a car! Located in Atlanta, Georgia, spectators who visit this expensive venue can catch a home game of the Atlanta Falcons or the Atlanta United FC. It cost approximately $1.5 to construct this massive stadium, which required 27,000 tons of structural steel and 150,000 cubic yards of concrete. After 39 months of construction, the Mercedes-Benz Stadium was completed in 2017, equipped with 21,000 parking spaces, 71,000 seats, 190 suites, and 24 bars or restaurants. The Mercedes-Benz Stadium also hosts an array of musical and enteraining concerts, though it's claim to fame was hosting the 2019 Super Bowl LIII.
7. AT&T Stadium ($1.2 Billion)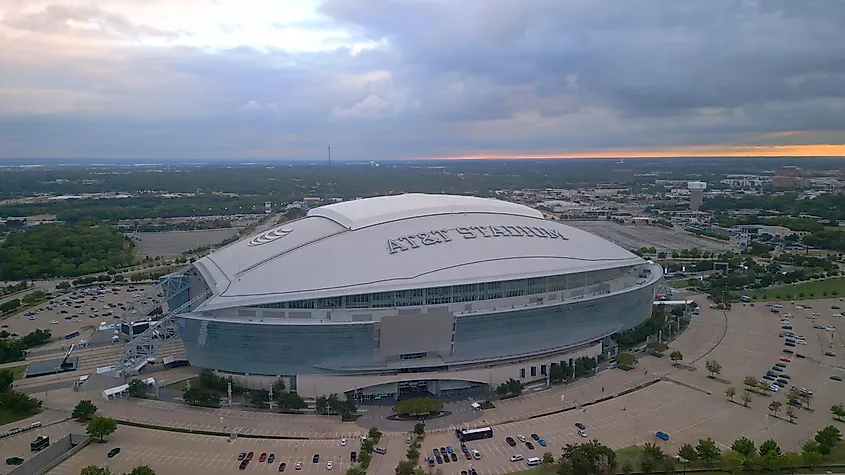 The A&T Stadium in Arlington, Texas, is one of the most expensive (and biggest) around! Home to the Dallas Cowboys, it cost approximately $1.2 billion to build this world-class venue, which is complete with 25,000 square feet of video displays and a seating capacity of 80,000 (with 15,000 business seats). Before spectators admire the stadium's luxury suites, vast concession stands, and 3,000 LCDs, they will be greeted by two steel foot arches that span the stadium dome's length, about 300 feet. The A&T Stadium is famous for hosting world-class football matches and other sporting events like soccer, boxing, and basketball. In 2010, it held a record attendance of 108,713 people for the 2010 NBA All-Star Game.
8. UBS Arena ($1.5 Billion)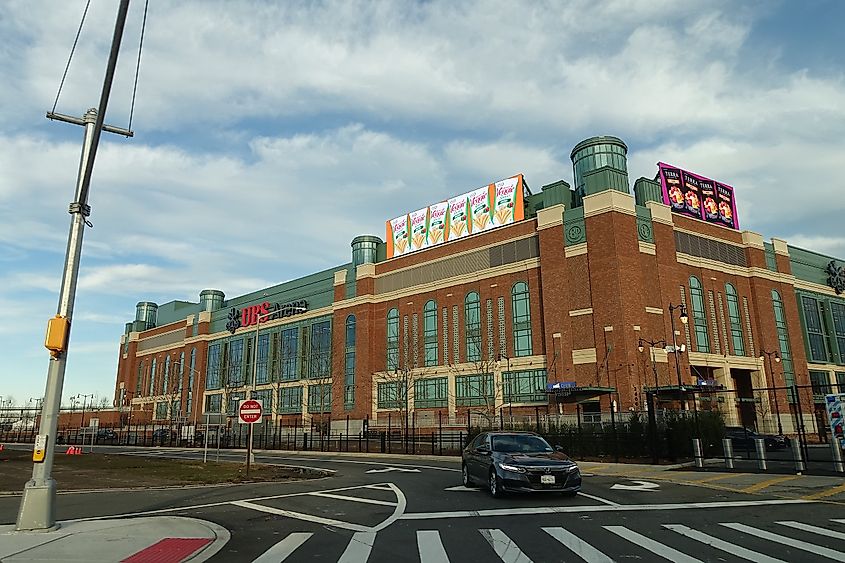 Located in Elmont, New York, the UBS Arena has a value of approximately $1.5 billion. The UBS Arena is not just famous for its hefty price tag, but also its historical background. This New York arena sits within Belmont Park, which has a centuries-long history of entertaining locals and foreigners alike.
Today, the UBS Arena combines elements of its past with 21st-century city vibes. Thanks to the arena's cutting edge sound system and acoustics, it's an ideal venue for musical concerts. Simultaneously, it's bowl-like setup is also a terrific setting for hockey; In fact, the UBS Arena is home to the New York Islanders hockey team! Other nifty features of the arena include a 23,000 square-foot locker room and a massive scoreboard with high-resolution LED ribbon boards.
The capacity of the UBS Arena is not that spacious compared to other stadiums on the list, with a seating capacity hovering around 17,113. However, it makes a great venue for sports (and concert)-loving individuals who find themselves around Belmont.
9. Singapore National Stadium ($1.44 Billion)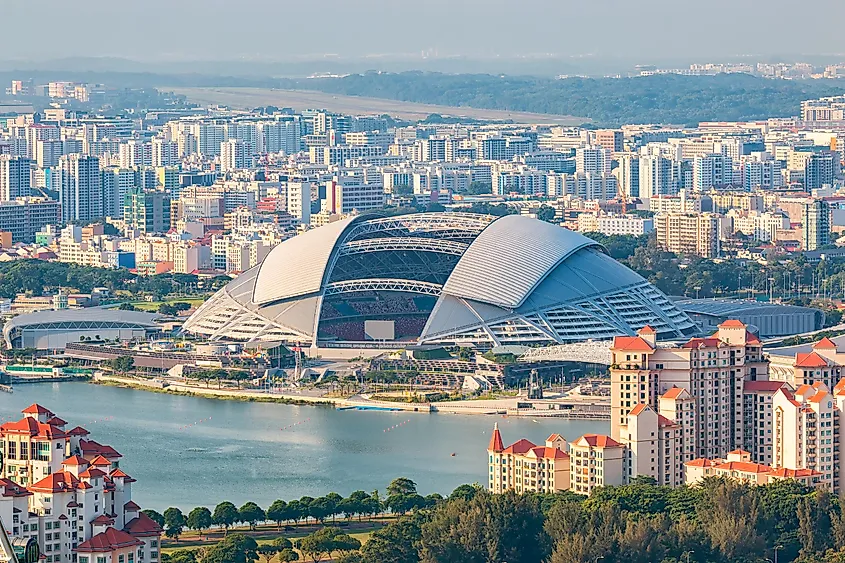 The Singapore National Stadium is also known as the Kallang National Stadium. Located in Kallang, Singapore, this stadium owns a 55,000 seat capacity, and is a venue for sports and concerts. The Singapore National Stadium opened in 2014, and was constructed to replace an older stadium that was demolished in 2010, due to failure of meeting modern standards.
Valued at approximately $1.44 billion, this world-class stadium features a retractable roof and stands. The tier-style, retractable roof also spans about 1,017 feet to reveal the world's largest free-spanning dome. To adjust to the country's tropical climate, the stadium also installed a spectator cooling system that's also energy-efficient.The roof's retractable nature also provides attendees shade from the sun during warmer weather (or while it's raining). Singapore National Stadium also has a beautiful view of the city's waterfront property, and is close to a collection of retail and leisure spaces.
10. Levi's Stadium ($1.43 Billion)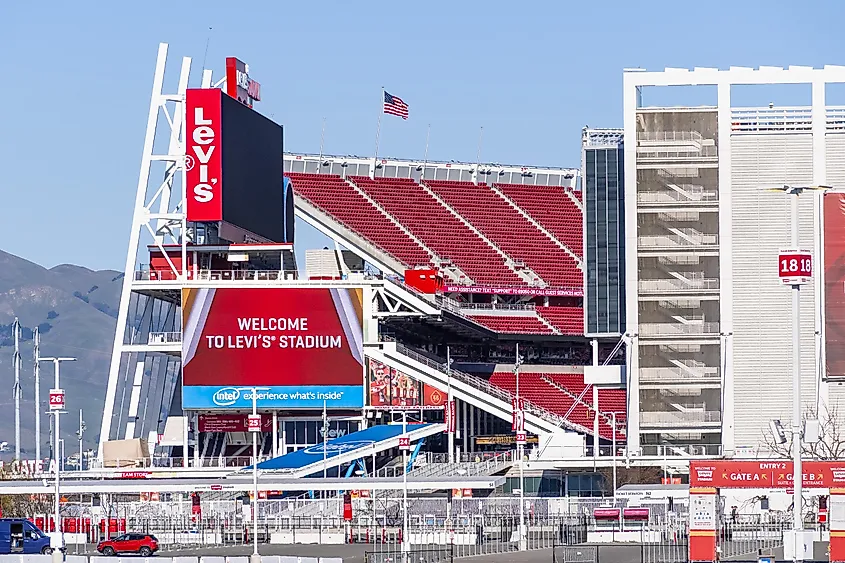 Located in Santa Clara, Levi's Stadium hosts the San Francisco 49ers. Since its ribbon cutting ceremony in 2014, the Levi Stadium hosts an average of 20 events yearly. Since its opening, it hosted events like WrestleMania, college football playoffs, the Super Bowl 50, and dozens of concerts.
This state-of-the-art museum was built for $1.2 billion, encompassing a space of over 1.85 million square feet. Currently, it has a seating capacity of 68,500, with about 9,000 club seats. There are also 174 suites and 11 premium clubs at the Levi's Stadium.
Over the years, the Levi's Stadium was recognized for its progressive and sustainable architecture. In the past, it was awarded twice with the LEED Certification for its sustainable design, as well as other awards for its operations. This massive stadium has a green roof, solar panels, and three solar bridges. Levi's Stadium was even certified by the Monterey Bay Aquarium Seafood Watch List for its offerings of seafood items across its concessions and eateries!
Watching sports live at a stadium is a thrilling experience, but the world's most expensive stadiums amplify this experience with its state-of-the-art technology and cutting-edge architecture.
| Rank | Stadium | Location | Cost of construction (in USD) |
| --- | --- | --- | --- |
| 1 | SoFi Stadium | Inglewood, California, US | $5.50 Billion |
| 2 | MetLife Stadium | East Rutherford, New Jersey, US | $2.03 Billion |
| 3 | Allegiant Stadium | Paradise, Nevada, US | $1.90 Billion |
| 4 | Wembley Stadium | London, United Kingdom | $1.88 Billion |
| 5 | Yankee Stadium | New York City, New York, US | $1.82 Billion |
| 6 | Mercedes-Benz Stadium | Atlanta, Georgia, US | $1.5 Billion |
| 7 | AT&T Stadium | Arlington, Texas, US | $1.2 Billion |
| 8 | UBS Arena | Elmont, New York, US | $1.5 Billion |
| 9 | Singapore National Stadium | Kallang, Singapore | $1.44 Billion |
| 10 | Levi's Stadium | Santa Clara, California, US | $1.43 Billion |