The 10 Leading Causes Of Death In Ireland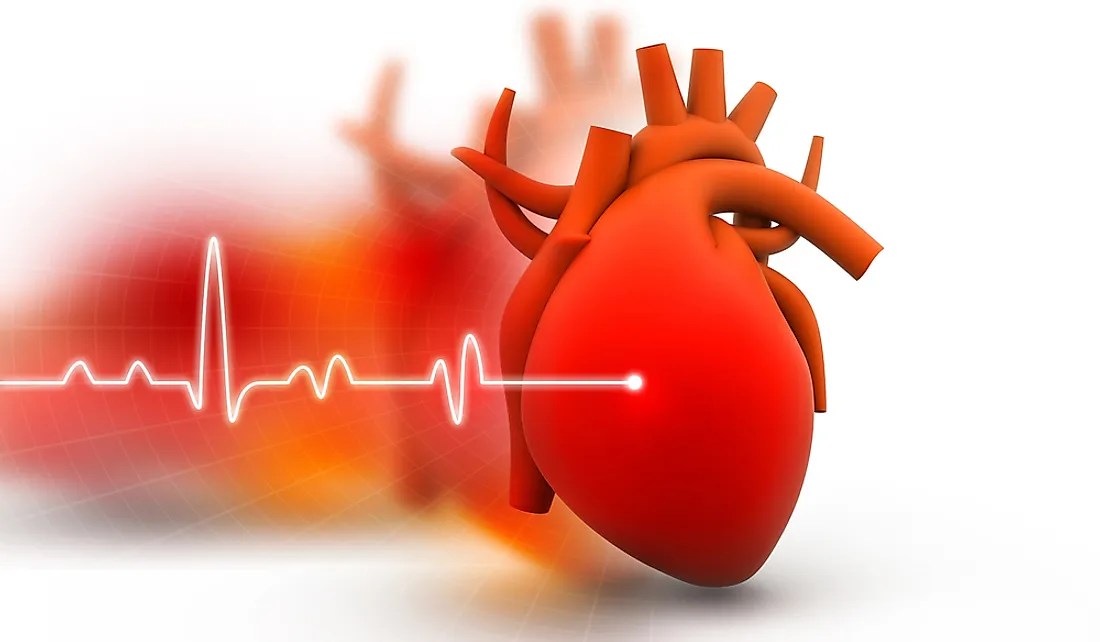 The Republic of Ireland is a country in north-western Europe, located on the island of Ireland, which is shared with Northern Ireland (UK). Often referred to simply as Ireland, the country has a well-developed economy and an advanced healthcare system. Cardiovascular diseases, lung cancer, chronic obstructive pulmonary disease (COPD), and pneumonia are the leading causes of death in the Republic of Ireland.
Death Rate in Ireland
In the third quarter of 2017, 6,987 deaths, of which 3,379 were female and 3,608 were male, were recorded in Ireland. During the same period in 2016, 7,129 deaths were recorded. Based on these figures, the country had a death rate of 5.8 deaths per 1,000 people.
Top 3 Causes of Death in Ireland
Coronary Heart Disease
Coronary heart disease (CHD), also called ischaemic heart disease, is responsible for approximately 8% of all deaths in the country. In 2012, 7,112 out of a total of 29,186 deaths in Ireland were attributed to coronary heart disease.
CHD is caused by a build-up of fatty substances in the coronary arteries, which cuts off the blood supply to the heart. This leads to chest pain, heart attacks, and in severe cases, complete heart failure. Smoking, high cholesterol, diabetes, and high blood pressure are contributing factors that lead to CHD. The disease can be managed by lifestyle changes, medication, and angioplasty, and in extreme cases, surgery.
Heart Attack
Heart attacks are responsible for nearly 8% of all deaths in Ireland. Officially termed myocardial infarctions (MI), heart attacks are closely linked with coronary heart disease, as they are caused by deposits of cholesterol plaque that clogs arteries. If this plaque ruptures, it leads to the formation of a blood clot that blocks the supply of blood to the heart, causing a heart attack. Heart attacks are a serious medical emergency, and symptoms include chest pain, shortness of breath, and fatigue. Lifestyle changes, such as exercise and a healthy diet, and medications can reduce the risk of heart attack. Smokers have a higher risk of death caused by heart attack.
Lung Cancer
Lung cancer is a serious form of cancer that has few symptoms in its early stages, and can, therefore, be difficult to detect. Persistent cough, shortness of breath, unexplained weight loss, and fatigue are among the common symptoms of the disease. Lung cancer is more common in older individuals. Smoking is the biggest cause of lung cancer.
About 2,500 people in Ireland are diagnosed with lung cancer each year. Recently, the lung cancer rate has increased among women but decreased in men. This is attributed to higher smoking rates in Ireland among women. 8 out of every 10 cases of lung cancer is linked to smoking. In 2012, 1,801 deaths in Ireland were caused by lung cancer.
Cancer Deaths in Ireland
Lung cancer causes more deaths in Ireland than any other form of cancer. Breast and colon cancers caused a combined 4% of all deaths in Ireland in 2012.
Other Causes of Death in Ireland
Pneumonia caused 1,075 deaths in 2012, accounting for 4% of all deaths in Ireland. Dementia and Alzheimer's disease were also notable causes of death in Ireland that same year, especially among elderly individuals.
Top Causes of Death in Irish Counties
In 2012, cardiovascular diseases were the top killers in almost every county in Ireland, with the exception of South Dublin, Kildare, and Longford. Lung cancer was the largest cause of death in South Dublin and Kildare, while pneumonia was the biggest killer in Longford in 2012.
County Mayo recorded the highest fatality rate (843 deaths per 100,000) in 2012, followed by County Kerry (783 per 100,000). Kildare had the lowest death rate, with just 440 fatalities per 100,000, followed by Meath (469 fatalities per 100,000).
The 10 Leading Causes of Death in Ireland
| Rank | Condition | Number of Deaths (2012) | Percentage of Total Deaths |
| --- | --- | --- | --- |
| 1 | Coronary heart disease | 2,427 | 8% |
| 2 | Heart attack | 2,260 | 8% |
| 3 | Lung cancer | 1,801 | 6% |
| 4 | COPD | 1,416 | 5% |
| 5 | Pneumonia | 1,075 | 4% |
| 6 | Stroke | 1,009 | 3% |
| 7 | Dementia | 716 | 2% |
| 8 | Breast cancer | 698 | 2% |
| 9 | Alzheimer's disease | 561 | 2% |
| 10 | Colon cancer | 543 | 2% |