The 10 Largest Lakes In Denmark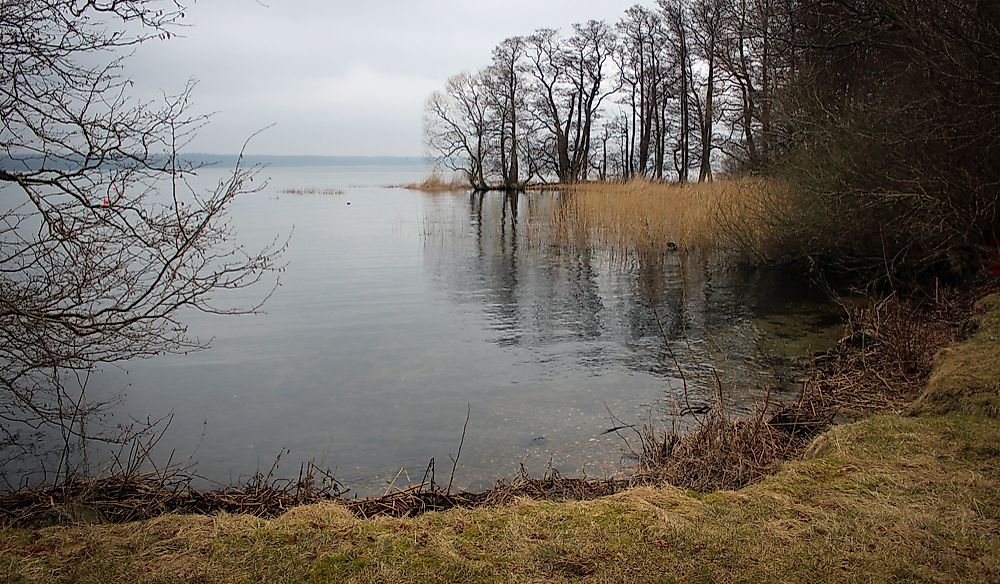 Denmark is a country in Northern Europe and is part of Scandinavia. Officially named the Kingdom of Denmark, the country consists of a peninsula in the northern part of the continent, Jutland, and an archipelago of 443 islands, of which only 74 are inhabited. The country has thousands of named and unnamed lakes distributed throughout its mainland territory and various islands. Arresø is Denmark's largest lake by area. The largest lakes in Denmark are highlighted below.
Largest Lakes in Denmark
1. Arresø
Arresø is Denmark's largest lake by area, covering 39.7 km2, and is located in the northern part of the island of Zealand. The Arresø Canal drains the lake and empties into the Roskilde Fjord. The Arresø was previously a fjord but was cut off from the sea by tectonic activity that caused a rise in the land between it and the sea. Today, the lake is known for its floral and avian diversity, and its habitat is protected by the Kongernes Nordsjælland National Park. Tourists can enjoy boat tours on the lake while visiting the national park.
2. Lake Esrum
With an area of 17.4 km2, Lake Esrum is Denmark's second biggest lake. The lake is located in central North Zealand, and its western shore borders Gribskov, which is one of the country's largest forests. Fredensborg Palace, which is an official residence of Denmark's royal family, is located on the southeast shores of Lake Esrum. The lake contains a variety of fish, such as northern pike and European perch. However, fishing in Lake Ersum is restricted to angling. In addition to fish, various birds inhabit the lake, including tufted duck, common goldeneye, mallard, Eurasian coot, mute swan, which attract nature lovers.
3. Mossø
Mossø is the country's third largest lake, with an area of 16.5 km2. The lake is located in the eastern part of Jutland, near the city of Skanderborg. Mossø features rich birdlife and is part of an international bird protection area, Natura 2000. The lake has a maximum depth of 22 m, and its primary inflow is the Gudenå, which is the longest river in Denmark.
4. Stadil Fjord
Stadil Fjord is Denmark's fourth largest lake, with an area of 16.2 km2. Despite its name, the Stadil Fjord is not connected to the sea but is a freshwater lake. The lake and its surrounding area is known for its spectacular natural beauty, and the near flat landscape on its shores is composed of reed forests, farmlands, and meadows. Stadil Fjord is one of Denmark's cleanest lakes and offers great conditions for hikers and cyclists.
5. Saltbæk Vig
With an area of 16.1 km2, Saltbæk Vig is Denmark's fifth biggest lake. It is a brackish lake located in West Zealand and was formed as a result of a failed containment project. The area surrounding Saltbæk Vig is home to diverse flora and a variety of bird species.
The Deepest Lake in Denmark
Denmark's deepest lake, Furesø, has a maximum depth of 37.7 m. It also ranks as the country's seventh largest lake in terms of area.
List of the 10 Largest Lakes in Denmark by Surface Area
| Rank | Lake | Surface Area (km2) |
| --- | --- | --- |
| 1 | Arresø | 39.7 |
| 2 | Lake Esrum | 17.4 |
| 3 | Mossø | 16.5 |
| 4 | Stadil Fjord | 16.2 |
| 5 | Saltbæk Vig | 16.1 |
| 6 | Tissø | 12.5 |
| 7 | Furesø | 9.4 |
| 8 | Skanderborg sø | 8.7 |
| 9 | Søndersø | 8.4 |
| 10 | Tystrup so | 6.6 |