World Facts
The 10 Largest Islands In Norway
Spitsbergen is the largest Norwegian island, encompassing an area of 37,673 square kilometers.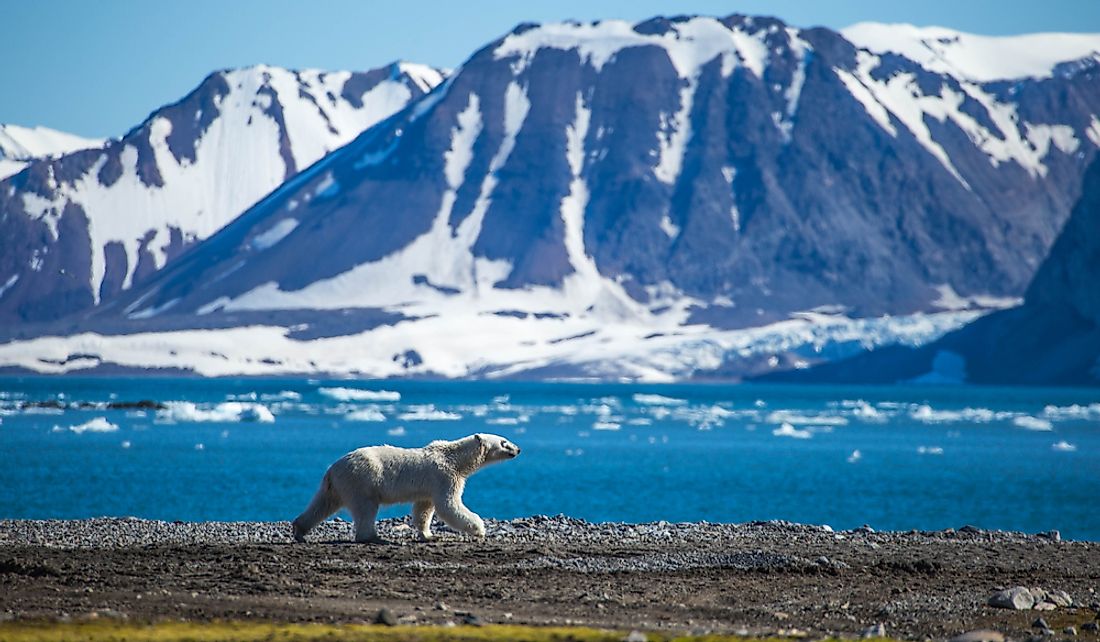 Norway is a country in Northern Europe, primarily located on the Scandinavian Peninsula. The country encompasses a total area of 385,207 km2 and has an estimated population of 5,328,212. In addition to mainland Europe, Norway's territory also includes several islands, including the Svalbard archipelago, which contains the country's largest islands. The largest islands in Norway are highlighted below.
The Five Biggest Norwegian Islands
1. Spitsbergen
Spitsbergen is the largest island in Norway, with an area of 37,673 km2, and the 36th largest in the world. The island has coastlines on the Greenland Sea, Norwegian Sea, and the Arctic Ocean, and is the only island within the Svalbard archipelago with a permanent population. Spitsbergen served as a whaling base during the 17th and 18th centuries, and later for coal mining. Currently, tourism and research are important components of the island's economy, which is home to the Svalbard Global Seed Vault. The landscape of the island features mountains, glaciers, and fjords, and there are no roads. Instead, settlements are connected by air, boat, or snowmobile. In addition to seabirds, wildlife on the island includes polar bears, reindeer, as well as numerous species of marine mammals in its coastal waters.
2. Nordaustlandet
Norway's second biggest island, Nordaustlandet, is also part of the Svalbard archipelago. The island covers an area of 14,467 km2 and is separated from Spitsbergen by the Hinlopen Strait. Massive ice caps cover most of the island, while the remainder is covered by tundra vegetation. The entire island is protected as part of the Nordaust-Svalbard Nature Reserve, and therefore no human settlements exist on Nordaustlandet. Walruses, reindeer, and other wildlife inhabit the island.
3. Edgeøya
Also part of the Svalbard archipelago, Edgeøya, also referred to as Edge Island, covers an area of 5,073 km2. It is Norway's third biggest island, and its habitat is protected as part of the Søraust-Svalbard Nature Reserve. The eastern side of the island is covered by an ice shield, and wildlife species that inhabit Edgeøya include polar bears and reindeer.
4. Hinnøya
With an area of 2,205 km2, Hinnøya is the country's fourth biggest island. Located off the western coast of Northern Norway, it is an inhabited island with a population of around 32,688. Harstad is Hinnøya's only town, and Møysalen National Park is located in the southern part of the island. Hinnøya features rugged, mountainous terrain with fjords that dissect the island in several places.
5. Senja
Senja is an island located in Troms county of Norway. It has an area of 1,586 km2, which ranks as the country's fifth biggest island. The western side of Senja is mountainous and wild, while the eastern side features a smoother terrain. Senja is an inhabited island, containing a small population of approximately 7,864, which is primarily concentrated along the eastern coast. The island is a popular destination for tourists, with attractions that include the pine forests and mountains of Ånderdalen National Park, the world's largest troll statue, and traditional fishing villages.
List of the 10 Largest Islands in Norway by Surface Area
| Rank | Island | Area (km2) |
| --- | --- | --- |
| 1 | Spitsbergen | 37,673 |
| 2 | Nordaustlandet | 14,467 |
| 3 | Edgeøya | 5,073 |
| 4 | Hinnøya | 2,205 |
| 5 | Senja | 1,586 |
| 6 | Langøya | 850 |
| 7 | Sørøya | 811 |
| 8 | Kvaløy | 737 |
| 9 | Ringvassøya | 663 |
| 10 | Seiland | 583 |
About the Author
Oishimaya is an Indian native, currently residing in Kolkata. She has earned her Ph.D. degree and is presently engaged in full-time freelance writing and editing. She is an avid reader and travel enthusiast and is sensitively aware of her surroundings, both locally and globally. She loves mingling with people of eclectic cultures and also participates in activities concerning wildlife conservation.
This page was last updated on April 11, 2019.
Citations
Your MLA Citation
Your APA Citation
Your Chicago Citation
Your Harvard Citation
Remember to italicize the title of this article in your Harvard citation.