World Facts
Largest Companies in Norway
Equinor, formally known as Statoil, is the largest company in Norway by revenue.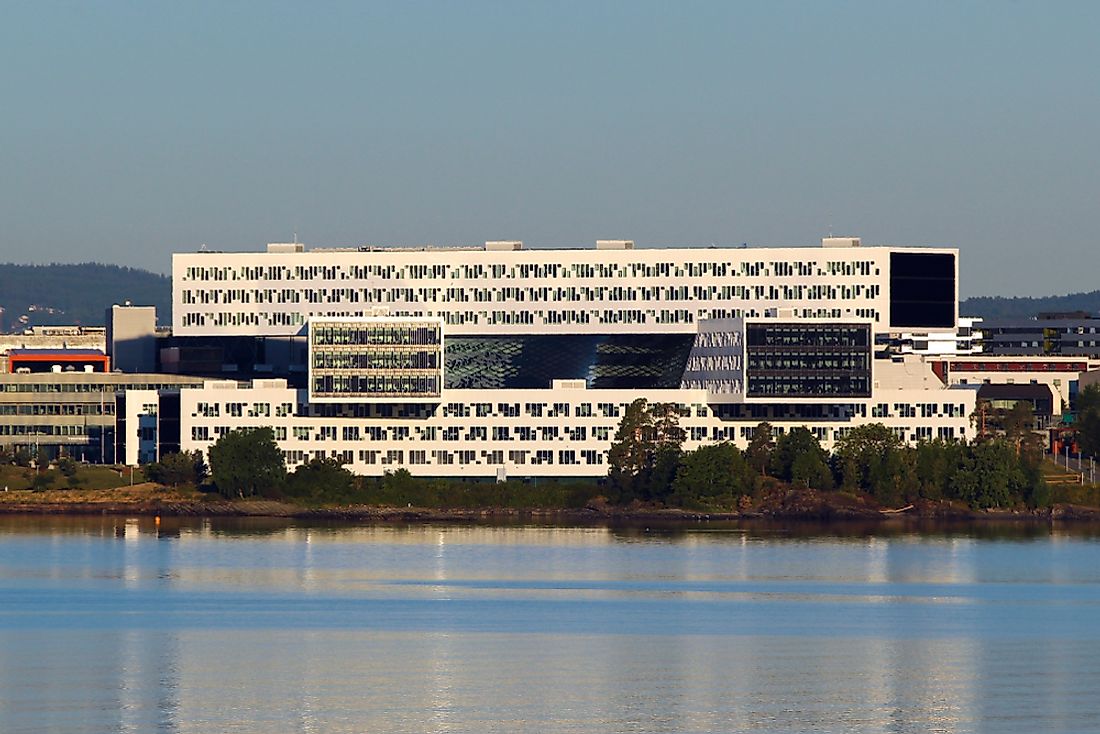 Norway has some of the largest companies in the Nordic region. Nine of the Norwegian companies made it to the 2013 Forbes Global 2000 list, a list of top 2000 public companies in the world. Different methods can be used to rank companies, including the number of employees, market values, income, revenue, or value of assets. Here are some of the largest companies in Norway by revenue.
Largest Companies by Revenue
Equinor
Equinor, formally known as Statoil, is the largest company in Norway by revenue. The multinational oil and gas company is headquartered in Stavanger and operates in 36 countries. It was ranked the 11th largest oil and gas company by revenue in the world by the 2013 Forbes Magazine. Equinor was formed in 2007 following the merger between Norsk's oil and gas division and Statoil. The current name was adopted in 2018 and is a combination of the word "equi" (for equality, equal, and equilibrium) and "nor" for Norway. Equinor is 67% owned by the Government of Norway and the rest is public stock.
Telenor
Telenor is a multinational telecommunication company based in Fornebu with operations worldwide. The company has networks in 13 countries and operates in 29 countries. It is one of the largest mobile telco companies in the world and has an extensive TV and broadband distribution operation in other Nordic countries. Telenor is the second largest company in Norway by revenue according to the 2013 Forbes Magazine.
Norsk Hydro
Norsk Hydro is an aluminum and renewable energy firm based in Oslo. The company is among the largest aluminum companies in the world and operates in about 50 countries and active in all the continents. Norsk Hydro is partly owned by the Norwegian Government (34.3%) and Folketrygdfond (6.5%) and employs about 30,000 employees. the company also had significant activities in the oil and gas sector until 2007 when the activities were merged with Statoil to form Equinor.
Yara International
Yara International is a chemical company specialized in the production of chemicals including nitrogen fertilizer, urea, ammonia, and nitrate. The company was founded as Norsk Hydro in 1905 as the first producer of mineral nitrogen fertilizer and demerged in March 2014 as Yara International ASA. It is headquartered in Oslo and operates in 50 countries across six continents. More than one-third of Yara is owned by the government of Norway.
DNB
DNB is the largest financial service group in Norway by asset and the 5th largest company in the country by revenue. The Ministry of Trade and Industry is the largest owner of DNB, owning 34% of the total shares. The other significant shareholder is Sparebankstiftelsen DNB (10%). The company offers services to retail and securities market, corporates, and the public sector. DNB has about 2.3 million retail customers and over 200,000 corporate clients.
What Is Revenue?
One of the four metrics used by Forbes Magazine in ranking companies is revenue. It can be defined as the amount of income that a business generates from its normal operations such as sales of goods and services. It can also be referred to as turnover, sales, or income in general. Profit simply implies total revenue minus total expense.
Largest Companies in Norway
| Rank | Company | Revenue (Billions) |
| --- | --- | --- |
| 1 | Equinor | 111.6 |
| 2 | Telenor | 16.4 |
| 3 | Norsk Hydro | 16.3 |
| 4 | Yara International | 13 |
| 5 | DNB | 11.6 |
| 6 | Orkla Group | 10.2 |
| 7 | Aker Solutions | 6.1 |
| 8 | Storebrand | 5.6 |
| 9 | Gjensidige | 3.6 |
This page was last updated on July 22, 2019.
Citations
Your MLA Citation
Your APA Citation
Your Chicago Citation
Your Harvard Citation
Remember to italicize the title of this article in your Harvard citation.