World Facts
The 10 Biggest Cities In Saskatchewan
Saskatoon is the biggest city in the Canadian province of Saskatchewan.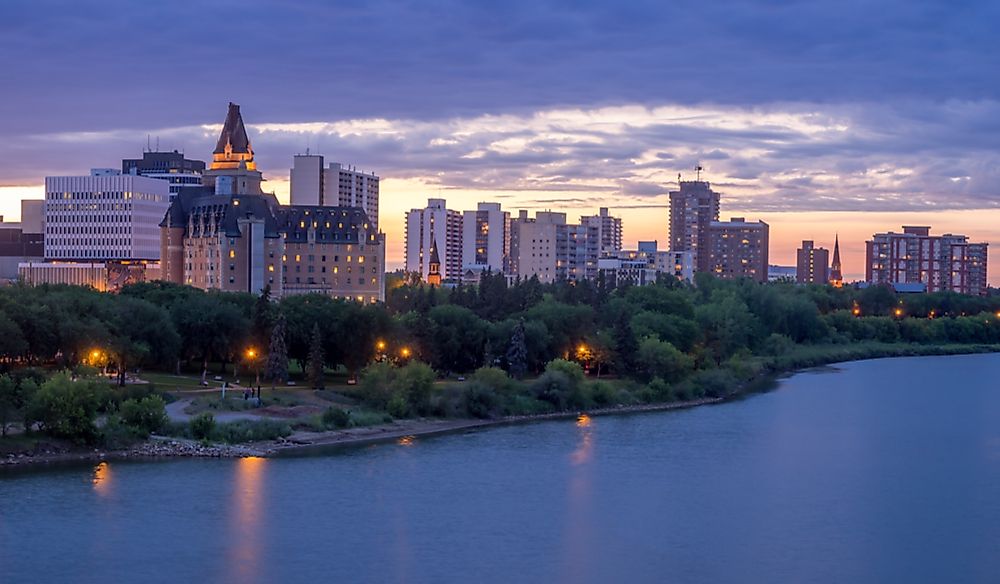 The Canadian province of Saskatchewan is located in the western part of the country. It is a boreal and prairie province with a population of 1,098,352, making it the 6th most populous Canadian province. Saskatchewan has an area of 651,900 square km, and 10% of this total area is fresh water. It is one of two landlocked Canadian provinces and the only one that lacks natural borders. Rather than natural features such as lakes, rivers, or mountain ranges, the province's boundaries are essentially determined by lines of longitude and latitude. Saskatchewan contains 16 cities (not including Flin Flon), the largest and smallest of which are Saskatoon and Melville, respectively.
The Five Most Populated Cities in Saskatchewan
1. Saskatoon
With a population of 246,376, Saskatoon is Saskatchewan's most populous city. It is located along a bend in the South Saskatchewan River, in the central part of the province. Saskatoon was established in 1882 and now serves as a regional economic and cultural hub. The city is named after the saskatoon berry that is native to the region and is home to a significant indigenous population and numerous urban reserves. Given the nine bridges that cross the South Saskatchewan River and connect the eastern and western parts of the city, Saskatoon has been nicknamed the "Bridge City." Saskatoon is also home to the University of Saskatchewan.
2. Regina
Regina is Saskatchewan's second biggest city, with a population of approximately 215,106, as well its provincial capital. The city is a hub of commerce and culture for the southern part of Saskatchewan. Notable places of interest within the city include the Wascana Centre, which is a 930-hectare urban park, the Saskatchewan Legislative Building, the University of Regina, the First Nations University of Canada, and the Royal Saskatchewan Museum.
3. Prince Albert
Prince Albert is the third biggest city in Saskatchewan, with a population of 35,926. However, despite ranking as the third most populous, the city is significantly smaller than Saskatoon and Regina. Prince Albert is located along the North Saskatchewan River, in the central part of the province. The city is often nicknamed the "Gateway to the North," as it is the last major city before heading towards the remote, resource-rich parts of northern Saskatchewan. Prince Albert National Park is located near the city and is renowned for its numerous lakes, dense forest cover, and diverse fauna.
4. Moose Jaw
Moose Jaw is Saskatchewan's fourth most populous city, with a population of 33,890. The city is located on the banks of the Moose Jaw River, and serves as a hub of industry and transportation within the region, especially for the distribution of agricultural produce. Moose Jaw is home to Canadian Forces Base (CFB) Moose Jaw, which is operated by the Royal Canadian Air Force and serves as an important training facility. The city also has a geothermal spa and a casino.
5. Swift Current
With a population of 16,604, Swift Current is Saskatchewan's fifth largest city. It is located along the Trans Canada Highway, approximately 170 km west of Moose Jaw. Notable places of interest in Swift Current include the Swift Current Museum, the Art Gallery of Swift Current, and the Swift Current Library, which was designated as a municipal heritage property in 2007.
Shared Cities of Saskatchewan
Lloydminster is a city that is uniquely located on the provincial boundary between Saskatchewan and Alberta. Instead of two distinct cities, one in each province, Lloydminster exists as a single city that is incorporated in both Saskatchewan and Alberta. The Saskatchewan portion of the city had a population of 11,765 in 2016, while the Alberta portion had a population of 19,645. Flin Flon is also another city that straddles a provincial border and is part of both Saskatchewan and Manitoba. However, since Flin Flon has 4,982 residents in Manitoba and only 203 in Saskatchewan, it is often not included on lists of cities in Saskatchewan.
The 10 Biggest Cities in Saskatchewan by Population
| Rank | City | Population (2016) | Land Area |
| --- | --- | --- | --- |
| 1 | Saskatoon | 246,376 | 209.56 km2 |
| 2 | Regina | 215,106 | 145.45 km2 |
| 3 | Prince Albert | 35,926 | 65.74 km2 |
| 4 | Moose Jaw | 33,890 | 50.68 km2 |
| 5 | Swift Current | 16,604 | 24.04 km2 |
| 6 | Yorkton | 16,343 | 25.77 km2 |
| 7 | North Battleford | 14,315 | 33.55 km2 |
| 8 | Lloydminster (Saskatchewan portion) | 11,765 | 17.34 km2 |
| 9 | Estevan | 11,483 | 18.85 km2 |
| 10 | Warman | 11,020 | 8.54 km2 |
About the Author
Oishimaya is an Indian native, currently residing in Kolkata. She has earned her Ph.D. degree and is presently engaged in full-time freelance writing and editing. She is an avid reader and travel enthusiast and is sensitively aware of her surroundings, both locally and globally. She loves mingling with people of eclectic cultures and also participates in activities concerning wildlife conservation.
This page was last updated on January 31, 2019.
Citations
Your MLA Citation
Your APA Citation
Your Chicago Citation
Your Harvard Citation
Remember to italicize the title of this article in your Harvard citation.