World Facts
The 10 Biggest Cities In Nevada
Las Vegas is the most populous city in the US state of Nevada.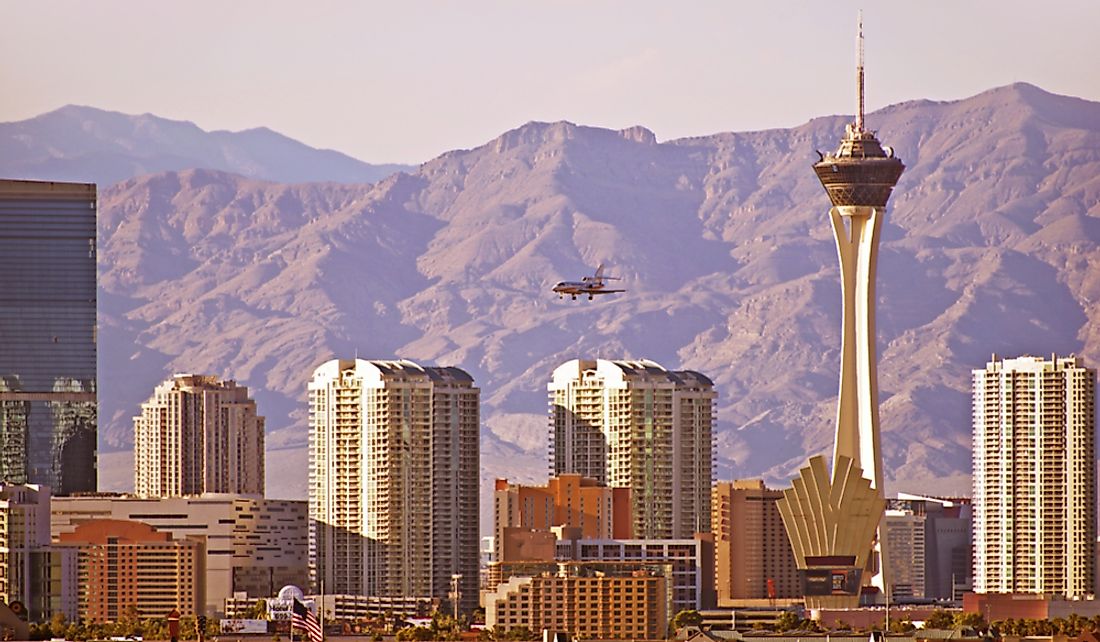 The US state of Nevada is located in the western part of the country. Nevada occupies an area of 286,382 square km and has a population of 3,060,150, which ranks as the 7th most extensive state in the country and the 33rd most populous. Accordingly, given its large area and relatively small population, Nevada is the 9th least densely populated state in the US. Nevada is subdivided into 17 counties and contains 19 incorporated municipalities. Clark County is home to nearly three-quarters of the state's population. Similarly, the state's 19 municipalities cover only about 1% of the state's total area, but house 56.7% of the population. In terms of population, the largest city in Nevada is Las Vegas (583,756), while Caliente is the smallest (1,130). The largest city in the state by area is Boulder City (540.1 square km), while Lovelock (2.2 square km) is the smallest.
The Most Populated Cities in Nevada
1. Las Vegas
With a population of 583,756 individuals, Las Vegas is Nevada's most populated city. It is the country's 28th most populous city and the seat of Clark County. Las Vegas is an internationally renowned resort city that is often nicknamed "The Entertainment Capital of the World." It is also referred to as "Sin City" because of its tolerance for adult entertainment. Las Vegas is synonymous with gambling, shopping, and nightlife, and also serves as the state's hub of commerce and culture. Additionally, it is one of the world's most visited cities and has been featured in numerous films, music videos, television serials, and books. Settlement in the area began in 1905, and the city was officially incorporated in 1911.
2. Henderson
Henderson is Nevada's second most populated city, with a population of 175,381. It is located in Clark County, about 16 miles southeast of Las Vegas. The city is situated in the Mojave Desert at an elevation of around 1,864 feet, and is surrounded by mountains, gentle slopes, and features flora and fauna typical of the desert.
3. Reno
Reno is the third biggest city in Nevada and the county seat of Washoe County. The city has a population of 225,221 and is home to numerous casinos and hotels. Reno is located in western Nevada, at the foot of the Sierra Nevada mountain range, and is only 22 km from Lake Tahoe.
4. North Las Vegas
North Las Vegas has a population of 216,961, which ranks as the fourth most populated city in Nevada. The city is located in Clark County and has a relatively short history given that it was incorporated in 1946. The economy of North Las Vegas is driven by the manufacturing, warehouse distribution, and industrial sectors.
5. Sparks
Sparks is Nevada's fifth most populous city, with a population of 90,264 individuals. Founded in 1904, the city is located in Washoe County and was officially incorporated in 1905.
The Capital City of Nevada
Carson City is the capital of Nevada and an independent city, meaning that is not part of any county. With a population of 55,274, the city ranks as the sixth most populous in the state. Carson City was named after American frontiersman Kit Carson.
The 10 Biggest Cities in Nevada by Population
| Rank | City | County | Population (2010 Census) | Land Area (2010) | Population Density |
| --- | --- | --- | --- | --- | --- |
| 1 | Las Vegas | Clark | 583,756 | 351.7 km2 | 1,659.6/km2 |
| 2 | Henderson | Clark | 257,729 | 279.0 km2 | 923.7/km2 |
| 3 | Reno | Washoe | 225,221 | 266.8 km2 | 844.2/km2 |
| 4 | North Las Vegas | Clark | 216,961 | 262.5 km2 | 826.5/km2 |
| 5 | Sparks | Washoe | 90,264 | 92.6 km2 | 974.6/km2 |
| 6 | Carson City | None | 55,274 | 374.7 km2 | 147.5/km2 |
| 7 | Fernley[a] | Lyon | 19,368 | 316.3 km2 | 61.2/km2 |
| 8 | Elko | Elko | 18,297 | 45.7 km2 | 400.5/km2 |
| 9 | Mesquite | Clark | 15,276 | 82.6 km2 | 185.0/km2 |
About the Author
Oishimaya is an Indian native, currently residing in Kolkata. She has earned her Ph.D. degree and is presently engaged in full-time freelance writing and editing. She is an avid reader and travel enthusiast and is sensitively aware of her surroundings, both locally and globally. She loves mingling with people of eclectic cultures and also participates in activities concerning wildlife conservation.
This page was last updated on January 15, 2019.
Citations
Your MLA Citation
Your APA Citation
Your Chicago Citation
Your Harvard Citation
Remember to italicize the title of this article in your Harvard citation.