Who is the President of Ireland?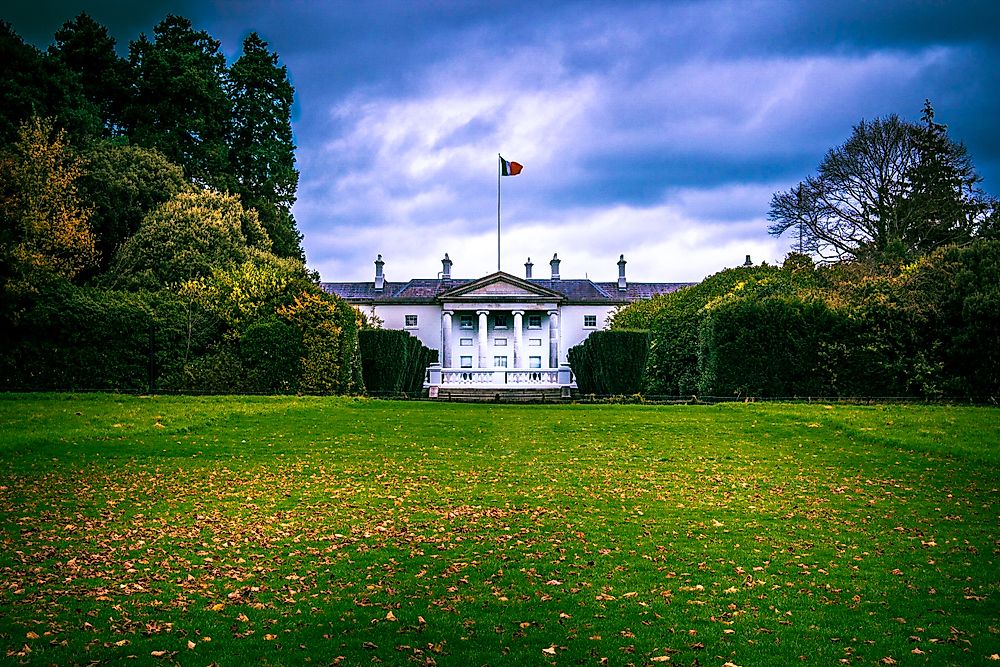 The Republic of Ireland is an island country in the North Atlantic. The island of Ireland consists of Northern Ireland, belonging to the UK, and the Republic of Ireland which accounts for five-sixths of the island. In 2011 Ireland had a population of about 6.4 million with 4.6 million living in the Republic of Ireland and more than 1.8 million living in Northern Ireland. Ireland has a parliamentary republic system of government. The head of state of Ireland is the president.
Currently, the president of Ireland is Micheal D. Higgins. The history of the position of president in Ireland dates back to 1937 when the office was established by the Irish constitution. The President of Ireland is responsible for appointing the government, appointing the judiciary, convening and dissolving the Dáil, signing bills into law and representing Ireland in foreign affairs. The President of Ireland is also the Supreme Commander of the Defence Forces and also holds the power of pardon. The Irish President is the Head of State, guardian of the Constitution, and the Supreme Commander of the military in Ireland.
Presidents Of The Republic Of Ireland
Douglas Hyde (1938-1945)
Douglas Hyde was born on January 17th, 1860 in Castlerea, Roscommon, Ireland. He was not only an Irish academic but was also a scholar and linguist of the Irish language. Hyde was the first President of Ireland with one of the most influential cultural organizations in Ireland during that time. Hyde worked as an academic before becoming the president of Ireland between 1938 and 1945. As an academic, one of his students was Cearbhall Ó Dálaigh the future Attorney General and President of Ireland. Hyde helped establish the Gaelic League in 1893 whose aim was to encourage the preservation of the Irish culture.
Cearball Ó Dálaigh (1974-1976)
Cearball Ó Dálaigh was born on February 11th, 1911 in Bray, Wicklow, Ireland. He was the fifth president of Ireland who had an extraordinary career in law which saw him serve as Ireland's Chief Justice. In 1946 Dálaigh became the youngest Attorney General in Ireland serving until 1948 and was later re-appointed for the post in 1953. In 1972 Dálaigh was nominated as presidential candidate and was elected and served as president of Ireland from 1974 to1976 when he resigned due to conflicts and disagreement in government in order to protect the dignity and independence of the institution of the presidency of Ireland.
Mary Robinson (1990-1997)
Mary Robinson was born on May 21st, 1944 in Ballina, County Mayo, Ireland. She was the first female president of Ireland, serving from 1990-1997. Robinson was also the United Nations High Commissioner for Human Rights between 1997 and 2002. Robinson was first noted as an academic, barrister, campaigner, and then member of the Senate in Ireland between 1969 and 1989. Robinson's term in office is widely remembered for her ability to revitalise and liberalise a political office that was previously highly conservative with low profile. Robinson is seen as Ireland's transformative figure. Two months before her term as President of Ireland came to an end, Robinson resigned from office to take up her post in the UN.
Micheal Higgins (2011-Present)
Micheal Higgins was born on April 18th, 1941 in Limerick City, Limerick, Ireland. He is the ninth and the incumbent President of Ireland. Higgins is not only a politician but also a sociologist, broadcaster, author, and poet. Higgins graduated from university with a Masters of Arts degree in sociology and was later a lecturer in the Political Science and Sociology Department at University College of Galway and was also a visiting professor at Southern Illinois University. However, Higgins resigned from his academic posts to fully focus on his political career. Higgins became President of Ireland from 201.
Other Presidents Of Ireland
The President of Ireland is directly elected by the people and holds office for seven years of which he or she can be elected to two terms only. So far Ireland has had nine presidents with two of them being women. Other Presidents of Ireland include Sean O'Kelly who served between 1945 and 1959, Éamon de Valera who served between 1959 and 1973, Erskine Childers who served between 1973 and 1974, Patrick Hillery who served between 1976 and 1990 and Mary McAleese who served between 1997 and 2011.
Presidents Of The Republic Of Ireland
| Presidents of the Republic of Ireland | Term in Office |
| --- | --- |
| Douglas Hyde | 1938-1945 |
| Seán O'Kelly | 1945-1959 |
| Éamon de Valera | 1959-1973 |
| Erskine Childers | 1973-1974 |
| Cearbhall Ó Dálaigh | 1974-1976 |
| Patrick Hillery | 1976-1990 |
| Mary Robinson | 1990-1997 |
| Mary McAleese | 1997-2011 |
| Michael Higgins (Incumbent) | 2011-Present |