Politics
The Four Divisions of the United Kingdom
The UK is made up of four nations: England, Northern Ireland, Scotland, and Wales.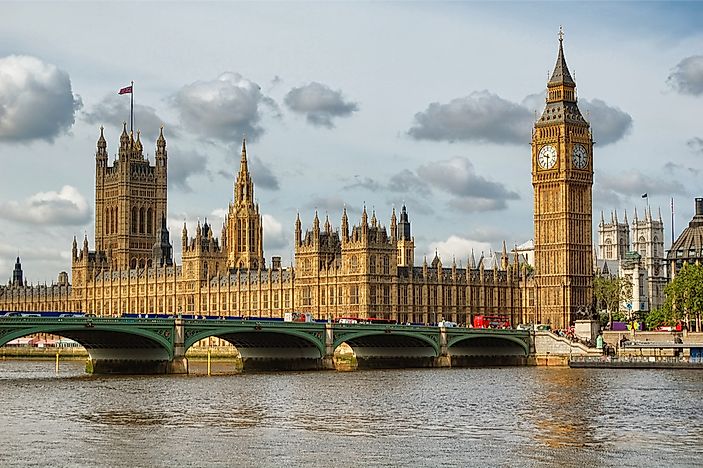 The United Kingdom (UK) is a unitary sovereign states made up of four countries within its territory. These countries include England, Northern Ireland, Scotland, and Wales. The general matters of the latter three countries are handled by their respective governments, as a result of the devolution process in which the Parliament of the UK granted some powers to the governments of these countries. However, certain special cases of these countries are handled by the Government of Britain and the Parliament of the UK. However, all matters of governance in England rest solely in the hands of the UK Parliament, which operates in London. In total, the UK has an area of 248,531.52 square km and a population of 63.7 million.
England
England is one of UK's four countries. Scotland and Wales form the land borders of England to the north and west, respectively. England is surrounded by the Irish Sea to the northwest, while the Celtic Sea washes the southwestern shores of the country. The North Sea and the English Channel separate England from the rest of continental Europe. The country encompasses a land area of 132,937.69 square km and has a population of 53.5 million. London is the capital and most populous city of England.
Northern Ireland
A part of the UK, Northern Ireland is located on the northeastern part of the island of Ireland. The island of Ireland is shared with the Republic of Ireland, which borders Northern Ireland to the west and south. The population of Northern Ireland accounts for 30% of the island's population, which was 1.8 million in 2011. The country covers an area of 14,129.72 square km. Belfast is the capital and most populous city of Northern Ireland.
Scotland
Scotland is also one of the four countries of the United Kingdom. Scotland occupies an area of 80,239.47 square km, and accounts for about one-third of the total area of the island of Great Britain. England borders Scotland to the south, while the rest of the country is surrounded by the Atlantic Ocean. Scotland has a population of 5.3 million. The capital of Scotland is Edinburgh. Scotland is famous for its outstanding landscapes and natural beauty.
Wales
Wales is also located on the island of Great Britain, and shares its eastern borders with England. The country has coastlines along the Bristol Channel and the Irish Sea. The total length of the coastline is 2,700 km. Wales covers an area of 21,224.63 square km and had a population of 3.1 million in 2011. The capital of Wales in Cardiff. Wales has a mountainous landscape, with the highest elevation being Snowdon, which is 3,560 ft above sea-level.
The Four Divisions of the United Kingdom
| Feature | UK | England | Scotland | Wales | Northern Ireland |
| --- | --- | --- | --- | --- | --- |
| Area (km2) | 248,531.52 | 132,937.69 | 80,239.47 | 21,224.63 | 14,129.72 |
| Population (millions) | 63.7 | 53.5 | 5.3 | 3.1 | 1.8 |
| Pop. Density (per km2) | 263 | 411 | 68 | 148 | 135 |
| Highest Mountain | Ben Nevis (1,344 metres) | Scafell Pike (978 metres) | Ben Nevis (1,344 metres) | Snowdon (1,085 metres) | Slieve Donard (852 metres) |
| Longest River | Severn (354km) | Thames (346km) | Tay/Tummel (188km) | Towy (121km) | Bann (122km) |
| Largest Lake | Lough Neagh (392km2) | Windermere (14.7km2) | Loch Lomond (71km2) | Lake Vyrnwy (4.5km2) | Lough Neagh (392km2) |