Presidents Of Modern Germany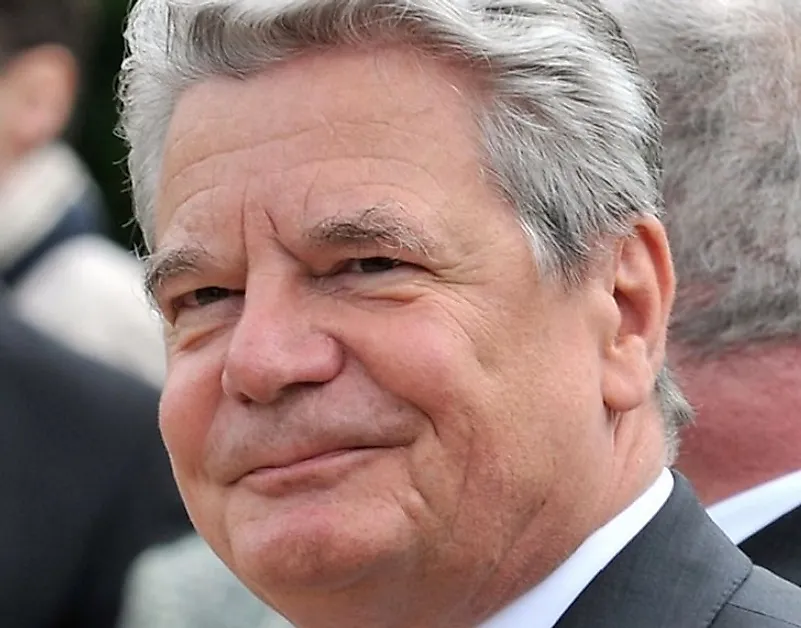 The German President has some significant reserve powers and duties, and is influential in foreign affairs. The first democratic elections in Germany took place in the Weimar Republic (1919-1933) on March 29, 1925. Paul von Hindenburg was elected as the second president of Germany after a second runoff, succeeding Friedrich Ebert who had occupied the seat by the National Assembly's vote. In the face of recession, the Weimar Republic lost popularity in Germany, and the Nazis rose to power. Germany was later partitioned into West and East and the second democratically elected president, Theodor Heuss, was elected in West Germany in 1949. The president in modern Germany is chosen by the Federal Convention. He/she signs laws, proposes a chancellor to the Bundestag (lower house of parliament), appoints and fires the chancellor on grounds put forward by the Bundestag, fires and appoints ministers based on the chancellor's recommendation and represents Germany in international law's concerns. Some of the most notable Presidents of modern Germany are discussed below.
Theodor Heuss
Theodor Heuss was born on January 31, 1884 in Brackenheim, Germany. He proceeded with his education which culminated in a political science degree in Munich and art history studies in Berlin. He received his initiation in politics as part of a left-wing liberal party, the Freisinnige Vereinigung, and he worked as an editor in several political newspapers. Heuss became a founding member of the German Democratic Party (DDP). He was elected to the Berlin legislative assembly and later represented the Schöneberg district in Berlin in the federal lower house from 1924 to1928 and 1930 to 1933. Theodor was opposed to Adolf Hitler's ideologies, and his books were burned under the Nazi regime for being liberal. After World War II, Heuss helped in founding the Free Democratic Party (FDP) and was elected the party's first president in 1948. He was subsequently elected as the first president of the Federal Republic of Germany in 1949. Among his accomplishments was the reviving of cultural life in Germany. He proposed for the alteration of the nation's anthem in a bid to inspire patriotism and traveled around the world in the aftermath of the Holocaust. He promoted a newly Democratic Germany to the world and helped forge alliances with other countries. He also supported the industrial design movement aimed at increasing desirability of Germany's products across the globe. He is honored as a democratic hero in modern day Germany.
Heinrich Lubke
Heinrich Lubke succeeded Theodor Heuss as President of the Federal Republic of Germany. Born on October 14, 1894 in Enkhausen, he went into military service as a young man during World War I. After the war, Lubke mobilized small scale farmer's organizations to join the General Farmers Federation. He acceded to the Roman Catholic Center Party and was elected as a member of the Prussian Parliament. He served 20 months in prison under the Socialists' rule on account of public fund misappropriation and remained politically inactive after he was released. He was among the founders of the Christian Democratic Union (CDU) and served in the Bundestag between 1953 and 1959. He served as Minister for Food, Agriculture, and Forestry before his Presidential election in 1959 and re-election in 1964. He is most honored for his role in westernization of agriculture in Germany when he was the Minister of Agriculture.
Gustav Heinemann
Gustav Heinemann was born on July 23, 1899 in Schwelm, and he succeeded Heinrich Lubke as president in 1969. A liberal himself, he briefly served in World War I in 1917 and studied Law and Economics from 1918. Gustav then worked as a legal practitioner and as a law lecturer. His academic career came to an end after he refused to join the Nazi Party. He joined the Christian Social People's Service in 1930. He became active in the Confessing Church and served as the head of the YMCA in Essen between 1936 and 1950. He served in Post-World War II Germany as Mayor of Essen until 1949. He held other political posts until he left the government to form the All-German People's Party in 1952. He later joined the Democratic Party of Germany and was elected as President in 1969. During his tenure, he heavily championed for democratic ideals which made him famous in the nation. He promoted reconciliation with countries which had been previously occupied by Germany. He also championed for peace and environmental consciousness and pushed for the founding of a museum to honor German liberation movements.
Walter Scheel
Walter Scheel was born on July 8, 1919 in Solingen. He joined military service in the World War II and rose to the rank of the first Lieutenant. He acceded to the Free Democratic Party after the war, and after holding various government posts, he was elected to the Bundestag in 1953. Under a coalition government between his party and the Christian Democratic Union in 1962, Scheel became Minister of economic cooperation and development. He formulated economic policies that facilitated economic growth in Germany and was elected minister for foreign affairs in 1969. He was subsequently elected to presidential office in 1974. He is credited with negotiating for closer ties with the Soviet Union and East Germany.
Other Presidents of modern Germany, and their respective times in office, have included Karl Carstens (1979-1984), Richard von Weizsacker (1984-1994), Roman Herzog (1994-1999), Johannes Rau (1999-2004), Horst Kohler (2004-2010), Christian Wulff (2010-2012), and the incumbent Joachim Gauck (2012 -present). Although the presidential position in Germany is often said to be ceremonial, they play a significant role in the politics and development of the country.
| Presidents of the Federal Republic of Germany (including all of Germany since 1990) | Term in Office |
| --- | --- |
| Theodor Heuss | 1949-1959 |
| Heinrich Lubke | 1959-1969 |
| Gustav Heinemann | 1969-1974 |
| Walter Scheel | 1974-1979 |
| Karl Carstens | 1979-1984 |
| Richard von Weizsacker | 1984-1994 |
| Roman Herzog | 1994-1999 |
| Johannes Rau | 1999-2004 |
| Horst Kohler | 2004-2010 |
| Christian Wulff | 2010-2012 |
| Joachim Gauck | 2012-Present |