Presidents Of Liberia Through History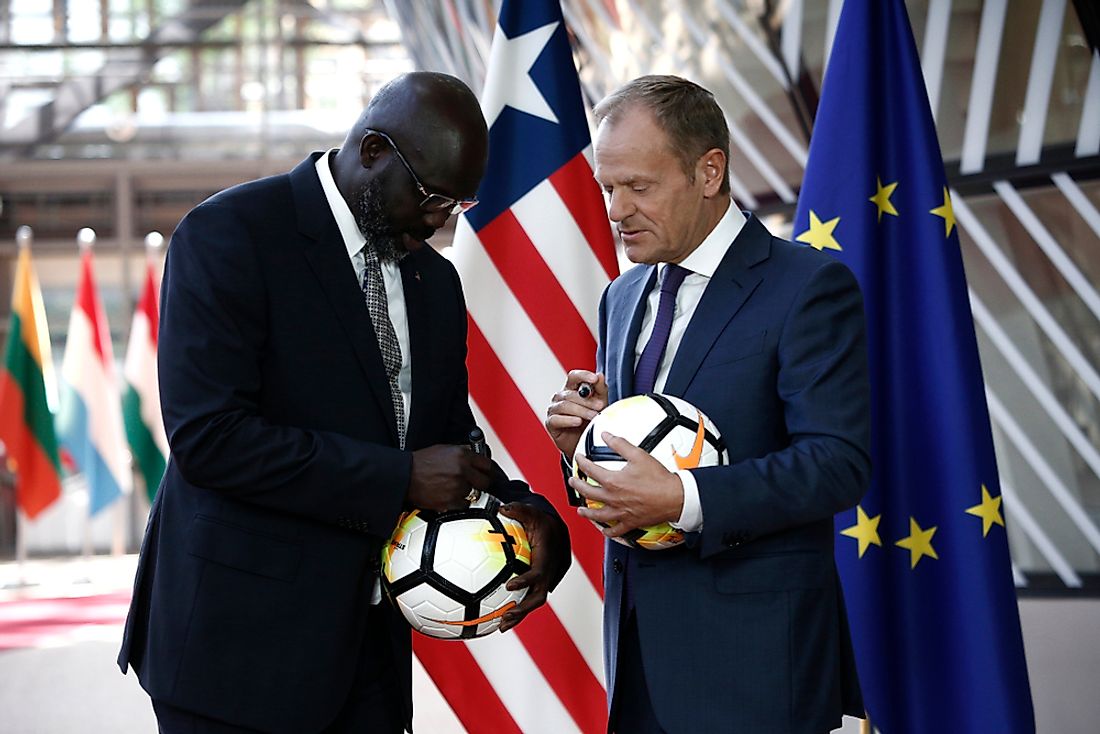 Liberia is the oldest Republic in Africa and stretches along the West African Coast. Liberia was established in 1822 as a destination for freed American slaves. The Republic of Liberia was officially founded, in 1847 with a constitution that mirrored that of the US. From then began the voluntary migration of African slaves to the West African country. The first several Liberian Presidents were African Americans who left the US for the promise of a better life in Africa.
Joseph Jenkins Roberts
The first president of Liberia was Joseph Jenkins Roberts. He served different terms, between 1848 and 1856 and from 1872 to 1876. He was born in Virginia on March 15, 1809. In 1829, at the age of twenty, he accompanied his mother and younger brothers to Liberia. He soon after engaged in trade and became a prosperous merchant. He succeeded the then governor of Liberia, Thomas Buchanan, after his death to become the colony's first non-white governor. His major accomplishment in power was lobbying for recognition of Liberia as a sovereign nation by global powers such as the UK and other countries in Europe. He was renowned for his diplomatic skills, which assisted him to develop healthy relationships with foreign powers and native communities in Liberia. Under his rule, economy, education, agriculture, and trade in Liberia flourished. His legacy is evident in the airport, town and street named after him. His face is portrayed on the Liberian ten dollar bill.
Stephen Allen Benson
Stephen Allen Benson was born in Maryland, US on May 21, 1816. He moved to Liberia in 1822 with his family. His family's settlement was attacked by native tribesmen, and he and his relatives were held captive. He began his studies after his release and joined the military later and was stationed in Grand Bassa County. He engaged in agriculture and trade after his service and made a debut into politics in 1842, on an elective seat in the Colonial Council. He had served as a judge and Vice President before he was elected President in 1856 serving until 1864.
Local and international trade flourished under his rule, and the US finally recognized Liberia as a sovereign nation. Other countries such as Sweden, Norway, Italy and Denmark also recognized the Republic of Liberia. His most notable accomplishment was the annexation of the colony of Maryland which is today's Maryland County in Liberia. After his time in office, he retired to his coffee farm in Grand Bassa County where he died in 1865.
Daniel Bashiel Warner
Daniel Bashiel Warner was born on April 19, 1815, in Maryland, US. He accompanied his relatives on a move to Liberia in 1823. His political career before the presidency was that of the Secretary of State and Vice President under Stephen Allen Benson. He was elected president in 1864 and served until 1868. Daniel was concerned with the assimilation of the indigenous communities and organized the first expedition into the dense forest, which was led by Benjamin J.K. Anderson. He wrote about the native people when he traveled to see the King of Musardo and his descriptions were used to structure strategies to assimilate the native population. Daniel wrote the lyrics to Liberia's national anthem which was sung in 1847 when Liberia acquired independence.
James Spriggs Payne
James Spriggs Payne was born on December 19, 1819, in the state of Virginia in the US to a family of ex-slaves. His family was highly religious, and his father was a minister in the Methodist Church. He moved to Liberia with his family when he was ten years old. He resumed his education and traveled back to America where he was ordained as a Methodist minister. He engaged in missionary activities and was also interested in politics and economics disciplines. He was appointed to the committee that finalized the separation of Liberia from the American Colonization Society.
He was elected president in 1867 and set about to curb slave trading activities on the Liberian Coast. Payne also expanded international trade such that Liberian products were exported directly to global markets instead of through merchants. Payne's efforts to integrate indigenous communities and stop illegal trading on Liberian coast were curtailed by a shortage of manpower and finance. His policies mostly remained unimplemented. He was elected to Presidency again in 1876 for one year. An airport in Monrovia is named after him.
Other Presidents Of Liberia
Other Liberian Presidents through history are Edward James Roye, James Skivring Smith, Antony W. Gardiner, Alfred Francis Russell, Hilary R.W. Johnson, Joseph James Cheeseman, William D. Coleman, Garrettson, Arthur Barclay, Daniel Edward Howard, Charles D. B. King, Edwin Barclay, William Tubman, William R. Tolbert, Jr, Samuel Doe, Amos Sawyer, David D. Kpormakpor, Wilton G.S. Sankawulo, Ruth Perry, Charles Taylor, Moses Blah, Gyude Bryant and Ellen Johnson Sirleaf. Ellen Johnson was elected president of Liberia in 2006 as the first woman president in Liberia and the whole of Africa, she is still in office.
Presidents Of Liberia Through History
| Rank | Presidents of Liberia | Time in Office |
| --- | --- | --- |
| 1 | Joseph Jenkins Roberts | 1848-1856; 1872-1876 |
| 2 | Stephen Allen Benson | 1856-1864 |
| 3 | Daniel Bashiel Warner | 1864-1868 |
| 4 | James Spriggs Payne | 1868-1870; 1876-1878 |
| 5 | Edward James Roye | 1870-1871 |
| 6 | James Skivring Smith | 1871-1872 |
| 7 | Anthony W. Gardiner | 1878-1883 |
| 8 | Alfred Francis Russell | 1883-1884 |
| 9 | Hilary R. W. Johnson | 1884-1892 |
| 10 | Joseph James Cheeseman | 1892-1896 |
| 11 | William D. Coleman | 1896-1900 |
| 12 | Garrettson W. Gibson | 1900-1904 |
| 13 | Arthur Barclay | 1904-1912 |
| 14 | Daniel Edward Howard | 1912-1920 |
| 15 | Charles D. B. King | 1920-1930 |
| 16 | Edwin Barclay | 1930-1944 |
| 17 | William Tubman | 1944-1971 |
| 18 | William R. Tolbert, Jr. | 1971-1980 |
| 19 | Samuel Doe | 1980-1990 |
| 20 | Amos Sawyer | 1990-1994 |
| 21 | David D. Kpormakpor | 1994-1995 |
| 22 | Wilton G. S. Sankawulo | 1995-1996 |
| 23 | Ruth Perry | 1996-1997 |
| 24 | Charles Taylor | 1997-2003 |
| 25 | Moses Blah | 2,003 |
| 26 | Gyude Bryant | 2003-2006 |
| 27 | Ellen Johnson Sirleaf | 2006-2018 |
| 28 | George Weah | Incumbent |