Lester B. Pearson, Prime Minister of Canada - World Leaders in History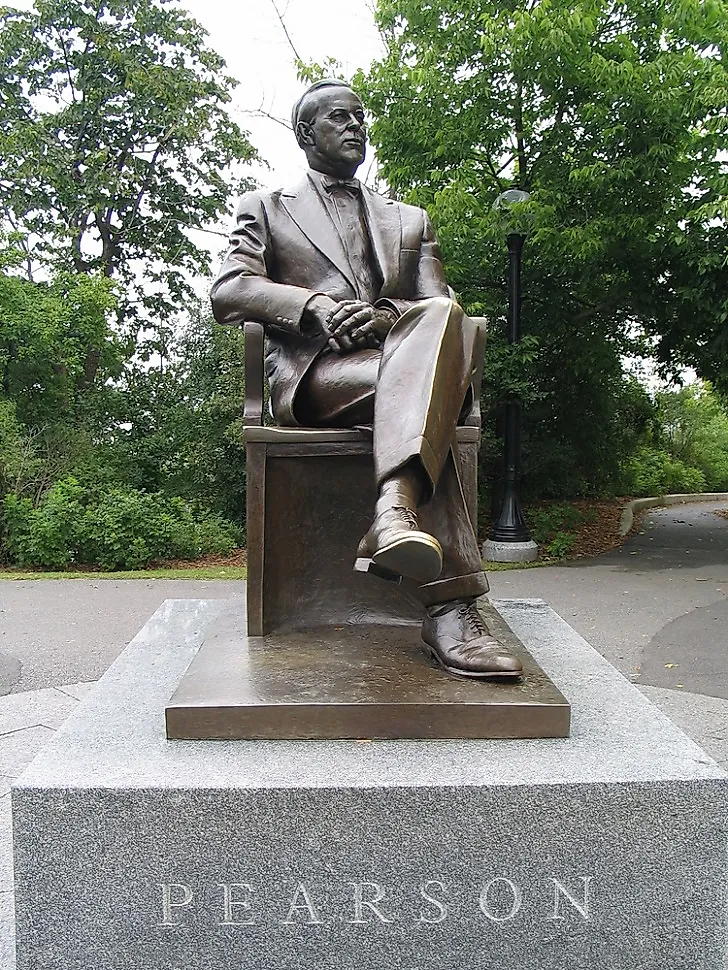 5. Early Life
Lester Bowles Pearson was born on April 23rd, 1897, in Newtonbrook, Toronto, Ontario. His father was a minister of the United Church of Canada. Young Pearson attended a public school in Aurora, a town in the suburb of Toronto, and then went to Hamilton Collegiate Institute in Hamilton, Ontario. After graduation, he enrolled in Victoria College at the University of Toronto in 1913. He was known to be an excellent student and a national class athlete while attending college. After World War I broke out in 1914, he served his country overseas in Egypt, Greece, and England as an airman and a medical corpsman. He worked to receive his Bachelor's of Arts Degrees in History and Psychology from the University of Toronto in 1919, before going on a scholarship to study at the University of Oxford, where he would also play ice hockey. He received a Bachelor's of Arts Degree and a Master's of Arts Degree from Oxford in 1925.
4. Rise to Power
Upon returning from Oxford, Pearson passed the Canadian foreign service entry exam with high scores, and was assigned to work in the Department of External Affairs. In this capacity, he was assigned to London, England and Washington, D.C., U.S.A. during World War II. In 1948, Pearson was appointed by Prime Minister Louis St. Laurent as Secretary of State for External Affairs in his Liberal government, and he soon won a seat in the House of Commons. After the defeat of the Liberal Party in 1957, Laurent retired, and Pearson was elected to be the new leader of the Liberal Party. He served as the leader of official minority opposition until 1963, when the Liberals formed a minority government and Pearson became the 14th Prime Minister of Canada.
3. Contributions
Although Pearson only served one term as Canadian Prime Minster, he managed to accomplish many important reforms, especially in the realm of social welfare. His government passed universal health care legislation, the Canadian Pension Plan, and the Canada Student Loans legislation, all of which have become an integral part of Canadian identity today. He also standardized working conditions, increased the minimum wage, and put into place such standards as a 40-hour work week and two weeks of vacation time. Meanwhile, Pearson also installed Royal Commissions on the Status of Women, and on Bilingualism and Biculturalism, which helped improve women's status in Canadian society and paved the way for official bilingualism. He also instituted a new national flag, the Maple Leaf flag, which helped Canada to become more culturally independent from Great Britain, en route to forming its own, more distinctive, Canadian identity.
2. Challenges
Because Pearson's Liberal Party formed a minority government, it was seen as less legitimate than a majority government, and it had to form an alliance with the New Democratic Party (NDP), which was a socialist party much further to the "Left" of the political spectrum. On the other hand, separatist sentiments in Quebec had already become a problem for Pearson's Canadian Federal government. The tensions escalated to especially high levels when the President of France, Charles de Gaulle, visited Quebec and made the famously controversial "Vive le Quebec libre" speech, in which he advocated for Quebec separatism, with the Francophone culture there in mind. The visit and speech enraged Pearson, and he made a speech the following day stating that "Canadians do not need to be liberated". But Quebec separatism remained a challenge in the following years for administrations to come.
1. Death and Legacy
Pearson had suffered from eye cancer since the early 1970s, and it later on would spread into his liver. His situation deteriorated rapidly in 1972. He died on December 27th, 1972, in his home in Ottawa, at the age of 75. Although he only served a single term as Prime Minister, he is still widely respected and spoken highly of today. The social policies passed during his days in office had, and still have, profound impacts on Canadians and Canadian identity. Pearson had received plenty of honors and awards during his life, including a Nobel Peace Prize and two Queen Elizabeth II Coronation Medals. He had also received 48 honorary degrees from top universities across the world. Many schools and public places in Canada are still named after him.