León Viejo Ruins, Nicaragua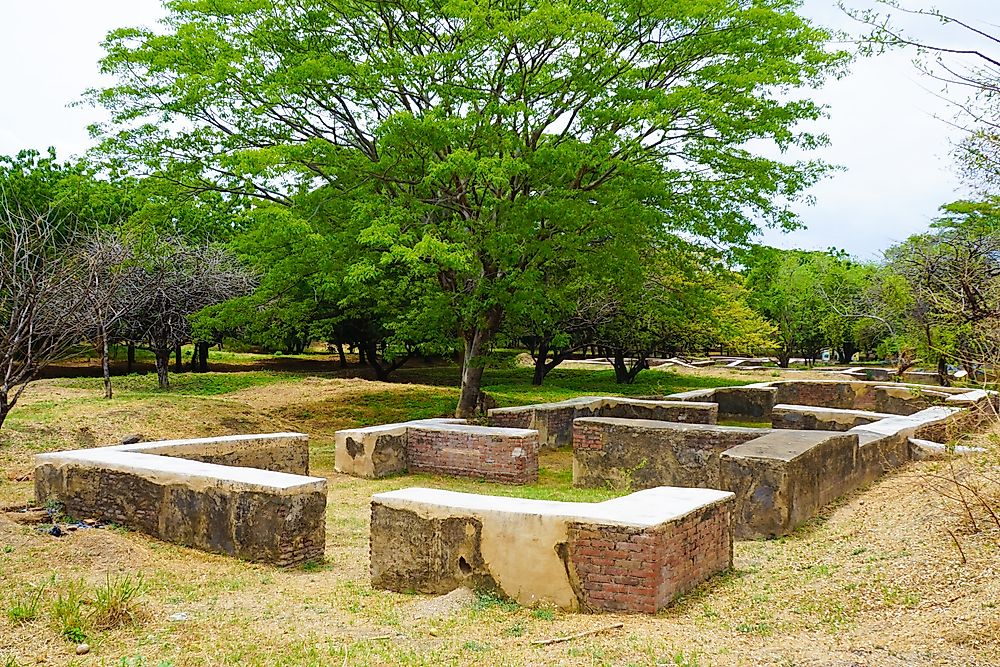 Nicaragua, officially known as the Republic of Nicaragua is located in Central America with its capital at Managua. 
León Viejo is a UNESCO World Heritage Site located near the La Paz Centro in Nicaragua. It was founded on June 15, 1524. The town is located on the southwestern banks of Lake Managua and Momotombo volcano. León, the second-largest city in Nicaragua, was initially located here but in the present day, the town of Puerto Momotombo is located here. The Spanish colonialists settled in this location with a population of 15,000, but due to the frequent volcanic activity experienced in the town, a decision to relocate the town to its current position was arrived at due through a referendum. Due to the volcanic eruptions, the city was continually buried, and the ruins were discovered in 1967. After the excavations that were done with the aim of restoring the city, 16 ruins had been partially restored which had not suffered alterations.
4. Tourism and Education
León Viejo is an old Spanish settlement of the early 16th century. It was unoccupied for four centuries until its ruins were discovered. The ruins are an extraordinary evidence of the existence of the town, and it was inscribed in the UNESCO world heritage list in 2000 as a cultural site in Nicaragua.
3. Archaeological Uniqueness
Further excavations have been done at the sites and the 17 ruins that had been discovered since 1967 displayed a simply-shaped building and other artifacts like ceramic, porcelain, metal, both wildlife and human remains. Prehispanic materials like a flute made out of human remains were found as well as some musical artifacts believed to be used during burial ceremonies. In the town, it is also believed to have practiced skull trepanation as tools like fragments of prismatic knives and pottery were found which were converted in major parts for production of domestic and other ceremonial tools.
2. Natural Surroundings, Sights, and Sounds
The Viejo ruins are located not a far distance from the volcano which was the reason the town was initially moved due to the frequent eruptions and earthquakes which destroyed some building hence the surrounding is majorly fauna with due to the fear of another eruption which could trigger an earthquake.
1. Threats and Conservation Efforts
A management plan has been drawn which must be regularly updated to keep the archaeological remains of the private investors kept in the site safe. The site is under the protection of the state which seeks to enhance the site into a sustainable standard. A lot of effort has been put in place by the authorities in charge of it to preserve the history it holds especially of the Spanish colonial era and the various archaeological items found.