World Facts
The Largest Universities in Germany
With a total of 86,889 students, the University of Hagen is the largest university in Germany.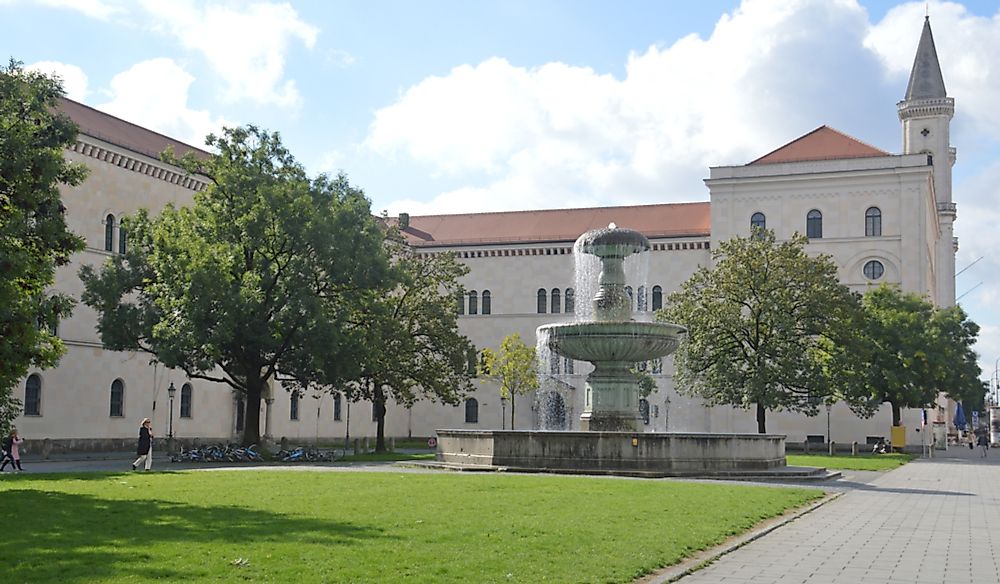 Germany, officially known as the Federal Republic of Germany, is a country in Europe with an advanced education system, and one that is publicly funded so that most students can attend school without tuition fees. Universities are institutions that offer the highest levels of education and research. Some German universities are among the oldest in the world, dating as far back as the 1400s. In addition, certain German universities have created education models that are now used throughout Europe and the world. For the purpose of this analysis, the size of a university will be measured in terms of enrollment. The biggest university in Germany is the University of Hagen, which has an enrollment of a whopping 86,889 students. The University of Munich ranks as the second largest, with 51,025 students, while the University of Cologne has 48,962 enrolled students. Goethe University Frankfurt and RWTH Aachen University are fourth and fifth largest universities in Germany, with 46,961 and 44,517 enrolled students, respectively.
The Three Biggest Universities in Germany
University of Hagen
Often referred to as FU Hagen, the University of Hagen is primarily focused on distance learning. However, it has a campus in Hagen, Germany, and at least 50 research and study centers throughout Europe. The university was founded in 1974 by the state Nordrhein-Westfalen. Initially a small university with less than 1,500 students, it has evolved to become the largest university in Germany. Despite its focus on distance learning, students wishing to enroll are held to the same high requirements as other top institutions in the world.
University of Munich
Officially known as the Ludwig Maximilian University of Munich, the University of Munich is located in the German capital. Initially founded in the German city of Ingolstadt in 1472 by Duke Ludwig IX of Bavaria-Landshut, it is the sixth-oldest university in Germany. The university was relocated to Landshut in 1800 by King Maximilian I of Bavaria and then moved again to Munich in 1826 by King Ludwig I of Bavaria. Over the course of its history, the university has developed a reputation as a top institution in Germany and Europe, and has produced more than 40 Nobel laureates. Notable laureates include physicist Max Plank, Pope Benedict XVI, and chemist Otto Hahn.
University of Cologne
The University of Cologne was established in 1388, making it the sixth oldest in Central Europe. However, the university was closed in 1798 and then reopened again in 1919. The university is located in Cologne, Germany, and has earned the status of a German Excellence University. Additionally, according to Times Higher Education, University of Cologne ranks 145th in the world. Globally, the University of Cologne is widely known for its excellence in in the fields of economics, law, and business. Notable alumni include Nobel Prize-winning chemist Kurt Alder and Catholic friar, bishop, and saint, Albertus Magnus.
Oldest University in Germany
Heidelberg University holds a unique position in Germany and the world. Located in the German city of Heidelberg and founded in 1386 based on the wishes of Pope Urban VI, the university is the oldest in Germany and ranks among the oldest surviving universities in the world. Today, Heidelberg University has an enrollment of 30,873 students from all over the world. Additionally, over its history, the university has produced notable alumni including sociologist Maximilian Karl Emil Weber and virologist Harald zur Hausen.
The 10 Largest Universities in Germany by Enrollment
| Rank | University | Enrollment |
| --- | --- | --- |
| 1 | University of Hagen | 86,889 |
| 2 | University of Munich | 51,025 |
| 3 | University of Cologne | 48,962 |
| 4 | Goethe University Frankfurt | 46,961 |
| 5 | RWTH Aachen University | 44,517 |
| 6 | University of Munster | 43,790 |
| 7 | University of Duisburg-Essen | 43,043 |
| 8 | Ruhr University Bochum | 42,425 |
| 9 | Technical University of Munich | 41,000 |
| 10 | University of Erlangen-Nuremberg | 39,868 |
About the Author
Ferdinand graduated in 2016 with a Bsc. Project Planning and Management. He enjoys writing about pretty much anything and has a soft spot for technology and advocating for world peace.
This page was last updated on January 22, 2019.
Citations
Your MLA Citation
Your APA Citation
Your Chicago Citation
Your Harvard Citation
Remember to italicize the title of this article in your Harvard citation.