World Facts
Universities With The Largest Enrollments In The World
The current enrollment of Delhi's Indira Gandhi National Open University is larger than the population size of many entire countries.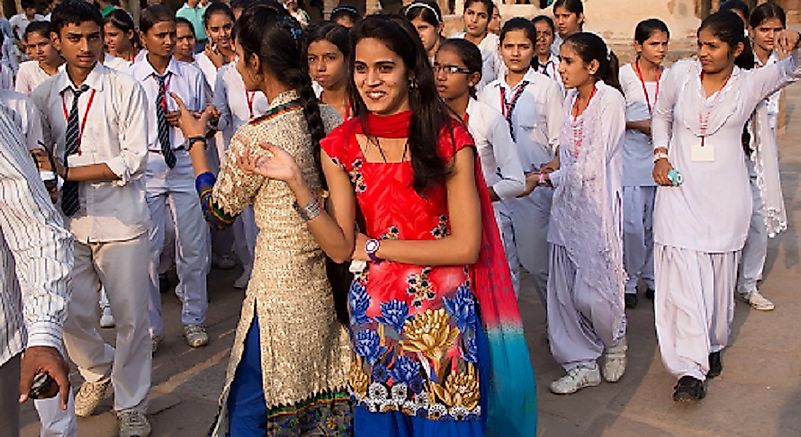 Leading modern universities are a far cry from the first universities of long ago, when they were just becoming established as learning institutions. The first universities had difficulty surviving without donors, while today many of these institutions of higher learning are money-making machines. Some major universities have established separate university campuses to accommodate students and different courses offered. These include undergraduate, postgraduate, and distance online students from local areas, and also from different countries abroad. The largest univeristies listed below in terms of enrollment, and ranked based on the sum of the students falling under all of these categories underneath singular university adminatrative systems.

10. Ramkhamhaeng, Thailand (525,000 students)
The Ramkhamhaeng University is located in Bangkok, Thailand. As a public and open admissions university, it has an annual enrollment of more than 25,000 students counting only its two campuses within the city itself. Ramkhamhaeng offers courses in Education, Humanities, Law, Political Science, Education Technology, Economics, Business Administration, Science, and Engineering. Ramkhamhaeng has also been affiliated with a number of other colleges in the country since it was first established in 1971.
9. Mumbai, India (550,000 students)
The Mumbai University is located in Maharashtra in India. It maintains two campuses in Mumbai, with a current enrollment of about 550,000 students. The campuses are located in Kalina and Fort, both in Mumbai. The university has affiliates at 711 other colleges in India as well. Its undergraduate, postgraduate, and doctoral courses attract many students from all over India. Its distance (online) learning programs also offer courses in computer science, information technology, humanities, commerce, and the natural sciences.
8. Tribhuvan, Nepal (605,000 students)
The Tribhuvan University is located in Kathmandu, Nepal. It has a combined current student enrollmment of more than 605,000 students. Its main campus also has established affiliations with about 826 colleges in the country. Tribhuvan's courses range across Technical, Bachelor's, Master's, and Ph.D. levels of degrees. The university has 7,841 faculty members. The five institutes in the university are focused on medicine, agriculture, engineering, science technology, and forestry, respectively.
7. Bangladesh Open, Bangladesh (650,000 students)
The Bangladesh Open University is located in Board Bazar, Gazipur, Dhaka in Bangladesh. Its total current enrollment of 650,000 students is formed by both its students on-campus and its distance learning student body. It offers courses in education, humanities, social science, languages, business, agriculture, law, and science technology. Its open distance learning programs offer secondary school completion programs. Its graduate school has undergraduate, postgraduate, and doctoral courses.
6. Bangladesh National, Bangladesh (1,000,000 students)
The Bangladesh National University is located in Gazipur, Dhaka, Bangladesh. This state-run university has a total enrollment of 1,000,000 students, scattered across its many affiliate colleges found throughout the country as well as those on its main campus. It also has undergraduate, postgraduate, and doctoral courses. Bangladesh National offers courses in social science, physical sciences, humanities, languages, mathematical sciences, education, commerce and business administration, law, computer technology, and biological science.
5. Payame Noor, Iran (1,100,000 students)
The Payame Noor University is located in Tehran, Iran. The total student enrollment there is inclusive of more than 1,100,000 students scattered across its many campuses and provincial centers, and its city study centers in Tehran. Different parts of its course offerings are in either undergraduate, postgraduate, and doctoral courses. Its 3,500-member-strong faculty serves both its local and international students. As a public open university, Payame Noor also offers distance learning.
4. Allama Iqbal, Pakistan (1,300,000 students)
The Allama Iqbal University is located in Islamabad, Pakistan. The university has a combined student body of more than 1,300,000 students. It has the honor of being Asia's first open university, and is also a public research university. Allama Iqbal's main thrust is distance learning, espciailly in law, philosophy, engineering, and natural social science. Allama Iqbal offers undergraduate, post-graduate, and doctoral courses as well.
3. Islamic Azad, Iran (1,700,000 students)
The Islamic Azad University is located in Tehran, Iran. Its more than 1,700,000 students are scattered throughout its 400 affiliate branches in Iran and abroad. Its main claim in the educational realm is its offering of study in around 750 academic fields. The university has 50 research centers that collectively publish 130 scientific magazines. Islamic Azad gives importance to its sports teams, particularly basketball and cycling, as well as to its public relations and information endeavors.
2. Anadolu, Turkey (2,000,000 students)
The Anadolu University is located in Eskisehir, Turkey. It has a student population of more than 2,000,000 students. Anadolu offers open and distance learning, aside from its main campus in Eskisehir, which lies 230 miles from Ankara. The university has two more campuses in Eylul as well. Its "Global Campus" provides a technologically-oriented world-class education system. It offers 14 faculties, of which three are distance learning opportunities.
1. Indira Gandhi , India (3,500,000 students)
The Indira Gandhi National Open University is located in Delhi, India. The university has more than 3,500,000 students. Its most popular learning venues are those through open and distance learning. Indira Gandhi National Open promotes research, teaching, extension, and training as part of its curricula. The university has also established its first regional headquarters in Kerala, with more planned in the future to cater to even more students still.