Economics
India Makes History With Shock Currency Demonetization To Curb Corruption In The Country
The Indian Government implemented a sudden ban on 500 Ruppees and 1,000 Rupees currency notes to protect the country from corruption.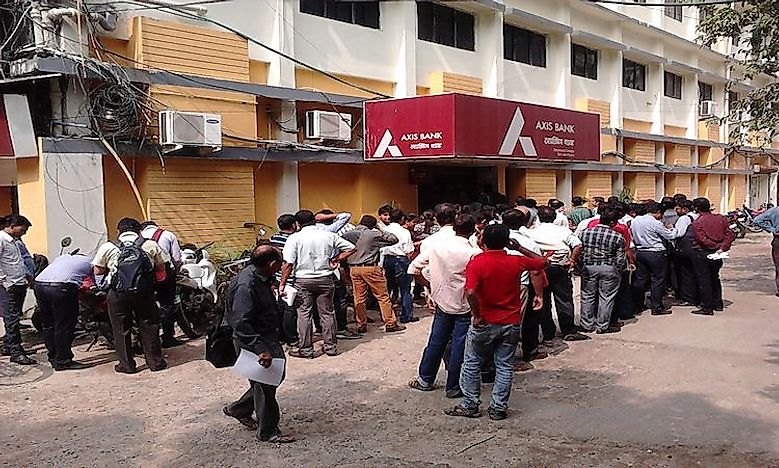 Corruption In India
India is known to have one of the highest rates of government corruption in the world. In fact, it ranked number 76 out of 168 countries in 2015. Corruption has widespread effects across India. It results in a sense of distrust of both public officials and private businesses. This may cause private businesses to lose economic value in negotiations with investors. This diminished value is not the only economic loss, however. Corruption also fosters intentional bureaucratic inefficiency. Difficult paperwork processes open the doors for increased bribery payments. This situation also works to lower the output of investments and raises the risk of misallocation of funds.
Estimates suggest that India loses over $50 billion annually in jobs, investments, and growth. A decrease in corruption would prompt an increase in economic growth. This article takes a look at one of the drastic measures the country has taken to put a stop to corruption.
November 9, 2016: The Historic Day: What Happened In India On This Day?
On November 8, 2016, the government of India moved to demonetize the 500 and 1,000 rupee banknotes. The next day, November 9, all 500 and 1,000 rupee banknotes from the Mahatma Gandhi series were no longer considered legal monies.
During the public announcement made only a few hours before the midnight ban became valid, Prime Minister Narendra Modi informed Indian residents that they could make bank deposits of any 500 and 1,000 rupee notes held in cash. These deposits are considered valid from November 10 until December 30.
Other currency denominations will remain valid. The 500 and 1,000 rupees will be replaced by new 500 and 2,000 rupee notes. The country did not make changes to any other form of tenders, such as checks, debit cards, and credit cards.
Prime Minister Narendra Modi: The Man Behind The Project
Prime Minister Narendra Modi, who assumed the Prime Minister's office on May 26, 2014, officially announced this shocking news via a live television broadcast. He informed the public that this move was in response to an overwhelming amount of counterfeit banknotes circulating in the market. These counterfeit bills have been used to fund terrorism, drug trafficking, and smuggling. Profits earned in these black markets are referred to as black money. In addition, Modi claims that this demonetization will help reduce corruption in government. Also, those citizens who tend to hoard large amounts of cash in their homes and elsewhere without declaring their true income to the income tax department will also be punished by this ban.
Preparations Before The Big Announcement
The current government has been fighting against counterfeit money since it assumed control two years ago. Between 2011 and 2016, the amount of all banknotes in the market had increased by 40%. However, 500 rupee notes had increased by 76% and 1,000 notes by 109%. These large increases are directly attributed to counterfeit operations, which went on to pay for terrorist activities against the country.
Even before Modi's party, the Bharatiya Janata Party won the elections, Modi had taken the oath to end corruption in India if he came to power. In August of 2014, Prime Minister Modi implemented the "People Money Scheme" (officially known as Pradhan Mantri Jan Dhan Yojana). This plan works to ensure financial inclusion of all levels of society by opening access to Banking Savings and Deposit Accounts, Remittances, Credits, and Insurance. Since its inauguration, 15 million bank accounts have been opened.
The Prime Minister has passed other plans in an effort to make the Indian economy more efficient and to speed up bureaucratic requirements at all levels. He has also deregulated diesel prices and opened the market to direct foreign investment.
What Does The Indian Government Aim To Achieve With This Banknote Ban?
As previously mentioned, removing counterfeit and black money from the market will help put a stop to terrorism, smuggling, drug trafficking, and corruption. With this demonetization effort, the Indian government hopes to control the ever increasing instance of illegal money in the market. Public officials believe this will clean the economy.
By reducing black market activity and acts of corruption throughout the country, the Indian government is trying to boost economic growth and revenue base within the nation. By removing illegal money from circulation, the government will be able to ensure that the vast majority of banknotes are easily traceable and accounted for. In addition, this move will have a serious consequence on public campaign financing. Many politicians have been able to run by spending large sums of unaccounted for money. By demonetizing certain currencies, the upcoming election campaigns might become more affordable for other less-represented political groups.
What Are The Critics Saying?
Prime Minister Modi's decision to demonetize the 500 and 1,000 rupee notes has been both widely accepted and widely criticized. Critics have included business professionals, politicians, and bankers.
The General Secretary of the Indian National League, a political party, filed a public interest litigation case against the decision with the intent to protect the interests of the marginalized communities, which would be negatively affected by the lack of access to bank services. The High Court of the state of Madras refused to see the case on the grounds that it does not hold the power to decide on government policies concerning currency. Cases were also filed with the Supreme Court of India, which decided that the government is within its rights to demonetize the banknotes.
The former Chief Economist for the World Bank reportedly claimed that this move would be more detrimental than beneficial. This is because, generally speaking, individuals involved in the black market are not likely to always keep cash on hand and therefore will not be affected by this policy.
The biggest criticism was perhaps of the undue hardship caused to people living in poverty. Bank and ATM lines are stretching beyond imagination with hours-long wait times as residents are depositing old, canceled notes and withdrawing newly issued currency. The withdrawal limits have only recently been increased but still leave a very small amount of cash circulating the market. Because of the decreased cash flow, small businesses have been unable to pay daily salaries and buy necessary materials. Also, homes with upcoming marriage celebrations are left with little cash in hand to spend on the marriage arrangements.
The Aftermath Of Demonetization: Short Term Troubles And Long Term Gains?
Shortly after the demonetization policy came into effect, the price of gold increased exponentially. This price increase was the direct result of a sudden interest in buying gold, particularly in people with undeclared money.
The stock market also responded, hit by both the demonetization of the rupees and by the US presidential election results. Stocks in software and real estate dropped while banking sector stocks rose in value.
Some people decided to buy expensive train tickets with old banknotes and then cancel the trip and request a refund in the new currency. Train companies put a ban on refunds. Other modes of transportation were also affected; toll booths had long wait times as people tried to pay with the canceled 500 and 1,000 rupees.
The demonetization policy did seem to have the desired effect on certain terrorist groups, which were reportedly left unable to operate. Attempts at cleaning the black money held by these insurgent groups have led to several arrests. In the long term, this could help increase the security of the residents of India. Also, torn, canceled currency notes in great numbers were found dumped in ditches and rivers which were believed to be an act done by the black money hoarders in an attempt to escape income tax raids. Police have also managed to catch individuals trying to smuggle large sums of cash, believed to be black money, from one place to another. Those depositing huge sums of canceled currency in banks have also been brought to the notice of income tax officials.