The Largest Banks in India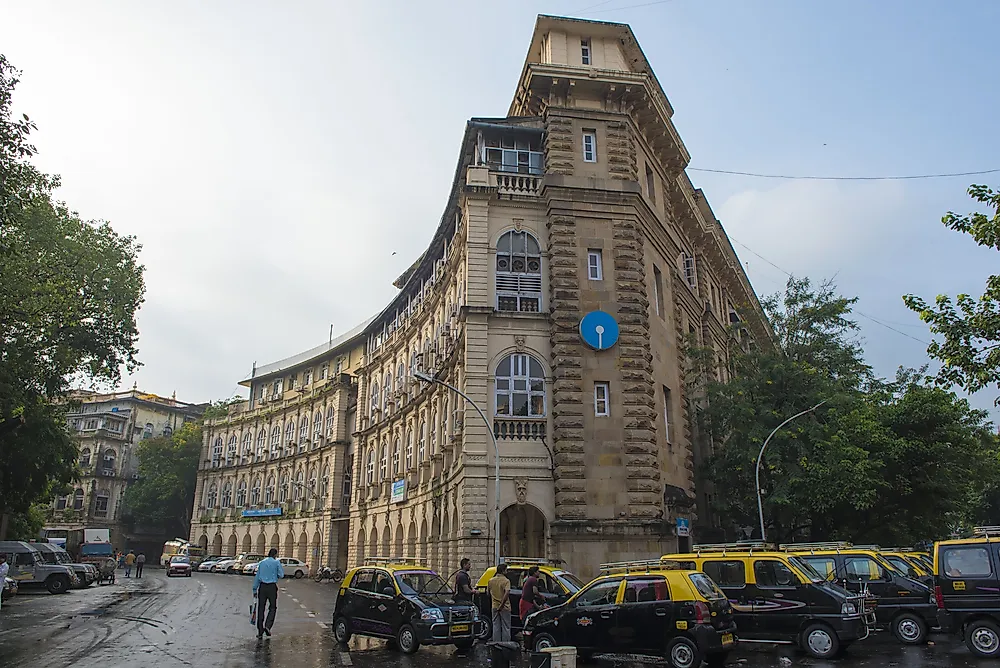 Banking in India is fairly developed regarding access, product range, and supply. The banking sector in India is categorized into two: scheduled banks and non-scheduled banks. Indian banks are healthy and have a transparent balance sheet compared to other banks in the same economies. India has 26 public sector banks, 25 private banks, 43 foreign banks, and several urban and cooperative banks. The public sector banks dominate the market accounting for about 80% of the market share.
1. State Bank of India
State Bank of India is the largest bank in India. It is owned by the government of India, and is headquartered in Mumbai with six regional offices across the country. It is the largest commercial bank in the country with an asset value of US$431.95 billion as of the end of 2015 financial year. The bank has 14,000 branches including 190 international branches in 36 countries. The SBI traces its origin to the establishment of Bank of Calcutta in 1806 ranking it as one of the oldest banks in Asia-Pacific. It provides several banking products and financial services through its network of branches including products targeting non-resident Indians.
2. Bank of Baroda
Bank of Baroda was established in 1908 by Maharaja Sayajiro Gaekwad by the 1897 Companies Act. The bank is state owned and is headquartered in Vadodara, Gujarat. Bank of Baroda has over 106 branches in about 24 countries around the world. Retail banking is the bank's core business via its subsidiaries and branches in Africa. The BOB is one of the largest banks in India as well as has sizeable shares at the National Stock Exchange. As of 2015 financial year, the bank had an asset size of US$117.42 billion, the second largest in India.
3. ICICI Bank
ICICI Bank is the largest privately owned bank in India. The bank is headquartered in Mumbai and provides a variety of banking products and financial services through several channels and subsidiaries. It has a network of over 4,400 branches and 14,000 ATMs in the country and also has its presence in over 15 countries. Its subsidiaries are in the UK and Canada. ICICI Bank had total assets worth US$103 billion for the 2015 financial year. ICICI Bank has contributed to the set-up of several Indian institutions that have established the country's financial infrastructure over the years.
4. Punjab National Bank
Punjab National Bank is national banks in India owned by the government. The bank is headquartered in New Delhi and was established in 1894. It operates over 6,900 branches and 9,900 ATMs serving over 80 million customers across India. Punjab National Bank has its subsidiaries in the UK, Dubai, and Kabul. It also has regional offices in countries such as Kazakhstan, China, and Australia. PNB enjoys large enterprise value and popular brand image in the country. As of the end of 2015 financial year, the bank had about 69,000 employees and total asset of US$101.75 billion.
5. Bank of India
Bank of India (BOI) was established in 1906 by a group of businesspeople from Mumbai. The bank was privately owned and controlled until 1969 when it was converted to public sector along with other 13 banks. However, some of the branches are still privately owned such as Kandia and Indonesia. The bank has grown over the years to becoming one of the largest public-sector banks with national and international presence. The bank has over 5,000 branches including 56 branches outside India as of 2015. Bank Of India has a total asset value of US$100.03 billion as of the end of 2015 financial year.
Which Are The Leading Banks In India?
| Rank | Name Of Bank | Assets (in billion US dollars) |
| --- | --- | --- |
| 1 | State Bank Of India | 431.95 |
| 2 | Bank Of Baroda | 117.42 |
| 3 | ICICI Bank | 103 |
| 4 | Punjab National Bank | 101.75 |
| 5 | Bank Of India | 100.03 |
| 6 | HDFC Bank Ltd. | 97.12 |
| 7 | Canara Bank | 89.36 |
| 8 | Axis Bank Ltd. | 74.75 |
| 9 | Union Bank Of India | 61.36 |
| 10 | IDBI Bank | 56.94 |