World Facts
How Old Is The Indian Population?
India's population is ageing, although it is yet to reach a crisis point. As of 2020, the median age was 28.4 year, and by 2050 it is estimated to reach 38.1 years.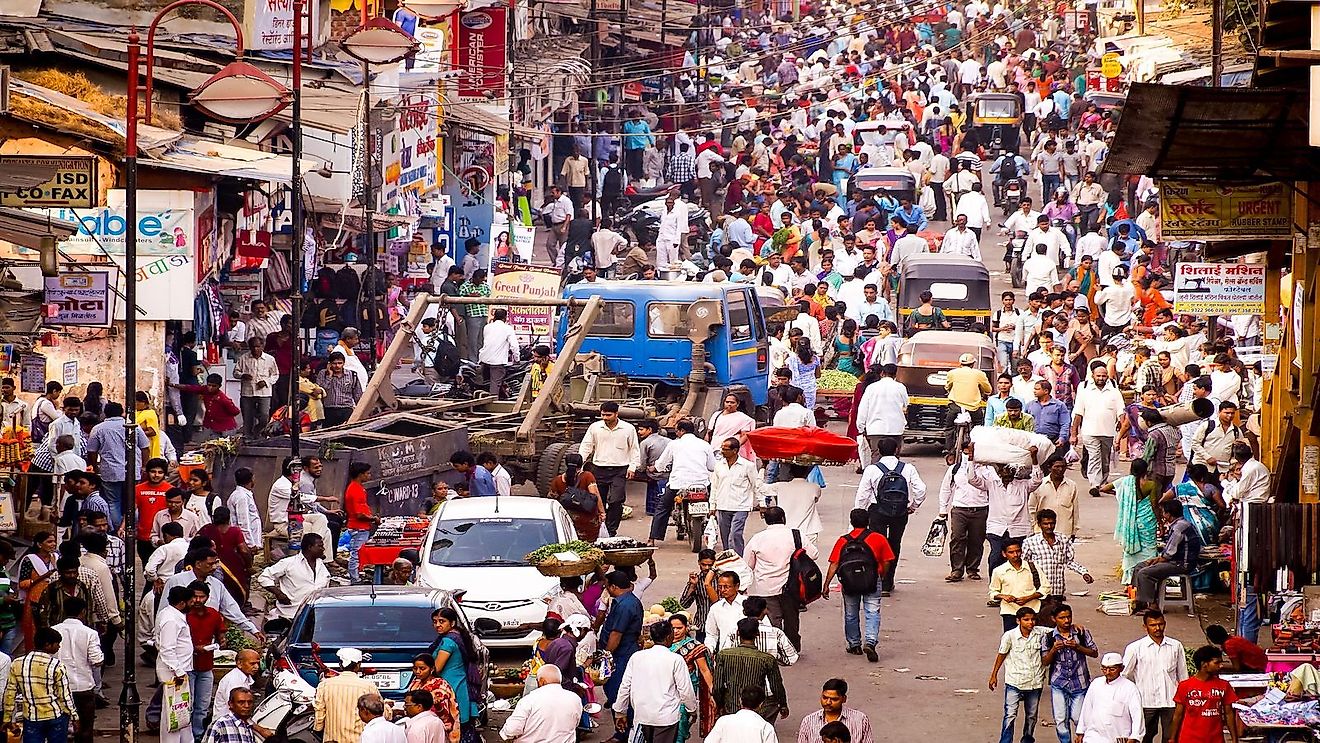 Population ageing, often defined as an increase in the share of people above 60 or 65 years in the population was a phenomenon associated with the developed world, but it has turned out to be a global phenomenon. Nearly all countries in the world except those in Africa are experiencing a growth in the proportion of older people. Today, 1 in 4 people living in a developed country is above the age of 60. The most affected countries are Japan (33%), Italy (28%), Germany (28%), and Finland (27%). By 2050, a third of the population in developed nations will be in this age category. India is far from joining this race as 10% of the population is 60 years or older and is not expected to exceed 20% by 2050. 
How Old Is The Indian Population? 
India's population is ageing, although it is yet to reach a crisis point. In 1950, the median age was 21.23 years, and at the start of the millennium, it had risen to 22.7 years. As of 2020, the median age was 28.4 year, and by 2050 it is estimated to reach 38.1 years. In the 50 years between 1950 and 2000, the median age increased by 1.4 years, but in the following half-decade, the figure is expected to rise by 15.4. About 19.7% of India is below the age of 10, 20.8% is between 10 and 19, 17.5% is between 20 and 29, 14.4% is between 30 and 39, 11% is between 40 and 49, 8% is between 50 and 59, while 8.3% is above 60. As of 2020, there were about 110 million people above the age of 60. Today, India boasts of being one of the youngest countries in the world, with 64% of the population in the working category. 
An Aging Population
The elderly account for about 8.6% of India's population and experts forecast that by 2050 the figure will rise to 20%. Should this happen, India will overtake China as the country with the highest number of older adults. The excitement about India's current youthful population is misplaced because in the next 30 years those below 35 will be over 60. Young couples are delaying parenthood due to various reasons including declining fertility rates, government policies, sociological and societal reasons, and the high cost of living. Experts warn that in the next few years the elderly will be more than younger people leading to an imbalance in the demographic structure. About 65% of the elderly in India are poor and unable to afford essential services such as food and medical expenses. The number is expected to rise in the next 30 years as more people are expected to join the age bracket. 
The Role Of Government
About 41.6% of the elderly in India are forced to work daily to survive. There are government policies on paper, but they have not been appropriately implemented. The Parents Maintenance Act of 2007 obligate children to care for their elderly parents by providing monthly stipends. However, unemployment, low wages, and a rising cost of living make the implementation of the law nearly impossible. A tribunal set up to implement this law concluded that it was almost un-implementable. Several petitions were filed against the Ministry of Health and Family, with many questioning the motive of the government.  
The Economics Of Ageing
People are living longer thanks to better medical services, food, and societal developments. In the past, it was an achievement to live to 65, but today it is common for people to make it to 85 or 90 years. Most people retire from formal jobs at the age of 60 or 65 but a majority resort to seeking alternative employment in the private sector or establish businesses to maintain living standards. Skill development programs target people below the age of 40, but experts emphasize that those above 60 should also learn such skills to remain employable. The age of children is also essential. Those between 30 and 45 are economically better to help their parents, but it is more difficult for children above 55 years to help their parents aged 80. 
A Declining Fertility Rate
The fertility rate in India has declined by over half compared to the 1980s. A study by the United Nations reveals that couples are opting for fewer children due to the rising cost of living. As of 2020, the average fertility rate in the country was 2.3, a significant decline compared to 4.9 reported between 1975 and 1980. Although this results in an ageing population, economists argue that it is, in fact, the right approach since families invest more resources to development rather than child caring. India may have capped the high fertility rate and slowed down the population growth, but the over 1.2 billion people continue to pose a challenge. A large number of women giving birth overshadows the low fertility rate. Between 22 and 25 million children are born in India annually despite the declining fertility rate. Half the global population lives in low-fertility countries with fertility rates of less than 2.1. Between 2019 and 2050, India is expected to have an additional 273 million people, while Nigeria will add a further 200 million. The two countries will account for about a quarter of the global population increase during this period. 
Implication Of An Aging Population
The situation faced by the elderly in India is comparatively worse than in the developed world. A large number of unemployed youths mean that the elderly are unable to earn income and become reliable on family members. Their pension and lifetime savings will not be enough to cater for their expenditure due to the rising cost of living. Unlike in the West, the elderly in India stay with their family rather than on their own, thus mounting more pressure on the younger generation.
How Old Is The Indian Population?
| Rank | Year | Median age in years |
| --- | --- | --- |
| 1 | 1950 | 21.3 |
| 2 | 1960 | 20.2 |
| 3 | 1970 | 19.3 |
| 4 | 1980 | 20.2 |
| 5 | 1990 | 21.1 |
| 6 | 2000 | 22.7 |
| 7 | 2010 | 25.1 |
| 8 | 2020 | 28.4 |
| 9 | 2030 | 31.7 |
| 10 | 2040 | 35.0 |
| 11 | 2050 | 38.1 |
About the Author
Victor Kiprop is a writer from Kenya. When he's not writing he spends time watching soccer and documentaries, visiting friends, or working in the farm. 
This page was last updated on January 27, 2020.
Citations
Your MLA Citation
Your APA Citation
Your Chicago Citation
Your Harvard Citation
Remember to italicize the title of this article in your Harvard citation.