World Facts
Countries With the Most Summer Olympic Medals
The olympics is an event that many look forward too and countries around the world start to wear their colors! Countries such as United States, Russia and Germany typically top the list.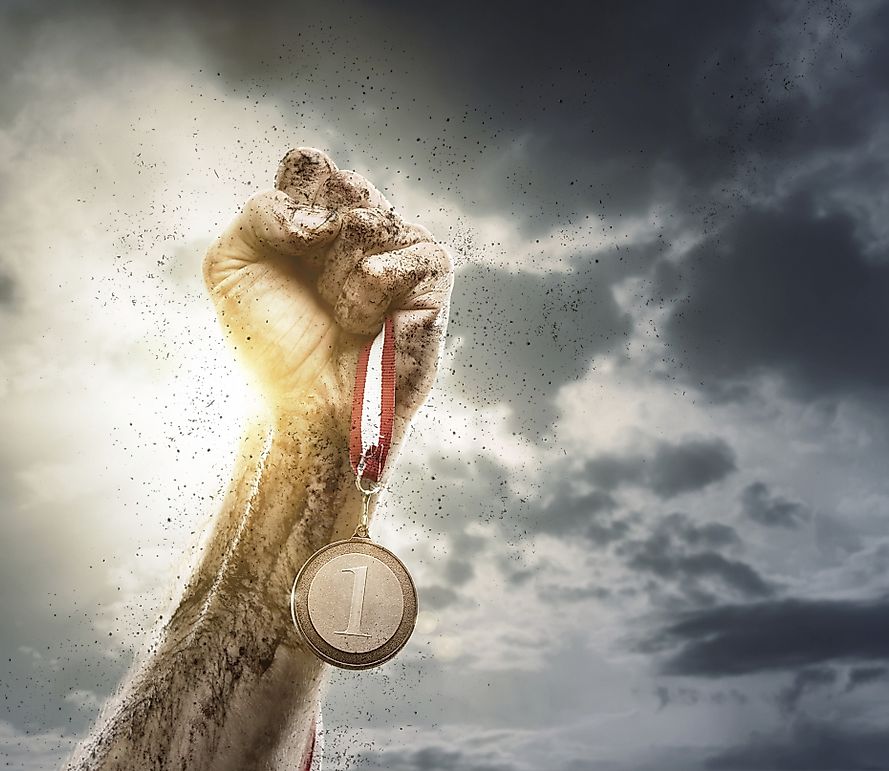 Since 1896 when the Summer Olympics or more commonly "The Olympic Games" was first held, the event has grown to be the most popular athletics event globally. It has grown from a simple affair consisting of only 14 events to a majestic showcase of more than 300 disciplines involving competitors from more than 200 countries and territories. Starting 1904, the top three in any event are awarded Gold, Silver and Bronze medals in that order of finishing position.
Over the course of history, a total of 18,553 medals have been issued to competitors in the Summer Olympics. However, the tradition of giving the medals was not always as we now know it. During the very first Olympic Games in Athens, Greece, the winner was awarded two items: A silver coin and an olive wreath. The runner-up was given a copper coin and a laurel branch. The 1900 Summer Games were even more peculiar as winning competitors were awarded trophies! In the early years of the Olympics, gold was considered too precious to be given out in its purest form.
The United States of America leads the all-time Summer Olympics medals table with 2,520 medals won. The 1904 Olympic Games were held in St. Louis, Missouri and ended up having the host nation scooping 239 of the available 280 medals. This anomalous feat was accomplished because many countries could not send athletes on the Trans-Atlantic trip for the Summer Games. The most decorated sportsman in this event was American swimmer Charles Daniels who got three gold medals, and one of silver and bronze.
At every Summer Olympics, it is expected that the United States, Great Britain, and Russia will compete for the largest haul of medals. Sports in these countries developed a professional culture from the early years of the modern Olympics. Therefore they have a large pool of accomplished competitors to select from. Additionally, the range of disciplines the big three of the Olympics participate in is wider than most nations. For instance, Kenya is famous for winning middle and long distance track races. In the 2012 London Olympic Games, Kenya won 11 medals in only 6 events all of them track races. Meanwhile, the USA won 104 medals in 16 events.
Sporting culture in different countries has a profound effect in the ability to score medals at Games. India, for example, is a cricket mad country. However, this is a sport with origins from its time as a British colony. Athletics and other sports that require physical prowess are almost unheard of in the subcontinent. Despite being the second most populous nation, India has won only a handful of Olympic medals. The Asian society also views sport as an exhibition of elegance rather than a contest. This perhaps explains why China has won most medals in diving, weightlifting and gymnastics.
In the Olympic Games, highly talented athletes focus on winning multiple medals in different events. Michael Phelps, an American swimmer, holds the record for the most Gold medals won at a single Summer Olympics. He won 6 Gold in 2004 and 8 medals in 2008. In the most recent 2016 Rio Olympics, Phelps won 5 Gold and a Silver medal. A much more difficult achievement would have been by American sprinter Marion Jones who won 5 Gold medals in 2004 but later had them rescinded.
Presently, the US continues to maintain its rank as the number one performer in the Olympics after winning the highest number of medals in the 2016 Summer Olympics (121 total; 46 Gold). China (70) and Great Britain (67) won the second and third highest number of medals at the Rio Olympics.
Which Countries Have Won the Most Summer Olympic Medals?
The United States has won more summer Olympic medals than any other country. The United States has won 2,520 summer Olympic medals. In second place is Russia with 1,865.
Summer Olympic Winners By Total Medals
Rank
Country
Olympic Summer Games medal table

(total medals won) from 1896 to 2016

1
United States
2,520
2
Russia
1,865
3
Germany
1,681
4
Great Britain
847
5
France
713
6
Italy
577
7
China
543
8
Australia
497
9
Sweden
494
10
Hungary
491
11
Japan
439
12
Romania
306
13
Finland
303
14
Canada
301
15
Netherlands
285
16
Poland
282
17
South Korea
264
18
Cuba
220
19
Bulgaria
214
20
Czech Republic
197
21
Denmark
194
22
Switzerland
193
23
Norway
152
24
Belgium
148
25
Spain
148
26
Brazil
128
27
Ukraine
124
28
Greece
117
29
New Zealand
117
30
Serbia
110
31
Kenya
100
32
Turkey
93
33
Austria
87
34
South Africa
86
35
Belarus
85
36
Jamaica
78
37
Argentina
69
38
Kazakhstan
69
39
Iran
68
40
Mexico
67
41
North Korea
54
42
Ethiopia
53
43
Azerbaijan
44
44
Estonia
34
45
Croatia
33
46
Uzbekistan
33
47
Georgia
32
48
Ireland
32
49
Thailand
31
50
Indonesia
30
This page was last updated on January 18, 2018.
Citations
Your MLA Citation
Your APA Citation
Your Chicago Citation
Your Harvard Citation
Remember to italicize the title of this article in your Harvard citation.