Countries With The Most New Businesses Per Year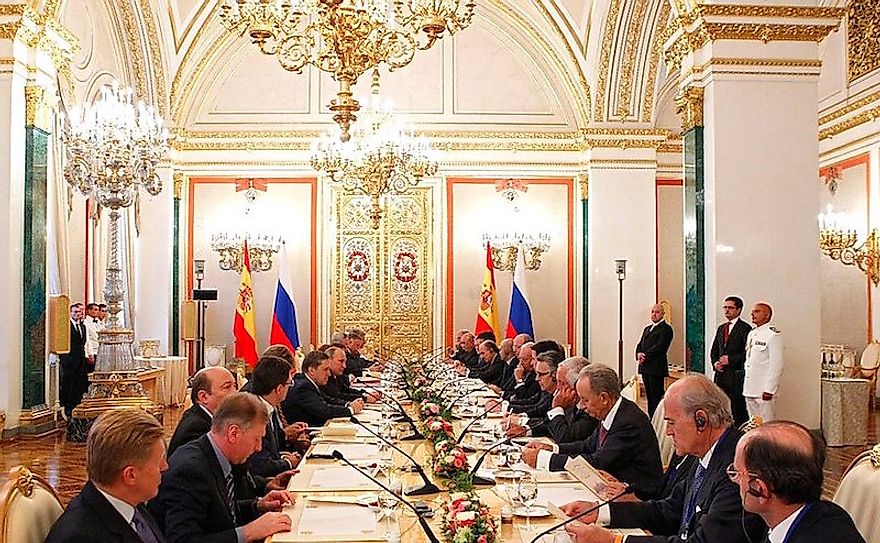 Starting a new business can be daunting. Even with a viable marketing idea and an efficient business model, the process of registration and navigating through legal red tape can be extremely complex. Still, some countries register hundreds of thousands of new businesses each year. Russia is currently the world leader in business startups, with almost half a million new businesses registered in 2014 alone. Australia and Hong Kong also see high numbers of startups each year: their 2014 registration levels were 231,920 and 167,280, respectively. China, India, France, Italy and Spain all had well over 90,000 new businesses registered in 2014, and South Korea and Mexico weren't far behind.
The high number of business startups in these countries can be attributed to a number of factors. In some developing countries, entrepreneurship may be essential to survival; when jobs are hard to come by, a large percentage of the population must seek self-employment in the informal sector, creating a national culture of entrepreneurship. Other countries have timely or cost-efficient business registration processes, which attract high numbers of domestic and foreign business investors. Economy and unemployment rates can also play a major role: in some markets, labor is so cheap that it's worth overcoming the considerable bureaucratic roadblocks of a particular country to take advantage of affordable talent.
Culture Of Entrepreneurship
Chile is one of South America's most stable and prosperous nations. Around 11% of its population choose entrepreneurship, working in formal and informal sectors. With a dynamic labor market and competitive business regulatory framework, Chile is an attractive option for domestic and international business startups.
A new generation of young entrepreneurs has embraced Russia's transition to a free market economy. Its abundance of land, low population density, and vast economy provide numerous and diverse opportunities for entrepreneurs and investors alike.
Spain has changed its investment landscape from venture capital dependency into a more angel-based system. Combined with the recent new law allowing equity crowdfunding, entrepreneurs now have access to increased capital at the seed stage of development.
Registration And Regulatory Framework
Russia's progressive attitude towards economic advancement emphasizes stability and eclecticism. With few barriers and restrictions, and incentives like special free zones and concession agreements, Russia can encourage its emerging startup culture.
Hong Kong's recent regulation reforms have created a remarkably efficient entrepreneurial environment. It takes only three days to start a business. Australia's regulatory environment is even more efficient -- a business can be launched in just two days. France requires 4.5 days, and a special tax status is conferred on accredited new innovative companies. In countries such as Hong Kong, France, South Korea and Mexico, no minimum capital is required for startups.
An Employer's Market
Launching a business in India takes an average of 25 days or more, funding is difficult to obtain, and licensing requirements are expensive. But for startups with a proven business model, a working product, and adequate funding, talented employees are easy to attract and retain. In a country with high rates of unemployment, workers are more interested in hanging on to their paycheck than in employee perks or recognition.
Italy's bureaucratic regulations are costly and prohibitive. However, Italy's competitive employment environment means that new business can access affordable talent with a low turnover. Mexico's business licensing requirements are also costly, but flexible management regulations allow US companies to establish a presence in Mexico without outsourcing management or ownership resources.
Importance of Technology
With high-speed internet access and increased connectivity reaching an all-time high, new startup markets are taking off across the globe. Entrepreneurs are taking advantage of the changing global communications network to examine a country's current economy, entrepreneurial environment, and regulatory procedures, before deciding where to launch their business.
Countries With The Most New Businesses Per Year
| Rank | Country | New Businesses Registered in 2014 |
| --- | --- | --- |
| 1 | Russia | 427,388 |
| 2 | Australia | 231,920 |
| 3 | Hong Kong | 167,280 |
| 4 | Chile | 98,406 |
| 5 | India | 98,029 |
| 6 | France | 94,927 |
| 7 | Italy | 91,853 |
| 8 | Spain | 91,544 |
| 9 | South Korea | 84,676 |
| 10 | Mexico | 76,447 |