Economics
Countries With The Highest Number Of Female Entrepreneurs
For businesswomen, Chicago, Illinois, United State is an attractive city, hosting the highest percentage of female entrepreneurs in the world.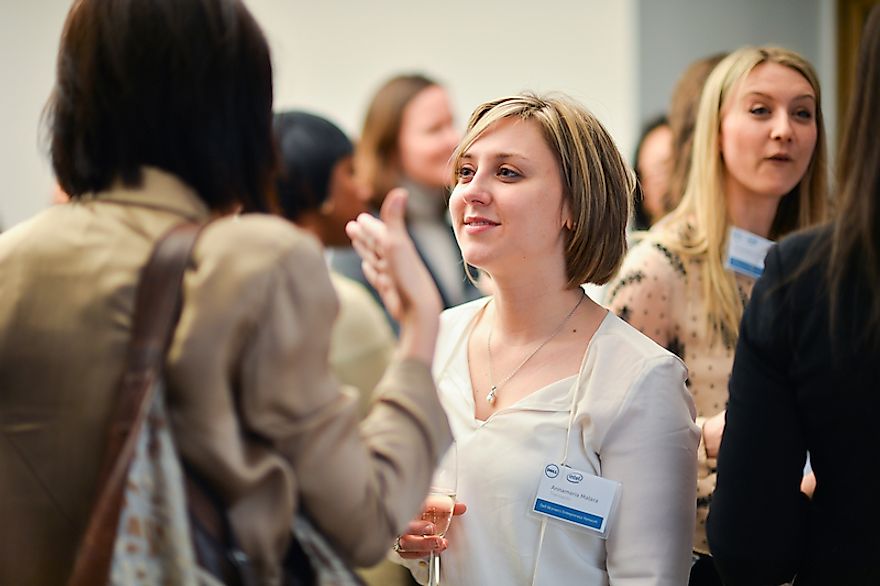 Gender disparity in entrepreneurship exists in countries across the world. The global average for businesses started by women is estimated at 20%, with some cities boasting higher numbers than others. The US ranks top in the world among countries that have the most female entrepreneurs. Among various reasons for the US top position are: expanding funding options for women businesses, relatively low-interest rates on borrowed capital, job mobility for women especially in the service sector, a celebration of women entrepreneurs and mentorship and networking programs initiated by government and nonprofit organizations. Regions with the highest female entrepreneurs are ranked as follows:

Chicago
Chicago boasted 30% female entrepreneurs in 2015 to emerge as the city with the largest number of entrepreneurs. There exist numerous resources to help women start up businesses in Chicago. Such resources include entrepreneurship platforms for women, networking groups, conferences and publications organized by nonprofit organizations and the government to encourage entrepreneurship among women. Information technology is the major industry for start-up businesses by female entrepreneurs in Chicago.
Boston
Boston had 29% female entrepreneurs in 2015.Boston is home to Harvard University and Massachusetts Institute of Technology, two acclaimed institutions of higher learning in the US. Nearly half of all graduates from the two universities are women who go ahead and start businesses in the city. Programs to assist female entrepreneurs are continually initiated by the government and nonprofit organizations such as the Women Entrepreneurs Boston, initiated by the City of Boston to reduce the disparities in funding for female businesses. Businesses started by women in Boston are varied and are largely in the service sector. They include businesses in healthcare, advertising, retail and wholesale, consulting, and travel services.
Silicon Valley
Silicon Valley female entrepreneurship in 2015 was at 24%. Men have long dominated Silicon Valley, but the situation is evidently changing, with many women starting businesses in the renowned business region. The growth in women entrepreneurship can be attributed to increased access to funding for women, celebration and recognition of female entrepreneurs, successful female entrepreneurs acting as mentors and programs designed to encourage female entrepreneurs initiated by the government and other organizations. The technology industry in Silicon Valley is the most attractive for female entrepreneurs.
Los Angeles
The Los Angeles business community is diverse and has an inclusive culture. Women entrepreneurship in the city stood at 22% in 2015. Los Angeles has also seen an increase in organizations committed to assisting women to get funding, access mentorship programs and network with other female entrepreneurs. An increasing number of female entrepreneurs are starting businesses in the technology industry growing in Los Angeles. Business ventures by women in the city vary from the beauty industry, fitness ventures, health care, food, and fashion.
Other Top Cities For Female Entrepreneurs
Other regions by percentage of female entrepreneurs in 2015 are Montreal (22%), Paris (21%), Tel Aviv (20%), Toronto (19%), Singapore (19%), Kuala Lumpur (19%), London (18%), Moscow (17%), Vancouver (16%), New York City (16%), and Austin (15%). Despite the strides made in female entrepreneurship in the recent years, a lot still needs to be done on a national and global scale. Access to training, funding, and education for women need to be improved. More contracts should be given to businesses led by women, for women to prove their competencies and gain respect. Mentorship programs need to be ramped up to encourage and support young women venturing in entrepreneurship
Which Cities Have the Most Female Entrepreneurs?
Some of the cities with the highest number of female entrepreneurs include Chicago, Boston, Silicon Valley, and Los Angeles.
Countries With The Highest Number Of Female Entrepreneurs
| Rank | City | % Of Female Entrepreneurs, 2015 |
| --- | --- | --- |
| 1 | Chicago | 30% |
| 2 | Boston | 29% |
| 3 | Silicon Valley | 24% |
| 4 | Los Angeles | 22% |
| 5 | Montreal | 22% |
| 6 | Paris | 21% |
| 7 | Tel Aviv | 20% |
| 8 | Toronto | 19% |
| 9 | Singapore | 19% |
| 10 | Kuala Lumpur | 19% |
| 11 | London | 18% |
| 12 | Moscow | 17% |
| 13 | Vancouver | 16% |
| 14 | New York City | 16% |
| 15 | Austin | 15% |
About the Author
Benjamin Elisha Sawe holds a Bachelor of Arts in Economics and Statistics and an MBA in Strategic Management. He is a frequent World Atlas contributor. 
This page was last updated on April 25, 2017.
Citations
Your MLA Citation
Your APA Citation
Your Chicago Citation
Your Harvard Citation
Remember to italicize the title of this article in your Harvard citation.