10 US States With The Highest Number Of Farms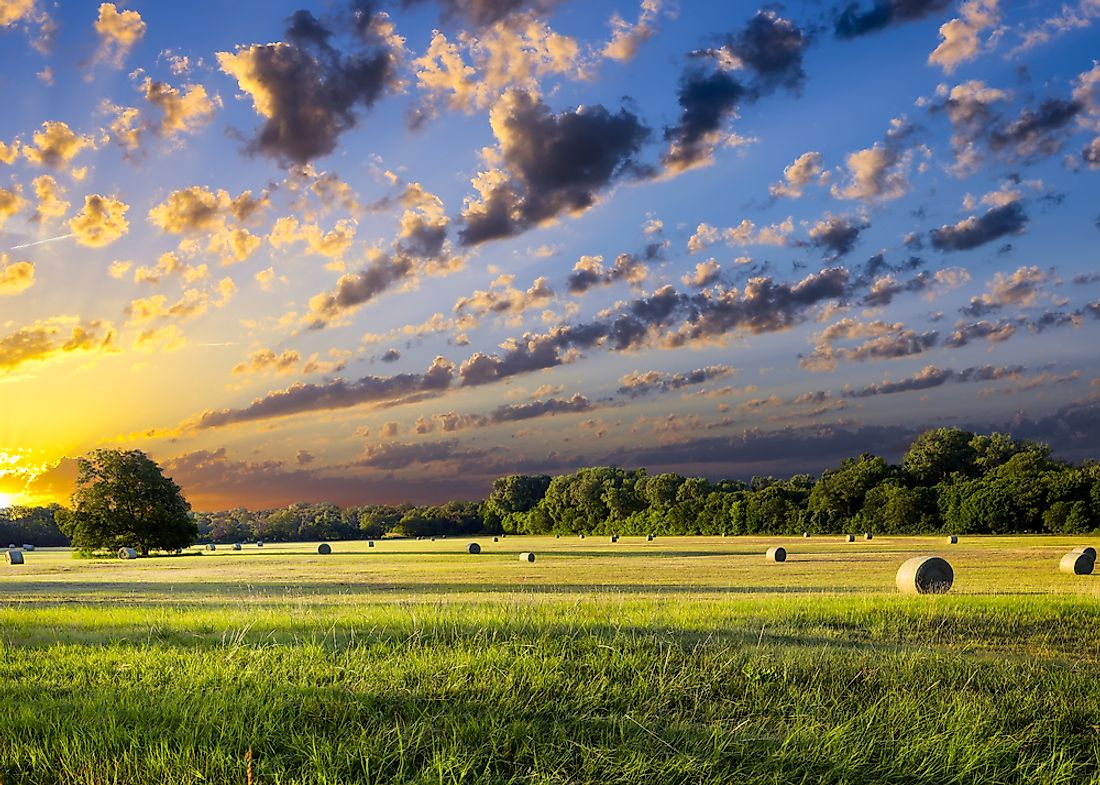 The US has a large agricultural industry and a large population that relies on it for sustenance. This country is also a net exporter of food. According to the 2007 agricultural census, the country had over 2.2 million farms that covered approximately 922 million acres combined. These statistics mean that by that year, on average, each farm covered 418 acres. Almost all states have farming activities, however, some states have more farms than others according to 2017 data. Texas leads with 240,000 farms and Missouri comes second with 97,300 farms. The other states with the most farms are Iowa (86,900), Oklahoma (77,200), California (77,100), Kentucky (76,800), Ohio (73,600), Minnesota (73,200), Illinois (71,000), and Wisconsin (68,500).
"Everything is bigger in Texas," is a common saying that reflects also the size and number of farms in this state. One in every seven Texan has an agricultural-related job. Texas has over 130 million acres of land under farming, approximately 99% of which are family owned. Texas' farming sector accounts for $115 billion annually. This state mostly produces animal products, cotton, and dairy which it sells across the state, the US, and worldwide. Other farming activities include commercial feedlots and artificial insemination. Although the state leads in the number of farms, the current number is a decrease from 420,000 in the 1940s. Mechanization of farms, pest and disease control, precision agriculture, use of improved agricultural and plant engineering, and commercial and science-oriented educated farmers continue to improve Texan farms thus making it the breadbasket of the country.
The "show-me" state of Missouri has more than 28 million acres dedicated to farming, mainly for soybeans, corn, broiler chickens, hogs, and cattle. In 2014, the state exported agricultural commodities worth $4.35 billion. Missouri has a "one agriculture" policy where the state and farmers encourage collaboration in terms of research, techniques, and marketing. Just like in Texas, families own most of the farms in this state.
In Iowa, it's mostly families that control the farming industry. Approximately 85% of land in Iowa is dedicated to farming. Barns and buildings for cattle, hogs, dairy cows, poultry, turkeys, and sheep dot the Iowa countryside. 30,622,731 acres of land in Iowa is under farming, 26,256,347 of which is cropland while 1,294,425 acres is pastureland. The average farmland is 345 acres. The main farm products in the state are soybeans, corn, pork, and eggs among others. Farming has always been the dominant livelihood activity for the people of Iowa, and has a lengthy past dating back several years.
Farming Trends in the US
There are several changes that shape farming in the US. First is the shift in farm structures as there is an emergence of younger farmers and bigger farms. There is also an increase in the use of technology including satellite imagery, soil maps, weather data points, and greenness sensors which help farmers adopt better farming practices. More people also continue to embrace GMOs even with the political and public relations hurdle the technology faces. Farmers also continue to specialize in single commodities rather than farming varieties while the government continues to give more policy directions and advice on better practices.
10 US States With The Highest Number Of Farms
| Rank | US State | Number of farms in 2017 |
| --- | --- | --- |
| 1 | Texas | 240,000 |
| 2 | Missouri | 97,300 |
| 3 | Iowa | 86,900 |
| 4 | Oklahoma | 77,200 |
| 5 | California | 77,100 |
| 6 | Kentucky | 76,800 |
| 7 | Ohio | 73,600 |
| 8 | Minnesota | 73,200 |
| 9 | Illinois | 71,000 |
| 10 | Wisconsin | 68,500 |