Economics
10 Countries With The Highest Number Of ATMs Per Capita
Macao has the highest number of ATMs per capita, according to data from the World Bank.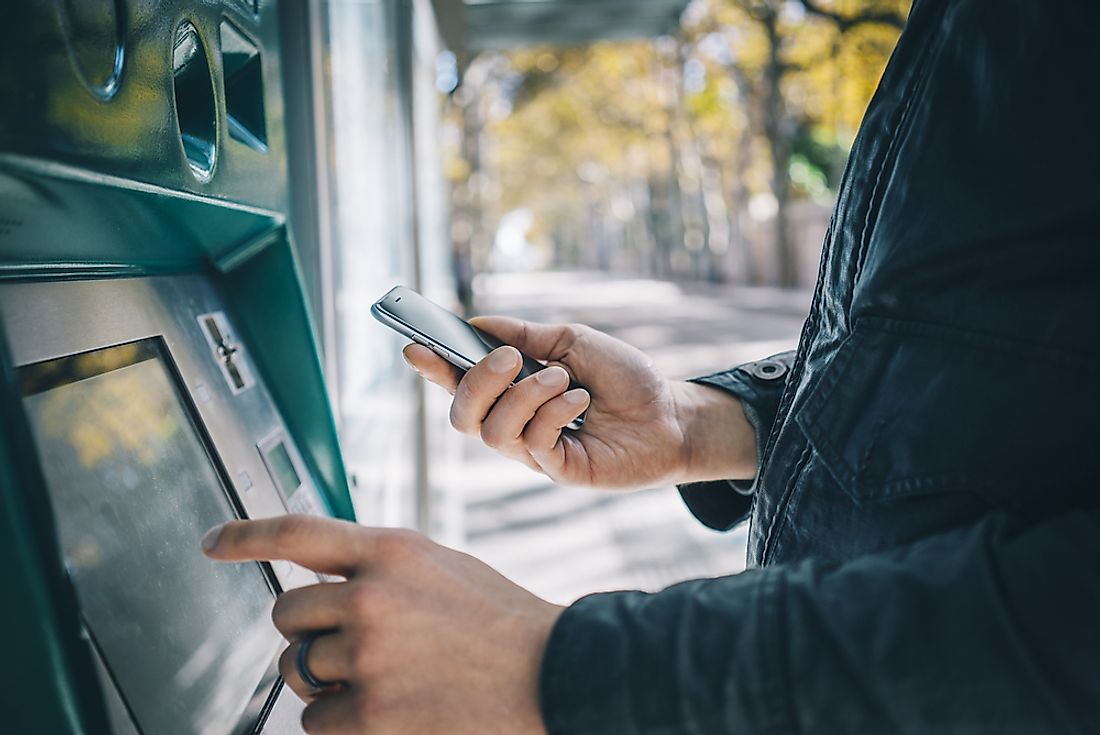 With technology spreading worldwide in this age of globalization, ATMs are present in all countries of the world. The World Bank has compiled a report stating the countries by the number of ATMs per capita. Below is a list of some of these countries that have the highest number of ATMs per 100,000 individuals.
1. Macau
Macau, a Chinese Special Administrative Region, is the world's most densely populated country. It is located on the estuary of the Pearl River. Macau is known for its casinos that generate more revenues that casinos in any other part of the world. Even the casinos in "The Strip" in Las Vegas generates seven times lower revenue than those in Macau. Given its high population density and a large number of cash-consuming casinos, it is not surprising that Macau has the highest ATM density in the world of 313 ATMs per 100,000 adults.
2. Canada
Canada, despite its low population density, has the second highest ATM density in the world. There are around 228 ATMs per 100,000 people in the country. ATMs are found in several places throughout the country including lobbies next to bank branches, supermarkets, restaurants and bars, petrol stations, shopping malls, and on the streets. The five major Canadian banks have their ATMs everywhere. There are also some white label ATMs that lack any bank branding.
3. San Marino
The tiny enclaved microstate of San Marino is located on the Italian Peninsula where it is surrounded by Italy on all sides. It is the fifth smallest country in the world. The people of San Marino are generally quite well-off and enjoy high standards of living. Cash is handy in the country due to a large number of ATMs installed there. The country has around 183 ATMs per 100,000 individuals.
4. Portugal
With about 168 ATMs per 100,000 people, Portugal ranks as the fourth country with the largest number of ATMs per head. The country has an efficient and modern banking system with ATM machines called Multibanco available widely throughout the nation. The ATMs in the country offer a wide range of services including payments and phone recharges. The multi-functionality of the Portuguese Multibanco makes it one of the best in the world.
5. Russia
Russia ranks fifth in the list with about 164 ATMs per 100,000 people. In Russia, most of the ATMs are concentrated in its larger cities like St Petersburg and Moscow. However, as one heads out into the sparsely populated Russian countryside, ATMs become rarer. Travelers are suggested to carry some cash with them while heading into the isolated and rural areas.
10 Countries With The Highest Number Of ATMs Per Capita
| Rank | Country | Number of ATM machines per 100,000 individuals |
| --- | --- | --- |
| 1 | Macao SAR, China | 313.15 |
| 2 | Canada | 227.82 |
| 3 | San Marino | 182.89 |
| 4 | Portugal | 168.04 |
| 5 | Russian Federation | 163.93 |
| 6 | Australia | 162.01 |
| 7 | Croatia | 140.38 |
| 8 | United Kingdom | 128.13 |
| 9 | Japan | 127.77 |
| 10 | Aruba | 124.99 |
About the Author
Oishimaya is an Indian native, currently residing in Kolkata. She has earned her Ph.D. degree and is presently engaged in full-time freelance writing and editing. She is an avid reader and travel enthusiast and is sensitively aware of her surroundings, both locally and globally. She loves mingling with people of eclectic cultures and also participates in activities concerning wildlife conservation.
This page was last updated on April 1, 2019.
Citations
Your MLA Citation
Your APA Citation
Your Chicago Citation
Your Harvard Citation
Remember to italicize the title of this article in your Harvard citation.