Economics
Countries With The Fewest Prohibitively Expensive Tariffs
None of the top 17 countries listed have tariff lines exceeding the "international peak" rate of 15%.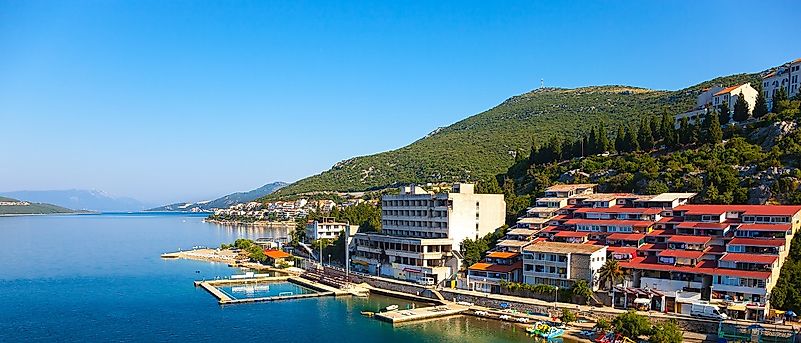 Imports are necessary for a country's balance of trade. Through imports, a country can meet the demand for a particular good or service while at the same time getting a product that it is not able to produce locally. However, imports are considered an expense of the economy. Also, imports destabilize the prices of goods and services produced locally in the country. They also compete for market share and in most cases drive the local products out of the market. Because of the adverse effects of import goods on the economy, most countries have increased tariffs on all imports to prohibit imports of certain goods. The prohibitive tariff increases the cost of import way above the local market price thus discouraging importers from bringing the goods into the country. As per World Bank, the International share line peak is 15%. However, some countries have fewest prohibitive expensive tariffs. Some of these countries are looked at below.

Bosnia and Herzegovina
The Indirect Taxation Authority of Bosnia and Herzegovina has the responsibility of managing customs in the country. The authority has eliminated import tariffs for 23,000 products imported from the European Union. The tariff exception on some of these imports has led to only a few prohibitive expensive tariffs. Bosnia and Herzegovina have 0.00% prohibitive share lines above the recommended 15%. Some of the goods exempted from import tariffs include military and police goods, goods for investment and goods for reconstruction. The impact of few prohibitive expensive tariffs has been the continued import of products that has promoted investments by foreigners in the country and the steady supply of goods into the market. Donor funded goods such as military equipment which are exempted from import tariffs have also been made readily available for the service men.
Georgia
Georgia's trade environment is one of the most liberalized and competitive in the world. The country's liberal trade policy is characterized by low import tariffs, facilitated foreign trade regime, minimum non-tariff regulations, and simple custom procedures. Tariffs on 85% of the import goods were abolished in 2006 neither are there any seasonal tariffs. There are no prohibitive tariffs with a shared line of 0.00% on any commodities especially those coming from World Trade Organization members. The impact of non-tariff is the enhanced trade between Georgia and the rest of the world with the country acquiring products at low prices.
Hong Kong
Hong Kong considers itself a "free port" nation without any significant customs tariffs, value added taxes (VATs), quotas, or general service charges. Import duty is only imposed on tobacco, methyl alcohol, liquor and hydrocarbon oil. Hong Kong does not impose non-tariffs as a measure to protect its industries, but it imposes import tariffs to protect its public health sector, environment, and security. However, the measures only come in the form of licenses thus there are no prohibitive tariffs on goods and services imported into the country.
Promoting Trade By Minimizing Tariffs
Other countries with a minimum of prohibitively expensive tariffs include French Polynesia, Tajikistan, Macao, Chile, Kuwait, Singapore, and Armenia, among other countries listed below. The lack of prohibitive tariffs are facilitated by free trade and non-customs tariffs in these countries. The countries have opened their markets to goods and services from other countries to promote the growth of their local industries.
Countries With The Fewest Prohibitively Expensive Tariffs
| Rank | Country | Percent of Tariff Lines Exceeding 15% |
| --- | --- | --- |
| 1 | Bosnia and Herzegovina | 0.0% |
| 2 | Georgia | 0.0% |
| 3 | Hong Kong | 0.0% |
| 4 | French Polynesia | 0.0% |
| 5 | Tajikistan | 0.0% |
| 6 | Macao | 0.0% |
| 7 | Azerbaijan | 0.0% |
| 8 | Chile | 0.0% |
| 9 | Kuwait | 0.0% |
| 10 | Singapore | 0.0% |
| 11 | Armenia | 0.0% |
| 12 | Albania | 0.0% |
| 13 | Qatar | 0.0% |
| 14 | Oman | 0.0% |
| 15 | Saudi Arabia | 0.0% |
| 16 | United Arab Emirates | 0.0% |
| 17 | Haiti | 0.0% |
| 18 | Norway | 0.5% |
| 19 | Israel | 0.5% |
| 20 | Kyrgyzstan | 0.6% |
This page was last updated on April 25, 2017.
Citations
Your MLA Citation
Your APA Citation
Your Chicago Citation
Your Harvard Citation
Remember to italicize the title of this article in your Harvard citation.