Biggest Farms In The World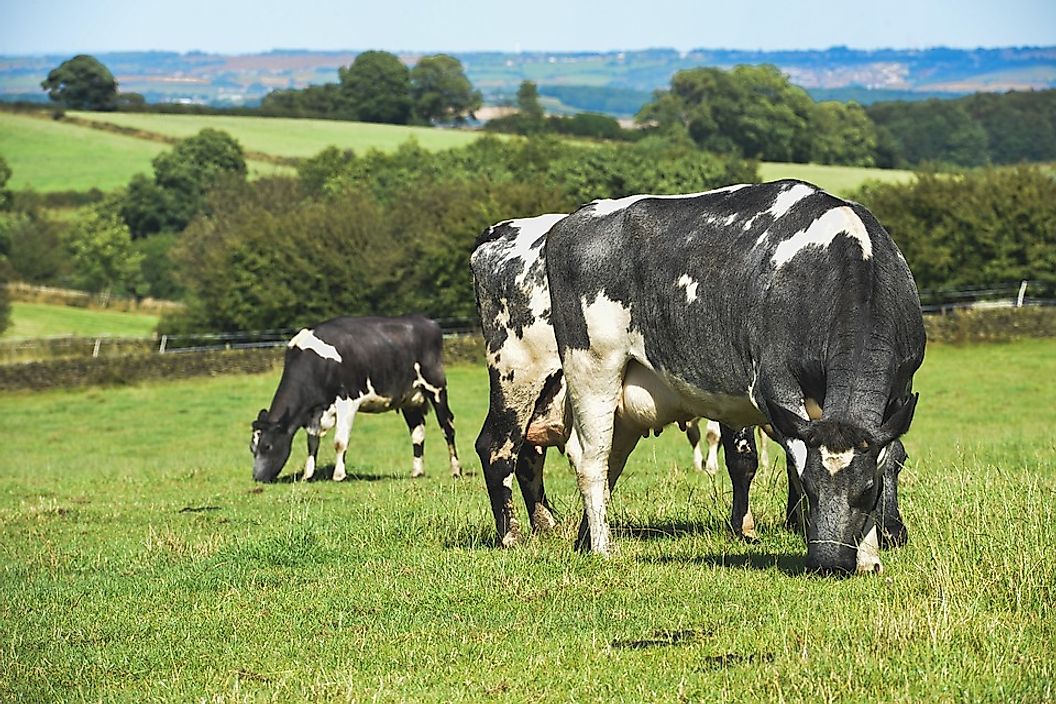 Farming Around the World
Humans have been cultivating crops for thousands of years becoming experts at producing more yield over time. Agriculture is vital to feeding the world population and is a key component to the economy in many countries. The British Agricultural Revolution led to the mechanization of farming, the 20th century brought the gas-powered tractor and around the same time, the development of factory farms or concentrated animal feeding operations. Since that time, farms have continued to grow and focus efforts on producing more for less to meet the increasing global demand for fruits, vegetables, grains, dairy, and meat. In fact, some have grown so big that they are now considered mega-farms. The following article inspects some of the biggest farms in the world all of which can be found in the two countries of China and Australia.
Chinese Farms
By far, the biggest farm in the world (in terms of acreage) is the Mudanjiang City Mega Farm in Heilongjiang, China. This astounding farm manages 22,500,000 acres. The Mudanjiang City Mega Farm specializes in dairy and has around 100,000 cows. For reference, that is 50 times bigger than the largest dairy farm in Europe. Its expansion happened in 2015 as a response to the Russian ban on dairy products from the EU. China has stepped up to fulfill that need.
The second largest farm in the world is also situated in China. The Modern Dairy is located in Anhui and has an area of 11,000,000 acres which is about half the size of the Mudanjiang farm. This farm began in 2011 and at that time was the largest farm in the world with 40,000 cows. By 2014, Modern Dairy suffered market losses as it was accused of having sold bovine tuberculin positive cows.
Australian Farms
The remaining big farms in the world are all in Australia. The third largest in the world and largest one in Australia is Anna Creek in South Australia. Anna Creek oversees 6,000,000 acres, a land size that is larger than Israel. Over 17,000 heads of cattle are reared here to keep up with demands for beef, making this farm the largest beef cattle producer in the world.
Number 4 on the list is Clifton Hills farm which is also located in South Australia and works on 4,200,000 acres. This beef cattle graze-land was established in 1876 when it only reared 1,000 cows.
Following Clifton Hills, is the Alexandria farm with 4,000,000 acres. This cattle producing farm is located in the Northern Territory and has been owned by the North Australian Pastoral Company since 1877. 50 employees live on the property and tend to the 55,000 cows that graze here. In recent years, the property has suffered flooding on two separate occasions.
Other farms in Australia that are considered the biggest in the world include: Davenport Downs in Queensland (3,700,000 acres), Home Valley in Western Australia (3,500,000 acres), Innamincka in South Australia (3,340,000 acres), Wave Hill in Northern Territory (3,330,000 acres), and Marion Downs in Queensland (3,070,000 acres).
Environmental Concerns
Large scale dairy and beef farming such as this brings many criticisms from environmentalists and small farmers alike. The latter claim that this is not farming but rather a business and environmentalists naming the ways in which these large farms lead to environmental degradation. And they are right. Factory farms are the biggest threat to the global environment. These mega farms are responsible for chemical fumes, toxic runoff, and unsustainable water use (to name a few). The runoff pollutes local waterways with pesticides, herbicides, hormones, antibiotics, phosphate-rich fertilizer, and bacteria-infested manure which effectively strips communities of clean water sources and safe-to-consume fish. The number of animals that this land must support is unsustainable, reducing soil fertility, and increasing desertification as local plant species are lost. Indirectly, these farms demand deforestation for animal feed production. The practices of factory farms are responsible for 34% of methane emissions, a gas with more global warming potential than carbon dioxide. No matter how it is viewed, factory farming is an unsustainable food production practice that has turned the age-old tradition of agriculture into a mass, profit-turning business that is only concerned for the bottom line. A revision of agriculture and food policy will be necessary if this environmental degradation is to be curbed.
Biggest Farms In The World
| | | |
| --- | --- | --- |
| Rank | Farm | Area |
| 1 | Mudanjiang City Mega Farm, Heilongjiang, China | 22,500,000 acres |
| 2 | Modern Dairy, Anhui, China | 11,000,000 acres |
| 3 | Anna Creek, South Australia, Australia | 6,000,000 acres |
| 4 | Clifton Hills, South Australia, Australia | 4,200,000 acres |
| 5 | Alexandria, Northern Territory, Australia | 4,000,000 acres |
| 6 | Davenport Downs, Queensland, Australia | 3,700,000 acres |
| 7 | Home Valley, Western Australia, Australia | 3,500,000 acres |
| 8 | Innamincka, South Australia, Australia | 3,340,000 acres |
| 9 | Wave Hill, Northern Territory, Australia | 3,330,000 acres |
| 10 | Marion Downs, Queensland, Australia | 3,070,000 acres |