Biggest Cities In Venezuela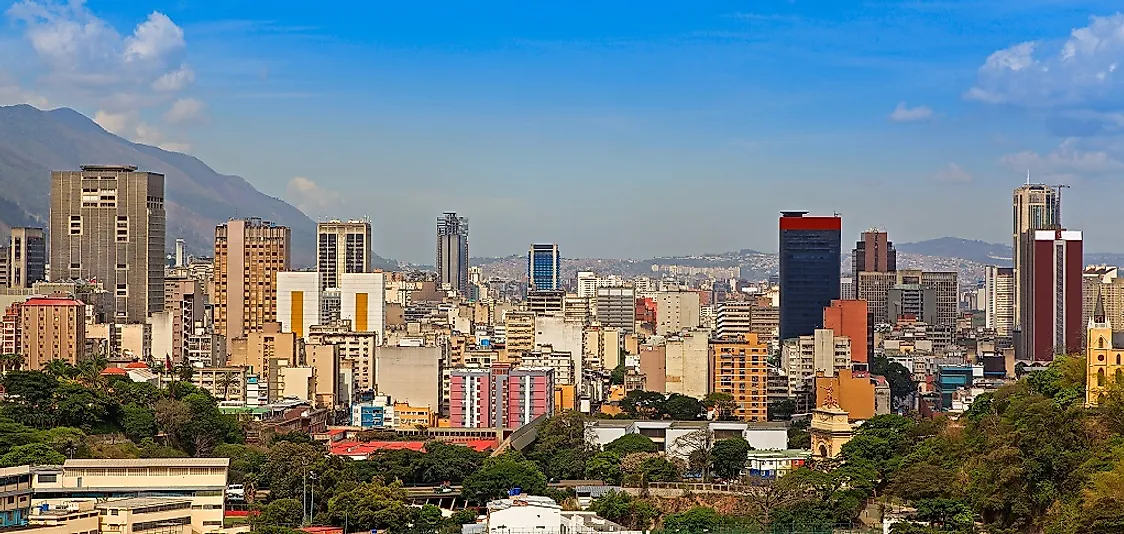 The country of Venezuela is located in the northern portion of South America. With an estimated population of over 31 million residents, the nation is bordered by Brazil, Colombia, Guyana, and Trinidad and Tobago. With its history as a colony of Spain the present day independent country of Venezuela is made up of the Capital District, 23 states, as well as a number of off shore islands also known as federal dependencies.
Caracas
The nation's largest city and capital, Caracas, is home to over five million Venezuelans, all of whom live within an urban space of around 300 square miles. The official name of the historic city is Santiago de León de Caracas but despite its nickname of Heaven's Branch on Earth Caracas has earned a reputation as the most murderous city in the world. The central metropolitan area is composed of five municipalities an includes the Stock Exchange, a busy shopping area, and an array of cultural and historic attractions. The capital city also serves as home base for some of the nation's largest businesses such as Petróleos de Venezuela. Caracas' reputation as a dangerous city, especially in its slums or barrios, has arisen due to its high rates of murder and crime, as well as conditions such as poverty, corruption, and a thriving drug trade. According to the Citizen's Council for Public Security and Criminal Justice the murder rate in the country's capital in 2015 was approximately 120 per thousand people which translates to almost four thousand homicides.
Other Major Urban Areas in Venezuela
The second largest city in Venezuela, Maracaibo, can be found in the state of Zulia, and is divided into 18 parishes. Because of its geographical location where Lake Maracaibo connects with the Gulf of Venezuela the General Rafael Urdaneta Bridge plays a vital role in the life of the city's residents because of the vital link it provides between Maracaibo and other parts of the South American country. The urban areas of Barquisimeto and Valencia are each home to almost two million residents. Valencia is home to a number of industrial and manufacturing companies. Whereas the port city of Ciudad Guayana was founded as recently as 1961 the mountainous city of San Cristobal was established by Juan de Maldonado way back in 1561. Maracay, located in the state of Aragua, is home to the Henri Pittier National Park Rain Forest Park as well as a popular bullfighting school, and the Museum of Modern Arts. Cumana, founded by Europeans, is a city known for being the oldest continuously populated settlement in South America. Religion plays a major role throughout Venezuela and the urban center of Barcelona is no different. The city is home to a number of significant Christian sites such as the Cathedral of San Cristóbal, Basílica del Cristo de Jose, and Shrine of Nuestra Señora del Carmen. Another major city, Maturin, is the capital of the state of Monagas and is known for its rich oil supply.
Systemic Problems in Venezuela's Largest Cities
According to the Council on Hemispheric Affairs, around 93% of Venezuelans live in cities. As is the case with a large number of urban centers around the world, Venezuela's largest cities struggle with a wide assortment of social, environmental, and economic issues. Major problems in the country include widespread poverty, gang violence, the drug trade, prison overcrowding, and corruption. In a 2016 article published in The Guardian, it was reported that Venezuela's inflation rate had reached almost 1,000%, with around 25% of its residents not even making minimum wage, and many are thus forced to depend on government-subsidized medicine and basic foodstuffs. Conditions such as elevated rates of malnutrition and a lack of much needed medication and medical services also contribute to the poor living conditions of a large segment of Venezuela's population.
Biggest Cities In Venezuela
| Rank | Biggest Cities In Venezuela | Metro Population |
| --- | --- | --- |
| 1 | Caracas | 5,297,026 |
| 2 | Maracaibo | 2,450,559 |
| 3 | Barquisimeto | 1,995,770 |
| 4 | Valencia | 1,827,165 |
| 5 | Ciudad Guayana | 1,050,283 |
| 6 | San Cristobal | 1,015,623 |
| 7 | Maracay | 955,362 |
| 8 | Cumana | 824,764 |
| 9 | Barcelona | 620,555 |
| 10 | Maturin | 472,909 |