Society
Biggest Cities In Bangladesh
The largest city in Bangladesh is Dhaka.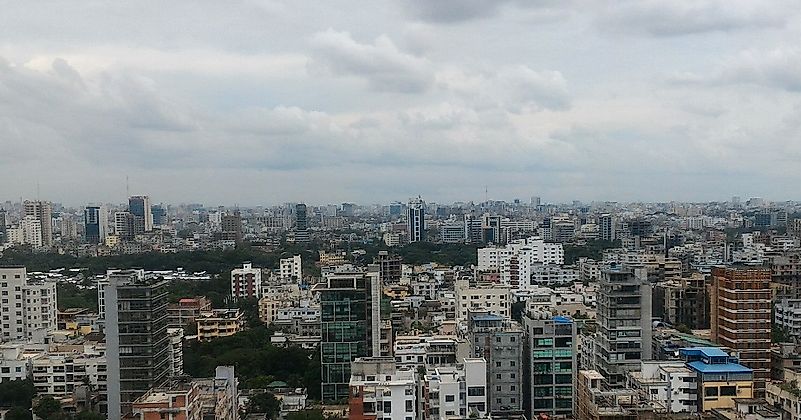 Bangladesh, one of the up and coming Asian powers, is known mainly for its textile industry worldwide. Most of the major multinational companies dealing with garments have factories of their own set up in Bangladesh. The reason for choosing Bangladesh over other countries is mainly due to affordable labor cost and availability of high-quality textile, especially cotton and its close cousins. With almost 9 million metro residents, Dhaka is the biggest city in one of the world's most densely populated nations, Bangladesh.
Demography of Bangladesh's Largest Cities
Dhaka, which is the capital of Bangladesh, is one of its oldest district cities, and has featured prominently on the pages of history books for various reasons. Dhaka has the highest population in Bangladesh, which is a mix of varied culture, community, and ethnic groups. One can get the pulse of the country by visiting Dhaka alone.
Chittagong, being a coastal seaport city, has a mix of both urban and rural life. with the former growing in leaps and bounds. It also happens to be the financial center of southeastern Bangladesh.
Narayanganj, which is nestled proximate to Dhaka, has also shown remarkable growth in terms of metro life. It boasts of having the oldest river port in the nation.
Growth Trends
The latest UN report labels Dhaka as the fastest growing mega city in the world, estimating the growth will see its population reach as high as 10 million or even more in the near future. Nonetheless, little has been done to upgrade the poverty line as there are huge slum areas and people are often seen begging and sleeping on the roads. Dhaka as a city has almost been doubled in size in between 1990 and 2005 as per World Bank and will very soon cross Mexico City or Beijing in terms of population.
Urban development and economic growth in Chittagong have seen remarkable rises over the last decade, contributing $41.45 billion to Bangladesh's annual Gross Domestic Product, and $20 billion from exports alone. Chittagong's per capita income is $5,713, which is the highest in the country. Though Chittagong is the second largest division, but boasts of the highest standard of living among all Bangladesh divisions. Chittagong has also made the division self sufficient by developing in Pharmaceutical, Steel and Food industries.
Narayanganj, a river port, is rich in industry, especially Jute mills and textile industries, and is often referred to as the "Dundee of Bangladesh". Old as well as new companies are investing in new units in Narayanganj. In spite of quite a few Special Economic Zones, a few more are on the anvil in Chittagong.
Problems Associated With Growth
With the rapid growth in urban life in metro cities, rural life in Dhaka has gone into decline. Annually, the cities attract 3 to 4 lac migrants, mostly from the poor rural segment. The cities are growing up to mega city only for taller buildings and bellowing out more smoke in the grey sky.
Chittagong's growth on one hand has also led to inflation, and thus the gap between the rich and poor is getting even broader, and people below the poverty line find it difficult to make ends meet in the city.
With the vast special economic zones and the inclusion of various industries, the environment in Narayanganj has taken a hit. Pollution and population are ever-increasing subjects in Narayanganj. With the rise in population, literacy levels are still to be worked upon.
Socioeconomic Environments
The socioeconomic state of the country, especially the top 3 cities, have only declined over the past years, at least for the average Bangladeshi citizen. Life in Dhaka for the slum dwellers, street vendors, senior citizens, students, and professionals has not improved to a significant degree, with the struggle for existence continuously on their minds. Though Chittagong has seen a sea of change in the textile industry, there are very few or negligible women working in the field, as the government has not put enough efforts or policies for the uplifting of women and children. Narayanganj with its ever-increasing population and industries has not contributed much to the literacy chart.
Biggest Cities In Bangladesh
| Rank | Biggest Cities in Bangladesh | Metro Population |
| --- | --- | --- |
| 1 | Dhaka | 8,906,000 |
| 2 | Chittagong | 4,009,423 |
| 3 | Narayanganj | 2,200,000 |
| 4 | Khulna | 1,400,000 |
| 5 | Rajshahi | 878,500 |
| 6 | Sylhet | 479,837 |
| 7 | Tongi | 476,350 |
| 8 | Barisal | 385,093 |
| 9 | Bogra | 350,397 |
| 10 | Comilla | 346,238 |
This page was last updated on January 26, 2018.
Citations
Your MLA Citation
Your APA Citation
Your Chicago Citation
Your Harvard Citation
Remember to italicize the title of this article in your Harvard citation.