World Facts
12 Countries With The Best Access To Surgeons
In some wealthy countries, more than 1 in 1,000 people may be employed as specialist surgeons.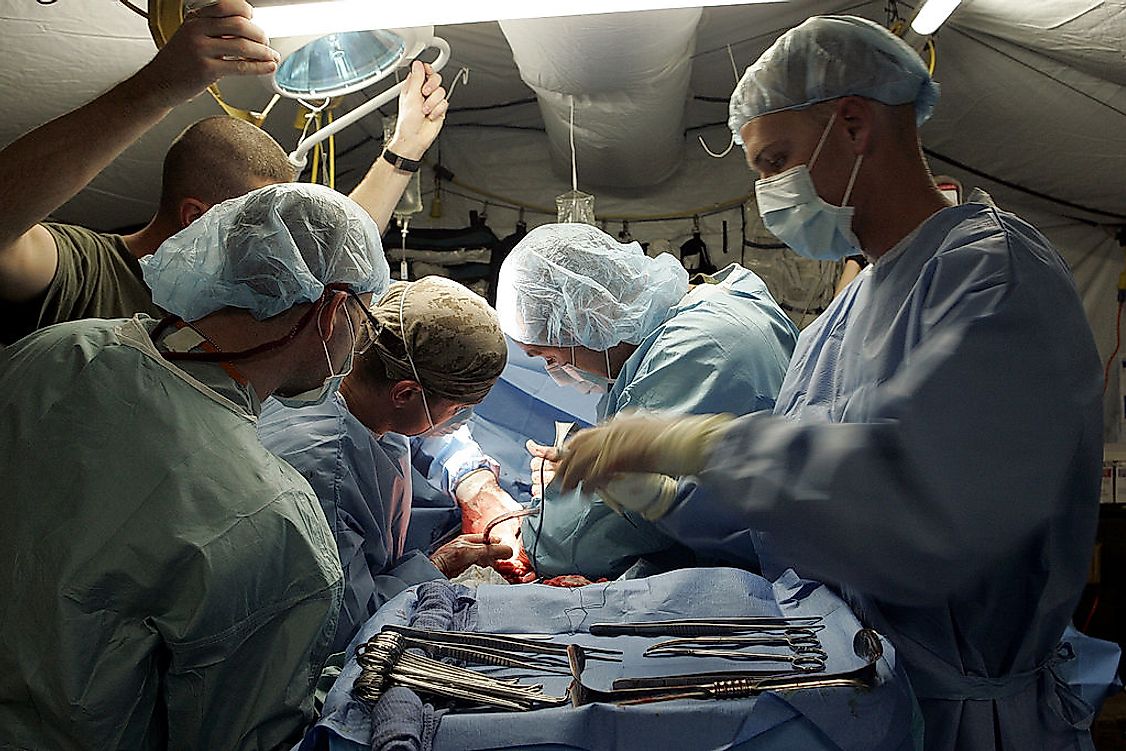 The world of medicine has changed drastically in the past few decades. There have been radical inventions and advancements in the field of medicine. As medicine is an ever-evolving field, one cannot ignore the fact that diseases and medical challenges faced by humans have also increased beyond imagination. With the increase in the demand for doctors and surgeons, the supply of doctors has also increased in various countries. Most countries are facilitating better opportunities like improved medical education with significance to specialization and financial benefits for doctors.
Demand for Surgeons
Despite the increased need and opportunities for doctors, not all countries can produce an increased supply of doctors. This state is because of lack of proper medical education or expensive fees for education. Surgery is an integral component of properly functioning health system in any country. In this era, it is necessary for all the countries to have easy access to quality medical and surgical facilities. According to the World Health Organization (WHO) data, the world witnesses gross disparities in access to surgical care. In some countries, the numbers per capita are lower than 1% when compared to developed countries. An insufficient number of surgeons in most of the countries appears to be a major barrier for safe, healthy medical care for billions of people worldwide. Data was collected by WHO on the number of medical professionals in the specialized fields in all 194 member countries of WHO. The Lancet Commission on Global Surgery (LCGS) targets and aims at 5,000 procedures annually per 100,000 populations by 2030 and reaching this target of surgical care and anesthesia care would need an expansion of surgical and health systems.
Countries with Highest Number of Surgeons
As per the Lancet Commission on Global Surgery (LCGS) data, top three countries with highest number of specialist surgical workforce per 100,000 people are Monaco with 278 surgeons, the Cayman Islands with 172 surgeons, and Colombia with 162 respectively. The specialist surgical workforce is the number of specialist surgical, anesthetic, and obstetric (SAO) providers who are working in each country per 100,000 populations. Data supplied by International Society of Aesthetic Plastic Surgery says that South Korea is the country with the highest per capita rate of cosmetic plastic surgery. Monaco and Cuba have the highest number of physicians per 1,000 of the population. African countries like Liberia, Guinea has the lowest number of doctors with 10 and 100 doctors respectively per million. Lack of resources in these countries and burst of epidemics like HIV, natural disasters, and civil conflicts result in their poor economy, which in turn results in poor health care facilities.
Countries with Highest Number of Surgeons
Irrespective of the impressive number of doctors in the developed and rich countries, WHO states that there are only 1.13 doctors for every 1,000 people in the world presently. It is estimated that at this rate, by the next decade, there will be a global shortage of 4.3 million health care workers. The specialist surgical force is unequally distributed among the nations and the workforce is critically inadequate in many countries. To handle the growing global demands of surgical force, it is imperative to increase the number of surgeons and distribute the surgical force
| Rank | Country | Specialist Surgical Team Members per 100,000 people |
| --- | --- | --- |
| 1 | Monaco | 278 |
| 2 | Cayman Islands | 172 |
| 3 | Colombia | 162 |
| 4 | Austria | 141 |
| 5 | Estonia | 127 |
| 6 | San Marino | 113 |
| 7 | Finland | 110 |
| 8 | Switzerland | 98 |
| 9 | Liechtenstein | 97 |
| 10 | United Kingdom | 92 |
| 11 | Latvia | 91 |
| 12 | Iceland | 91 |
This page was last updated on April 25, 2017.
Citations
Your MLA Citation
Your APA Citation
Your Chicago Citation
Your Harvard Citation
Remember to italicize the title of this article in your Harvard citation.