Economics
The 10 Largest Offshore Wind Farms In The World
The Walney Extension is the world's largest offshore wind farm.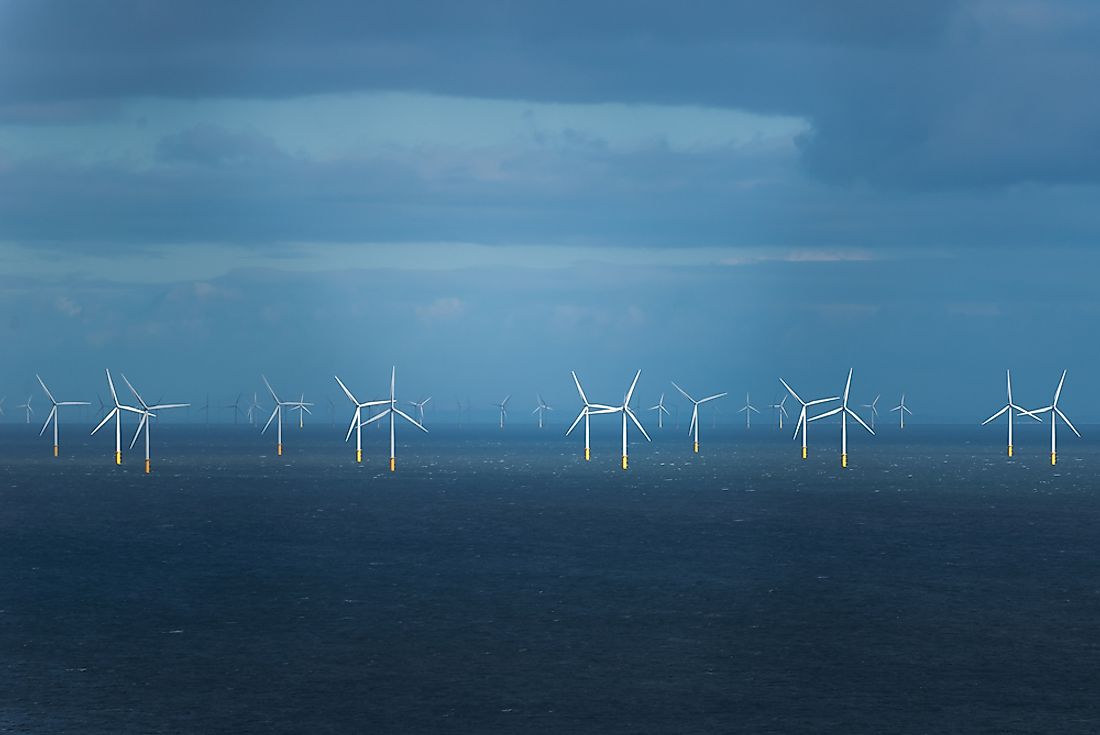 Offshore wind farms are areas in water bodies set up to produce electricity by harvesting wind energy usually on the continental shelf. Wind speeds are significantly higher in offshore areas, therefore, electricity generated from wind power is significantly higher with regards to capacity installed. Offshore wind power, however, extends to inshore water areas including fjords, sheltered coastal regions, and even lakes. Traditional wind turbines are utilized as well as floating wind turbines in regions of deeper water. By 2017 global offshore wind power stood at a capacity of 18.8 GW; most of this power comes from Europe where the largest offshore wind farms are located.
Largest Offshore Wind Farms
Walney Extension
The Walney Extension is one of the phases of the Walney Wind Farm situated west of Walney Island in the Irish Sea in England is the world's largest offshore wind farm. The extension which was opened in September is equipped with 87 turbines capable of generating the capacity of 659 megawatts of electricity. The Walney extension which is the most recent development in the Walney Wind Farm was planned initially with 207 turbines which were to be an addition to the previous 102. Full generating capacity was projected at about 750 MW, but DONG; one of the partners in Walney (UK) Offshore Windfarms Limited which developed the farm reported production of around 660MW.
London Array
For a long time, the London Array was the largest among the offshore wind farms before the construction of Walney Extension. However, where the London Array falls short in a smaller number of turbines, less than half of the Walney extension, it more than makes up for power since its turbines are larger and are located further out into the sea where they can harness more wind. It is located 12 miles off the coast of Kent in the United Kingdom. The farm has water depths only reaching up to 82 feet. Construction of Phase 1 began in March 2011 and started producing power by the end of October 2013. The second phase whose construction would have seen an increase reaching 1000 MW by addition of 166 turbines was however canceled due to concerns on bird life in the region.
Gemini
Gemini the 2.8 billion euro farm is found in the Netherlands and produces 600 MW of electricity. The farm is made up of two parts, one is located north of Ameland with 75 turbines and the second part found 34 miles northwards from Schiermonnikoog with 75 turbines as well. The farm was fully commissioned in 2017, although it was originally planned to be complete by the end of 2015 construction began in 2015 because of unforeseen delays. Electricity officially kicked off in February 2016, and by the close of the year in December 2016 all of its 150 turbines were fully operational.
The Future of Offshore Wind Farms
Wind energy, touted as a pollution-free renewable energy resource, still has pros and cons. Offshore wind farms serve well in their capacity to harness wind and produce electricity although some authorities have labeled it as the most expensive energy generating technology. Offshore wind power generation costs have also been historically higher than onshore. These costs have, however, decreased rapidly as the forerunners of wind-generated electricity aim to produce more in the future.
The 10 Largest Offshore Wind Farms In The World
| Rank | Offshore Wind Farm | Capacity (in MW) |
| --- | --- | --- |
| 1 | Walney Extension | 659 |
| 2 | London Array | 630 |
| 3 | Gemini | 600 |
| 4 | Gode I and II | 582 |
| 5 | Gwynty Mor | 576 |
| 6 | Race Bank | 573 |
| 7 | Greater Gabbard | 504 |
| 8 | Dudgeon | 402 |
| 9 | Veja Mate | 402 |
| 10 | Rampion | 400 |
About the Author
Benjamin Elisha Sawe holds a Bachelor of Arts in Economics and Statistics and an MBA in Strategic Management. He is a frequent World Atlas contributor. 
This page was last updated on October 9, 2018.
Citations
Your MLA Citation
Your APA Citation
Your Chicago Citation
Your Harvard Citation
Remember to italicize the title of this article in your Harvard citation.