Kentucky Bend Map and Information Page
Kentucky Bend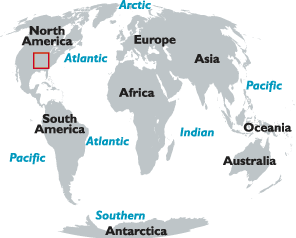 The event that created the so-called "Kentucky Bend" was in fact an earthquake.
In late 1811 and early 1812, the New Madrid Earthquake, (actually a series of earthquakes) may have registered as high as 8.0 on the Richter scale, making them (then) the largest quakes in the contiguous United States of America.
The collective impact flattened some local towns, and altered (or shifted) the course of the Mississippi River.
During the very strong and lengthy quakes, the Mississippi River flowed backward (north) before looping and heading south again.
That action caused a small peninsula to be created (the Kentucky Bend); it covers a land area of 17.5 sq miles, and is bordered on three sides by the Mississippi River.
Note that the vast percentage of land within the "Kentucky Bend" belongs to Kentucky, and is considered a subdivision of that state's Fulton County.
The southern area of the Bend is a part of Tennessee's Lake County.
This page was last updated on June 16, 2020.