World Facts
Most Dangerous Cities In The United States
The homicide rate, as reported on by the FBI Uniform Crime Reporting, can be a useful way of measuring the safety of a city.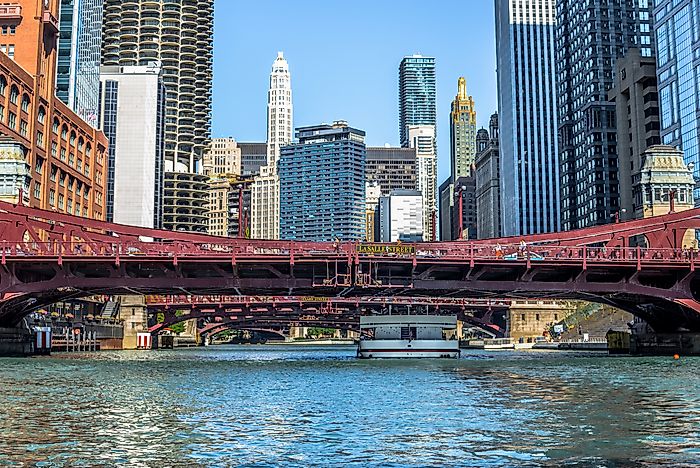 There are many different factors that lead to a city becoming rather dangerous to live or work in, and measuring whether or not a city is safe can be a complicated affair. One popular way of quantifying safety is by examining the homicide rate of a city, which is measuring the number of citizens out of 100,000 who were victims of homicide. For the purpose of our list, the data was taken from the FBI's reports for 2015. Some of the reasons behind a city's placement on this list could be due to lack of police funding, issues with armed robberies, and gang-related vioence. However, it is important to note that although the rates of homicide may be high in these cities, the United States continues to have a homicide rate that is relatively low, at 4.9 per 100,000 people.
US Cities the Most Dangerous to Live and Work
At first position on this list is St. Louis, a city in the midwestern state of Missouri which is often cited for its high violent crime rate. With a population of only 317,095, 188 murders were reported in 2015 within the city creating a murder rate of 59.3. This is a number that is extraordinarily high in comparison with the United States average Despite this high number, however, the rate of violent crimes are actually decreasing in St. Louis, where higher crime rates were seen from the 1960s through to the 1990s. St. Louis's position is followed by Baltimore, a city located in the eastern seaboard state of Maryland. It too is notorious as a city with violent crime, including homicides. 344 homicides were reported in 2015 amongst Baltimore's population of slightly over half a million, resulting in a high homicide rate of 55.4. This number is not far off from Baltimore's peak homicide report of 343 in 1993. However, as the population was higher in 1993 than 2015, the per capita rate recorded in the year 2015 is the highest ever recorded for the city.

Detroit, another common inclusion on lists of this type, has actually been experiencing a gradual decrease in violent crime since the 1970's. 2015 saw Detroit's lowest reported number of homicides in 40 years, although there was still a total of 295 murders reported. However, gun violence remains an issue in Detroit, as does arson.
Notable inclusions on this list include Milwaukee, Wisconsin, a city who saw their homicide rate rise almost ten points in one year, from 15 per 100,000 people in 2014 to a rate of 24.20 in 2015, granting it the sixth spot on this list. This was a reflection of a reported 90 murders in the city with a population of just over 600,000 in 2014, and a staggering 145 murders in 2015. Although trends have been reported as a possible explanations of why the city has seen such a sharp increase, including growing inequality and poverty levels and the increase of unemployment rates, exactly why the influx has happened is difficult to pin down. Other cities who have seen an increase in the murder rate between 2014 and 2015 include the nation's capital of Washington, D.C., which went from a rate of 15.9 per 100,000 in 2014 to 24.10 in 2015, and Kansas City, which is located between the US states of Kansas City and Missouri and saw a jump from 16.7 per 100,000 in 2014 to 23 per 100,000 in 2015.
It is important to note that Chicago, a city often referenced as dangerous and plagued with gang violence, has a position midway down this list, partly due to its large population size. Chicago did, however, see a slight increase in homicide rate between 2014 to 2015, from 15.1 per 100,000 to 17.50. New York and Los Angeles, the other US cities with the largest population sizes, have rates of 4.1 and 7.1, respectively.
Other cities that are considered dangerous
Although a number of these most dangerous cities do seem to be located in the Midwestern region of the United States, it is hard to notice any geographic pattern as this region describes a great amount of the country. One interesting conclusion is that although homicide rates of cities often cited as the most dangerous tend to be gradually dropping (Detroit, New Orleans, St. Louis), there are other cities who seem to be climbing in rankings (Milwaukee, Cincinnati) and some who appear to be stagnating (Newark, Pittsburgh, Atlanta). Gun violence is said to contribute greatly to the rate of murder found across cities in the United States, with guns reponsible for at least 67.9% of homicides reported across all cities.
US Cities Listed by Homicide Rate
View information as a:
List
Chart
| Rank | City | Homicide Rate (Per 100,000 People) |
| --- | --- | --- |
| 1 | St. Louis (Missouri) | 59.30 |
| 2 | Baltimore (Maryland) | 55.40 |
| 3 | Detroit (Michigan) | 43.80 |
| 4 | New Orleans (Lousiana) | 41.70 |
| 5 | Newark (New Jersey) | 33.30 |
| 6 | Milwaukee (Wisconsin) | 24.20 |
| 7 | Washington, D.C. | 24.10 |
| 8 | Kansas City (Missouri) | 23.00 |
| 9 | Cincinnati (Ohio) | 22.10 |
| 10 | Memphis (Tenneessee) | 20.50 |
| 11 | Oakland (California) | 20.30 |
| 12 | Atlanta (Georgia) | 20.20 |
| 13 | Pittsburgh (Pennsylvania) | 18.60 |
| 14 | Philadelphia (Pennsylvania) | 17.90 |
| 15 | Chicago (Illinois) | 17.50 |
| 16 | Indianapolis (Indiana) | 17.10 |
| 17 | Miami (Florida) | 17.10 |
| 18 | Cleveland (Ohio) | 16.20 |
| 19 | Stockton (California) | 16.10 |
| 20 | Buffalo (New York) | 15.90 |
| 21 | Tulsa (Oklahoma) | 13.70 |
| 22 | Houston (Texas) | 13.30 |
| 23 | Louisville (Kentucky) | 11.90 |
| 24 | Orlando (Florida) | 11.90 |
| 25 | Oklahoma City (Oklahoma) | 11.60 |
| 26 | Minneapolis (Minnesota) | 11.40 |
| 27 | Jacksonville (Florida) | 11.20 |
| 28 | Nashville (Tennessee) | 10.90 |
| 29 | Omaha (Nebraska) | 10.60 |
| 30 | Dallas (Texas) | 10.40 |