Bird: Andean Condor
Coat of Arms:




Coat of Arms: Chile's coat of arms is made up of a figurative background divided in two equal parts: the top one is blue and the bottom, red. A five pointed white star is in the center of the shield. On the right is a condor, the most significant bird of prey from the Andes, and on the left is a huemul, the most singular and rare mammal of the Chilean territory. Both animals have on their heads the navy's golden crown which is a symbol of the heroic deeds of the Chilean Navy in the Pacific Ocean.

Atop the shield stands three feathered crests; each feather bearing one color: blue, white and red. This crest was a symbol of distinction that former Presidents of the Republic used to wear on their hats. Underneath the coat of arms there is a white band with the motto: "Por la Razón o la Fuerza" ("By reason or by force").
Flower: Copihue
Motto: "Por la razón o la fuerza." "By right or might."
Chile Trivia
Are There Any Female Heads of Government?
There are many powerful women in politics around the world. Some examples are Queen Elizabeth and Prime Minister Theresa May of the United Kingdom, Chancellor of Germany Angela Merkel, and Ellen Johnson Sirleaf the President of Liberia and the first female head of state in Africa.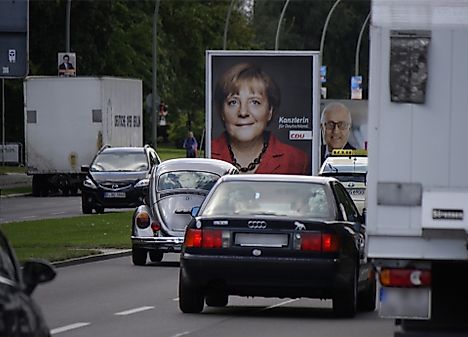 10 Female Heads of State
Countries Of South America
This page was last updated on September 29, 2015.