Tahiti and Moorea, part of the Society Islands of French Polynesia, were first explored by Captains Cook and Bligh, but they were made truly famous by the paintings of the artist, Paul Gauguin, and by the words of author, James A. Michener.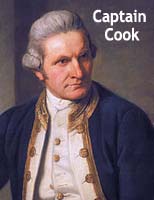 The island was divided into various clans prior to the arrival of Europeans, with each clan being run by a chief (ari'i rahi), nobles (ari'i) and under-chiefs ('lato'ai).

Admiral Du Petit-Thouars arrived from France in the mid-19th century, and won over the Tahitian chiefs who were growing tired of the self-imposed Pomare monarchy. Du Petit-Thouars proposed a treaty, and within its framework Tahiti became recognized as a sovereign state of France, with the Queen (Pomare) being responsible for internal affairs.
In 1946, the whole of French Polynesia, including Tahiti, became an overseas territory, and citizens of the island were given French citizenship, this was changed to an overseas country in 2004.
Over 60% of all residents of French Polynesia live on the island, in and around the capital city of Papeete.
Moorea, with a very similar landscape, is commonly reached by ferry from Tahiti. The author, James A. Michener described Moorea by saying, "It's a monument to the prodical beauty of nature."
For additional info about the islands of French Polynesia, and their most interesting history, go here.
Fast Facts
Name: Tahiti and Moorea
A part of the Society Islands of French Polynesia, an overseas territory of France originally claimed in 1843
Capital City: Papeete (26,017 pop.)
Population: 178,133 (2007 census)
World Populations (all countries)
Currency: Comptoirs Francais du Pacifique franc
(conversion rates)
Ethnicity: Polynesian, European, Chinese, mixed
Language: French (official), Tahitian
Largest Cities: (by population) Papeete, Faaa, Pirae, Papenoa, Mahina, Taravao
National Day: July 14
Religion: Protestant, Catholic, others
Flags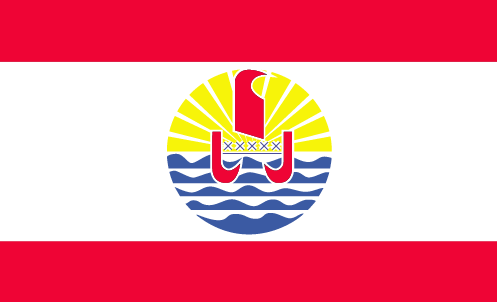 French Polynesia is an overseas possession of France.
Its flag depicts a canoe (piroque), sailing under a golden sun. Its crew of five is representing the five islands groups; the Austral, Gambier, Marquesas, Society and Tuamotu chains. Red and white are traditional Polynesian colors.
Larger Tahiti flag
Geo. Statistics
Coastline: 120 miles (193 km)
Land Area:
(land) 403 sq mi (1,045 sq km)
(water) 0 sq mi (0 sq km)
(TOTAL) 403 sq mi (1,045 sq km)

To convert sq km (kilometers) to sq mi (miles)
use our converter

Land Area: (all countries)
Latitude & Longitude:
Papeete: (capital city) 17° 32' S / 149° 34' W
Horizontal Width: 23.52 miles (37.85 km) from Paea east to Tautira
Vertical Length: 13.47 miles (21.67 km) from Mahina south to Papara

Note: Lengths and widths are point-to-point, straight-line measurements from a Mercator map projection, and will vary some using other map projections

Geographic Center: About 5.42 miles (8.3 km) west of Taravao
Highest Point: Mou'a 'Orohena 7,352 ft (2,241m)
Lowest Point: Pacific Ocean (0m)
Geography
Located in the archipelago of the Society Islands, Tahiti is the largest island of French Polynesia, and was formed from volcanic activity.

The island is divided into two sections, with the northwestern portion being Tahiti Nui ("big Tahiti") and the smaller, southeastern portion being Tahiti Iti ("small Tahiti").

While coral reefs surround the coastal waters, much of the island's interior is mountainous - it's highest point is Mont Orohena (Mou'a 'Orohena) at 7,352 ft (2,241 m).

Lush rainforests cover the landscape of Tahiti, and the Papenoo River flows through the north side of the island.
Links
GENERAL INTEREST:
Maps
Travel Info.
ATTRACTIONS: (a few major)
Widely considered to be one of the most beautiful islands in the south Pacific, Tahiti is a breathtaking paradise of rainforests and mountains ringed by infamous black-sand beaches.

While many tourists flock to the island seeking a tranquil wedding or honeymoon spot, there are also plenty of activities to be enjoyed by those seeking an adventure - including various water activities (surfing, scuba diving, fishing) as well as visiting the Tomb of King Pomare the Fifth, hiking to the Les Trois Cascades, and wandering around the shops and restaurants of Le Marche, to name but a few.
Weather
The summer months (November - April) are hot and humid, with many sunny days. The balance of the year is slightly cooler and drier.

Cooling trade winds buffet the islands throughout the year, and the months of June, July, August and October are widely considered to be ideal times to visit.

Frankly, there's never a bad time to travel to paradise.
About the Author
John Moen is a cartographer who along with his wife are the orignal founders of worldatlas.com. He and his wife, Chris Woolwine-Moen, produced thousands of award-winning maps that are used all over the world and content that aids students, teachers, travelers and parents with their geography and map questions. Today, it's one of the most popular educational sites on the web.
This page was last updated on June 16, 2020.