Victoria Flag
Victoria Flag: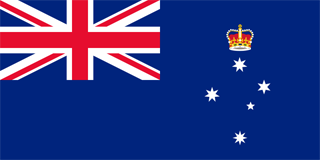 The current flag of Victoria dates from 1877, with minor variations, the last of which ocurred in 1953.
The Victorian flag is an adaptation of the national flag of Australia, and features the Southern Cross topped by St. Edwards Crown.
Victoria Coat of Arms: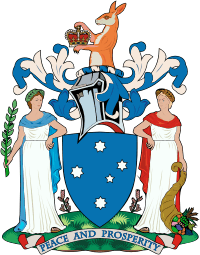 The coat of arms was granted on June 6, 1910, and is composed of a blue shield with two female supporters representing peace and prosperity. The Southern Cross is displayed within the shield, and a Demi-Kangaroo, with the Crown of St. Edward in its paws, makes up the crest.

The state motto "Peace and Prosperity" is displayed on a ribbon below.
States & Territories of Australia
This page was last updated on April 7, 2017.