Switzerland History Timeline
Switzerland's Information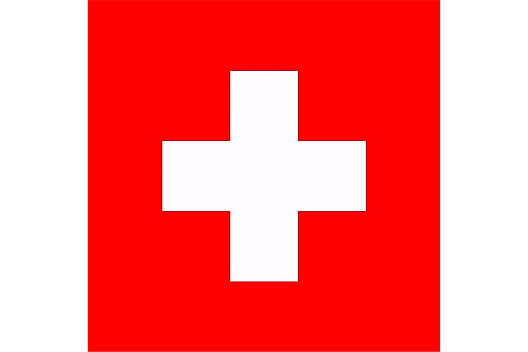 | | |
| --- | --- |
| Land Area | 39,997 km2 |
| Water Area | 1,280 km2 |
| Total Area | 41,277km2 (#132) |
| Population | 8,179,294 (#97) |
| Population Density | 204.50/km2 |
| Government Type | Federal Republic (formally A Confederation) |
| GDP (PPP) | $496.00 Billion |
| GDP Per Capita | $59,400 |
| Currency | Franc (CHF) |
| Largest Cities | |
BC
(8000BC) First settlements built in present-day Switzerland
(1000BC) Tribes of Celts migrated into Switzerland
(50BC) Romans established provincial towns in Switzerland
400s AD – 1800s
(400) Roman legions withdrew from the towns they established in Switzerland; many people converted to Christianity
(600) Franks invaded the indigenous tribes of Switzerland, converted many Swiss Pagan tribes to Christianity
(1291) First Swiss confederation formed between rural communities in Switzerland
(1300) Switzerland was an important trade route between Asia and Northern Europe
(1499) Swabian Wars led to independence from the German empire; first parliament formed in Switzerland, representatives from different confederates met to consult and vote on political issues
(1536) Jean Calvin, famous Christian reformist thinker, moved to Geneva from France
(1798) French army under the command of Napoleon invaded Switzerland
(1802) Swiss revolt forced French army to leave Switzerland
(1815) Borders of Switzerland and its territory's neutrality established at the Congress of Vienna
(1848) Switzerland became a unified federal state with a constitution
(1874) Revised constitution allowed for the exercise of direct democracy by referendum
1900s
(1914-18) During World War I, Switzerland organized Red Cross units
(1919-20) Treaty of Versailles reaffirmed Swiss neutrality
(1920) Switzerland joined League of Nations; League's headquarters established in Geneva
(1923) Customs union entered with Liechtenstein
(1939-45) Declaration of neutrality issued by Federal Council at the start of World War II; Switzerland refused to join United Nations
(1959) Switzerland was founding member of European Free Trade Association
(1963) Switzerland joined Council of Europe
(1967) Right-wing groups campaigned to restrict entry of foreign workers
(1971) Women granted right to vote in federal elections
(1979) After referendum, French speaking part of Bern became separate canton of Jura
(1985) Referendum guaranteed women legal equality with men within marriage
(1986) Referendum opposed UN membership; immigrant numbers restricted
(1992) Switzerland joined World Bank and international Monetary Fund
(1994) Referendum approved new law making racial discrimination and denial of Nazi Holocaust illegal; laws tightened against drug traffickers and illegal immigrants
(1995) Swiss Banking Association uncovered dormant pre-1945 bank accounts that contained millions of dollars
(1998) Swiss banks agreed $1.25bn compensation deal with Holocaust survivors and families
(1999) People's Party, led by Christoph Blocher, became second strongest political force
2000s
(2001) Voters rejected moves to open talks on joining European Union; Swiss voted in favor of allowing soldiers to carry weapons during peacekeeping missions abroad; parliament voted in favor of United Nations membership; voters rejected proposal to get rid of its army
(2001) Zug massacre took place in city of Zug, 14 people shot dead by Friedrich Leibacher
(2002) Narrow majority of Swiss voted in favor of joining the United Nations in a referendum; vote in referendum to decriminalize abortion which would be allowed in first 12 weeks of pregnancy; Switzerland formally a member of the UN; referendum rejected drastic tightening of asylum laws
(2003) Swiss voted against abolition of nuclear power, new proposals on rights for the disabled, introduction of car-free Sunday's, but in favor of army cuts and changes to civil defense; parliament agreed to grant right-wing Swiss People's Party second post in seven-seat government at the Christian Democrats expense, altered the "magic formula" that had brought stability to Swiss politics since 1959
(2004) Agreement signed with EU on taxing accounts held in Swiss banks by EU taxpayers; voters in a referendum rejected moves to relax strict naturalization laws; referendum voted in favor of allowing scientific research using stem cells taken from human embryos
(2005) Voters in referendum supported joining EU Schengen and the Dublin agreements, extended rights for same-sex couples; referendum vote favored opening job market to workers from 10 newest EU countries; referendum backed five-year ban on use of genetically modified crops
(2006) Voters in a national referendum backed plans to make Swiss asylum laws among the toughest in the West
(2006) Protestors supporting Swiss football club stormed field after losing match, caused extensive property damage, referred to as the Basel Hooligan incident and the "Disgrace of Basel"
(2007) In Switzerland's largest corporate trial, Swissair ex-directors were all cleared; Swiss People's Party boosted its standing as the largest group in parliament; Christoph Blocher, one of Swiss People's Party leaders, forced from his cabinet seat; Swiss People's Party quit the governing coalition
(2008) Voters rejected referendum initiative to limit naturalization of foreigners by allowing Swiss communes to vote on individual cases; Switzerland unveiled a $5.3bn rescue plan for its largest bank, UBS, that was badly hit by the global credit crisis; Swiss People's Party rejoined the governing coalition with the election of party member Ueli Maurer to the Federal Council
(2008) Switzerland scrapped routine passport controls at all borders after joining the EU's Schengen Agreement
(2009) Swiss economy officially in recession; Switzerland overtook the U.S. as the world's most competitive economy, reported by the World Economic Forum; Swiss voters approved referendum initiative banning the construction of minarets
(2009) New party formed by 150 members, the Pirate Party Switzerland, goals to reform laws regarding copyrights and patents and right to privacy
(2009) Film director, Roman Polanski, was taken into custody, faced extradition to the US for sex offender crime
(2010) Longest railway tunnel in the world was completed, the Gotthard Base Tunnel, through the Swiss Alps, cost over $10.6 bn
(2010) Swiss post office's bank, PostFinance, shut accounts of Wikileaks founder, Julain Assange
(2010) Fourth female minister elected to seven-member Federal Council gave Swiss cabinet majority of women for the first time; Swiss voters approved referendum initiative on automatically deporting foreigners who committed serious crimes
(2011) Voters rejected referendum that guns could no longer be kept at home, but stored in an arsenal, failed in the German-speaking areas of the country
This page was last updated on April 7, 2017.
Switzerland Trivia
What Is The Capital Of Switzerland?
Switzerland does not have an official capital city. When Switzerland became a country in 1848, it was decided that the country would have no official capital city in an effort to award every territory in the country equal importance. However, Bern was selected to host the nation's federal government, becoming the de facto capital.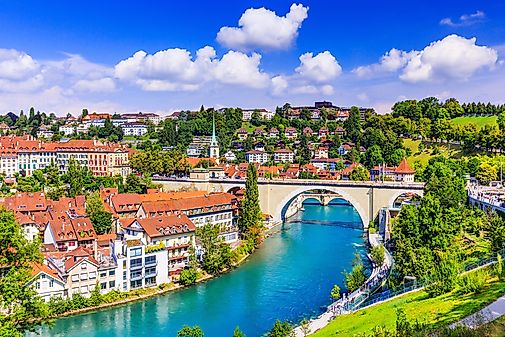 What is the Capital of Switzerland?