South Korea History Timeline
South Korea's Information
| | |
| --- | --- |
| Land Area | 96,920 km2 |
| Water Area | 2,800 km2 |
| Total Area | 99,720km2 (#107) |
| Population | 50,924,172 (#27) |
| Population Density | 525.42/km2 |
| Government Type | Presidential Republic |
| GDP (PPP) | $1,930.00 Billion |
| Currency | Won (KRW) |
| Largest Cities | |
3000 BC - 50 BC
(3000 BC) Early civilization began with settlers from central Asia
(2333 BC) First Korean kingdom, Gojoseon, founded by Dangun
(700 BC) Eastern Chinese immigrants brought new rice growing techniques
(171 BC) Major wave of migration from Japan to the Korean Peninsula brought metal tools, rice and new farming techniques
(108 BC) Gojoseon collapsed after conflicts with Han Dynasty, Proto-Three Kingdoms founded
(57 BC) Silla was founded
(37 BC) Goguryeo was founded
(18 BC) Baekje was founded
50s AD - 1600 AD
(57 - 668) Three Kingdoms of Korea dominated Korean Peninsula and part of Manchuria
(200) Laws were developed by the emerging states, new writing system using Chinese characters was created
(676) Three Kingdoms unified under Silla Dynasty
(892) Silla Dynasty began to close control of parts of the peninsula
(935) Silla Dynasty weakened due to internal conflict, surrendered to Goryeo, became Ioseon Dynasty
(1231) Mongol invasions began
(1270) Peace treaty signed with Mongols
(1392) Yi Dynasty began, country was renamed Choson
(1394) Seoul was founded
(1592) Japanese invaded Korea
(1627) First invasion by Manchu
(1636) Second Manchu invasion
1800 - 1900
(1866) French invaded in retaliation for Korean execution of several French Catholic missionaries, burned more than 5,000 Korean manuscripts after raid on royal library
(1871) Diplomatic mission by U.S. turned into armed conflict over a misunderstanding, 200 Korean troops and three Americans were killed
(1897) Ioseon renamed Korean Empire, Emperor Gojong took control
(1905) Japan annexed entire Korean Peninsula, Korean Empire became protectorate of Japan
(1909) Japanese Resident General of Korea was assassinated by An Jung-geun, a Korean independence activist
(1910 - 1945) Japanese forced Koreans to adopt Japanese names; forbade use of Korean language, converted Koreans to Shinto religion
(1910) End of the Chosun Dynasty - Japanese deposed the royal family
(1919) Korea declared independence, held nation-wide peaceful demonstrations which were crushed by Japanese military and police forces
(1919) Provisional Government of the Republic of Korea established in Shanghai, China
(1919) Saito Makoto appointed Governor-General of Korea
(1920) Battle of Qingshanli fought between Imperial Japanese Army and Korean guerrillas; considered to be great victory for Korea
(1932) Lee Bong-chang, Korean independence activist, attempted unsuccessfully to assassinate Japanese Emperor Hirohito with a hand grenade
(1932) Independence activist, Yun Bong Gil, bombed Japanese army celebration, two killed, injured several others; he was arrested at the scene
(1932) Yun Bong Gil executed for bombing incident
(1939 - 1945) World War II
(1945) World War II ended; Japan relinquished control of Korea to U.S. and Soviet Union
(1945) Korean Peninsula divided at 38th parallel, Soviets occupied north, U.S. occupied the south
(1945) Peoples Republic of Korea was established with Yuh Woon-Hyung as leader
(1946) U.S. established United States Army Military Government; Peoples Republic was forcibly dissolved; Yuh Woon-Hyung was murdered
(1946) U.S.-USSR Joint-Commission was dissolved after impasse on formation of a Korean Government; Cold War began
(1948) Elections were held; Syngman Rhee was elected president
(1948) The Republic of Korea declared independence
(1950) Korean War began; forces from Communist North invaded South
(1950) President Truman authorized U.S. Air Force and Navy to enter the Korean conflict
(1953) Korean Armistice Agreement ended Korean War; two million lives lost
(1960) April Revolution started by student uprising protesting against election fraud; First Republic of South Korea overthrown
(1960) President Syngman Ree stepped down, went into exile
(1960) Second Republic of South Korea formed by new constitution
(1961) Second Republic of South Korea overthrown by military forces led by General Park Chung Hee in Military Coup d'etat
(1963) General Park established Third Republic, restored some political freedoms, began major industrial development
(1965) Japan, Republic of South Korea signed Treaty on Basic Relations
(1968) North Korea commandos attempted unsuccessful assassination of President Park Chung Hee
(1972) President Park Chung Hee declared emergency martial law, changed constitution allowing him to become permanent ruler
(1974) First Lady Yuk Young-soo assassinated by North Korean Mun Segwang
(1976) Group of North Korean soldiers attacked US and South Korean soldiers in demilitarized zone, two US army officers killed
(1979) US President Jimmy Carter visited, threatened to reduce US forces in Korea if President Park did not stop Nuclear Weapons Development program
(1979) President Park assassinated by Kim Jaegyu, Chief of KCIA; Choi Kyu-hah became acting president
(1979) In coup d'etat, Major General Chun Doo Hwan gained military power
(1980) Following student demonstrations, martial law was declared; army killed over 200 in city of Gwangju
(1980) Choi Kyu-hah forced to step down, Chun Doo Hwan had military junta name him president
(1981) Martial law ended, Chun indirectly elected to seven-year term as president
(1983) Korean Airlines flight was shot down by Soviet jet fighter after entering Soviet airspace, 269 people on board were killed
(1986) Change in constitution allowed direct election of president
(1987) Student uprising began June Democracy Movement; Fifth Republic of South Korean overthrown; President Chun pushed out of office, succeeded by Roh Taw-woo who granted greater political liberalization, launched anti-corruption campaign
(1988) Olympic Games held in Seoul
(1990) South Korea, USSR established diplomatic relations
(1991) North Korea, South Korea joined United Nations
(1992) South Korea, People's Republic of China established diplomatic relations
(1993) In first free parliamentary elections, President Roh succeeded by Kim Young San, the first civilian president
(1994) US, Japan and South Korea agreed to seek punitive steps against North Korea over nuclear program
(1995) Department store in Seoul collapsed, 501 killed, over 900 injured
(1995) Former presidents Roh Tae-woo and Chun Doo-hwan charged with corruption and treason
(1996) Former President Chun Doo-hwan sentenced to death, Roh Tae-woo sentenced to 22.5 years in prison
(1996) North Korean submarine ran aground in Gangneung on east coast of South Korea; during search operations, 11 crew members found dead in apparent suicide, 13 killed by South Korean forces
(1996) South Korea joined Organization for Economic Cooperation and Development
(1997) South Korea reached agreement with International Monetary Fund (IMF) for $55 billion bailout for faltering economy
(1997) In presidential elections, former dissident Kim Dae Yung won
(1998) President Kim Dae Yung pursued "sunshine policy" of economic and humanitarian aid to North Korea
(1998) Over 2,500 workers marched in Seoul protesting government's labor reform plan
(1998) North Korean mini-sub in South Korean waters captured, nine crew found dead inside
(1999) South Korean warships sank North Korean torpedo boat, damaged a second one in Yellow Sea
(1999) North Korea declared new demilitarized zone; five islands controlled by South Korea were within North Korea's territory
(1999) Thousands of workers protested in Seoul on government plans to privatize state-run power, gas, financial firms; demanded reduction of workweek hours from 44 to 40
2000s
(2000) Prime Minister Kim Jong Pil appointed Park Tae Joon as his successor
(2000) Following outbreak of foot-and-mouth disease, South Korea said it would slaughter 350,000 livestock
(2000) Prime Minister Park Tae Joon resigned after court ruling that he had concealed property ownership to avoid tax payments
(2000) Kim Jong-il of North Korea and South Korean President Kim Dae Yung held summit in Pyongyan (first meeting between two countries in fifty years); North ceased propaganda broadcasts against South; agreement signed allowing visits for some families separated for last five decades
(2000) South Korea gave amnesty to more than 3,500 prisoners
(2000) President Kim Dae Yung awarded Nobel Peace Prize
(2000) First visits were held between family members from North and South Korea - some had not seen family members in 50 years
(2001) Incheon International Airport opened
(2002) 25 North Koreans defected to South Korea through Spanish Embassy in Beijing
(2002) Four South Koreans killed, 19 wounded; 30 North Koreans killed in battle between North and South Korean naval vessels along disputed Yellow Sea border
(2002) Roh Moo Hyun won presidential election
(2002) Typhoon Rusa struck, left at least 119 people dead
(2002) 15,000 civil servants went on strike in protest against proposal to shorten working week and government ban on public sector unions
(2002) Over 120,000 auto workers struck against Hyundai and 165 other workplaces over working conditions
(2003) 198 people killed, 147 injured when arsonist set fire to train at station of Daegu Subway
(2003) 100 South Korean tourists flew to Pyongyang, North Korea's capital on first flight between the two countries in more than six decades
(2004) Parliament approved dispatch of 3,000 troops to Iraq
(2004) Parliament voted to impeach President Roh Moo Hyum over breach of election rules, incompetence
(2004) Markets plunged after presidential impeachment
(2004) South Korea's first free trade agreement was ratified with Chile
(2004) Constitutional Court overturned impeachment, President Roh reinstated
(2004) US announced plans for withdrawal of one-third of its 37,000 troops by end of 2005
(2004) Islamic militants beheaded South Korean after government refused to pull troops from Iraq
(2004) Second wave of mass defections from North Korea arrived on flight from Vietnam, total two-day airlift was 460
(2005) Japan restated claim to small group of islands in Sea of Japan; sovereignty disputed by Seoul and Tokyo
(2005) Former head of Daewoo, Kim Woo-choong, arrested for his role in the $70 billion collapse, sentenced to 10 years in jail
(2005) About 60,000 workers went on strike demanding better protection for part time workers
(2006) Protesters at a planned new US military base clashed with police, hundreds were wounded
(2006) Around 1,500 South Korean Christians who were in Afghanistan for a peace festival were ordered to leave by the Afghan government
(2006) Foreign Minister Ban Ki-moon appointed as United Nation's new secretary-general; first US chief to publicly disclose personal finances
(2006) Wal-Mart Stores announced its withdrawal from South Korean retail market, sold its stores to country's top discount chain
(2006) Quarantine officials slaughtered more than 200,000 poultry after an outbreak of bird flu at chicken farm
(2007) North Korea and South Korea agreed to restart suspended 2006 talks
(2007) South Korea agreed with US to assume control of own military forces beginning 2012
(2007) South Korea, US agreed on free-trade deal
(2007) Aid shipments to North Korea were postponed until main atomic reactor was shut down
(2007) Passenger trains crossed North-South border for first time in 56 years
(2007) President Roh crossed Demilitarized Zone in symbolic walk for talks with North Korean leader Kim Jong Il
(2007) Oil tanker collided with barge carrying a crane, thousands of tons of oil spilled into Yellow Sea
(2007) Regular freight train service began across the North and South borders for the first time in more than 50 years
(2007) Former Hyundai CEO Lee Myung-bak won landslide victory in presidential election
(2008) Arsonist set fire to Namdaemun, one of the most historic gates in Seoul, the first Korean National Treasure
(2008) President Lee Myung-bak ended "sunshine policy", North Korea warned of catastrophic consequences
(2008) Series of demonstrations were held after government reversed 2003 ban of importing US beef
(2008) Government announced $130 billion rescue package for banking system and to stabilize markets following global credit crisis
(2008) North Korea announced plans to curtail ties with South Korea, including ending cross-border train service, based on Seoul's "confrontational" policies
(2009) Ties worsened between North and South Korea; North Korea said it was scrapping all military and political deals over the South's "hostile intent"
(2009) Central Bank cut interest rates to a record low due to economic forecasts that economy would contract
(2009) South Korea signed $3.55 billion agreement with Iraq to help rebuild the country in return for oil and gas
(2009) South Korea announced a 50 trillion won ($38.1 billion) investment over next four years for environmental projects (Green New Deal) to create nearly one million jobs, help economy grow
(2009) North Korea ended all wage and rent agreements in a joint industrial estate, demanded a 3,000% hike in rent, told over 100 South Korean companies to leave if they could not accept the change
(2009) Former President Roh Moo Hyum, while under investigation for alleged corruption, committed suicide
(2009) Parliament endorsed the appointment of Chung Un-chan as prime minister
(2009) North, South Korean warships exchanged fire over disputed sea border
(2010) North Korea accepted food aid from South Korea
(2010) North Korea fired artillery shells near disputed sea border, South Korea returned fire
(2010) North Korea announced the confiscation of five South Korean-owned properties at a jointly operated mountain resort
(2010) Investigators found proof that South Korean naval ship Cheonan, was sunk by North Korean torpedo in Yellow Sea, 46 sailors were killed; South Korea broke off all trade with North Korea
(2010) Maritime border dispute on Yeonpyeong Island resulted in deaths of four South Koreans, 19 injured; military placed on highest non-wartime alert
(2011) Somali pirates seized chemical tanker in Arabian Sea; South Korean forces retook ship, eight of 17 pirates were killed
(2011) North, South Korea held first talks since 2009
(2011) Additional exchanges of fire occurred near Yeonpyeong Island
(2011) Heavy rainfall caused flooding and landslides around Seoul, 77 dead or missing, over 11,000 forced to evacuate
(2012) International conference on nuclear security held in Seoul
(2012) South Korea was first major Asian economy to halt oil imports from Iran, as part of EU-US sanctions over Iran's nuclear program
(2012) Deal between South Korea and US would nearly triple range of ballistic missile system
(2012) Two nuclear reactors shut down operations after discovery that parts being used were supplied with forged quality certificates
(2012) Park Geun-hye was elected first female president
(2013) North Korea announced it was scrapping all non-aggression pacts South South Korea, shutting shared border point
(2013) Cyber-attack from internet address in China shut down computer systems at banks and broadcasters in South Korea
(2013) Alert level was raised to vital threat in South Korea based on indications that North Korea was preparing to launch a ballistic missile
(2013) Officials from North Korea and South Korea agreed to hold talks for first time since 2007
(2013) Cyber attack penetrated a number of news media and government agency websites
(2013) US and South Korea signed military pact for coordinated response against possible nuclear threats from North Korea
(2014) Personal information was stolen on over 100 million South Korean credit cards
(2014) North Korea and South Korea fired hundreds of artillery shells into each other's waters, residents in South Korean islands were forced to evacuate to shelters
(2014) Sewol ferry sunk off west coast, at least 300 missing or dead, mainly high school students
(2014) Prime Minister Chung Hong-won resigned over criticism of the government's mishandling of the rescue operations for the sinking of the ferry; ferry captain was charged with manslaughter
This page was last updated on July 10, 2020.
South Korea Trivia
What are the Major Ethnic Groups of South Korea?
96% of the South Korean population is comprised by ethnic Koreans, while the largest groups of immigrants are from China and the United States.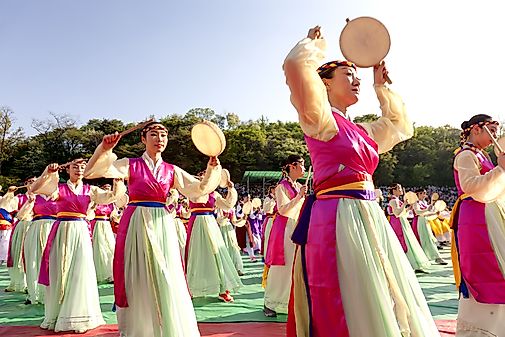 Ethnic Minorities And Immigrants In South Korea
What is the Saemangeum Seawall?
The Saemangeum Seawall is a man-made dyke in South Korea that formed the Saemangeum estuary and it remains the country's largest ever development project. The Government of South Korea mooted the project in the 1970s and commenced it in 1991 but construction finalized in 2010 after several challenges including environmental concerns.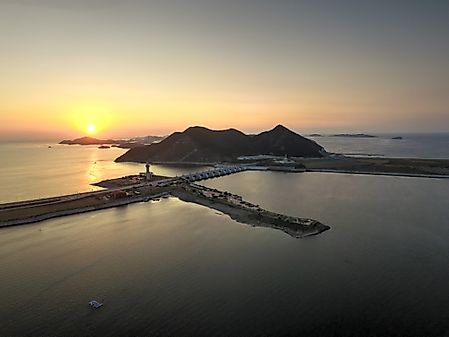 What Is The Saemangeum Seawall?
About the Author
John Moen is a cartographer who along with his wife are the orignal founders of worldatlas.com. He and his wife, Chris Woolwine-Moen, produced thousands of award-winning maps that are used all over the world and content that aids students, teachers, travelers and parents with their geography and map questions. Today, it's one of the most popular educational sites on the web.