UNESCO World Heritage Sites In South Korea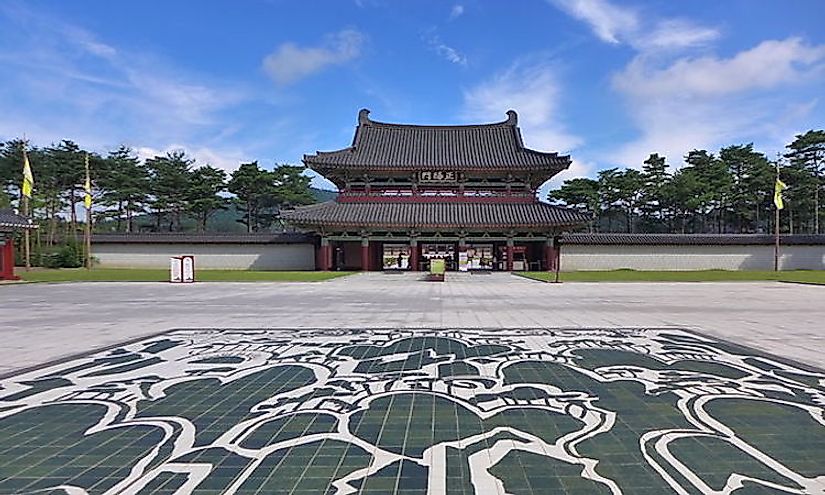 South Korea's heritage display conveys serenity and cultural simplicity that characterizes the country. The country's cultural heritage has a rich historical background from the ancient time. The heritage sites contain an array of valuables from artistic prowess to scientific rationality as evidenced by the traditional architectural designs of palaces and temples. South Korea has both tangible and intangible cultural and natural heritage. There are 18 intangible cultural heritages including languages, music, cultural practice, games, customs, and rituals. South Korea has eleven cultural and one natural heritage listed as UNESCO World Heritage Sites including;
Cultural World Heritage Sites
Baekje Historic Areas
The Baekje Historic Areas are groups of monumental ruins located in three cities in South Korea; Iksan, Buyeo, and Gongju. They sites are related to the period of the Baekje Kingdom, one of the kingdoms which flourished between 475 and 660 BC. Baekje Historic Areas eight archeological sites; Busosanseong Fortress, the royal tombs at Songsan-ri, Naseong city wall, Jeongnimsa Temple, Gongsanseong Fortress, Wanggung-ri Palace, Neungsan-ri royal tombs, and Mireuksa. The sites were influenced by the interaction between the Baekje Kingdom and East Asian countries which led to the development unique cultures different from the neighboring kingdoms. The historic monuments erected in the period of the kingdom were buried but upon excavation were found in good condition. Their preservation and management were put under Baekje Historic Areas Conservation and Management Foundation. The sites were listed as World Heritage Sites in 2015.
Changdeokgung Palace Complex
Changdeokgung Palace Complex was built around 15th century by Joseon Dynasty. It is located in Jongnno-gu at the foot of Ungbong Peak. Changdeokgung Palace was built as a secondary palace to Gyeongbokgung, but it was the first to be reconstructed after the palace was burnt down during the Japanese inversion. The buildings which make up the complex were designed according to the layout of the traditional palace principles. The structure included administrative, official audience, and royal courts and a residential area. The buildings have a stone foundation and are built of wood. Changdeokgung Palace Complex had a great impact on the country's architecture and related art for several years. It was listed as UNESCO World Heritage Site in 1997.
Gochang, Hwasun And Ganghwa Dolmen Sites
The Gochang, Hwasun and Ganghwa Dolmen Sites are locations of collections of stone dolmen that were widely used as markers for graves and ritualistic activities at the peak of Megalithic Culture in the first millennium. The megalithic stones are precious since they were used as markers on the graves of the ancient rulers. The ancient culture can be retraced from the dolmens. The dolmens date back to 7th century while the practice is estimated to have ended in the 3rd century. The excavation of the site began in 1965 with multiple digs sponsored by the government of South Korea. The sites were listed by UNESCO in 2000.
Gyeongju Historic Areas
Gyeongju Historic Areas contains outstanding Buddhist arts including sculptures, temple and palace remains, and reliefs from the culture of the Silla Dynasty. Gyeongju Historic Areas comprise of five districts situated in Gyeongju. These districts include Mount Namsan, Wolseong, Tumuli Park, Hwangnyongsa, and the Sanseong Fortress Belts. The Gyeongju Historic Areas were included in the UNESCO list in 2000.
Natural World Heritage Site
Jeju Volcanic Island and Lava Tubes is the only natural heritage in South Korea. It was listed in 2007. The volcanic island has a beautiful natural environment that is important because of its geological and ecological value. The site includes Mount Hallasan Natural Reserve and Geomunoreum Lava Tube
UNESCO World Heritage Sites In South Korea
| | |
| --- | --- |
| UNESCO World Heritage Sites In South Korea | Year Of Inscription; Type |
| Baekje Historic Areas | 2015; Cultural |
| Changdeokgung Palace Complex | 1997; Cultural |
| Gochang, Hwasun and Ganghwa Dolmen Sites | 2000; Cultural |
| Gyeongju Historic Areas | 2000; Cultural |
| Haeinsa Temple Janggyeong Panjeon and Tripitaka Koreana Woodblocks Depositories | 1995; Cultural |
| Historic Villages of Hahoe and Yangdong | 2010; Cultural |
| Hwaseong Fortress | 1997; Cultural |
| Jeju Volcanic Island and Lava Tubes | 2007; Natural |
| Jongmyo Shrine | 1995; Cultural |
| Namhansanseong | 2014; Cultural |
| Royal Tombs of the Joseon Dynasty | 2009; Cultural |
| Seokguram Grotto and Bulguksa Temple | 1995; Cultural |