Western Sahara, located south of Morocco is an occupied territory in North Africa, and is a colony of Spain that has been on the United Nations list of non-self-governing territories since 1963.
The Bafour were among the earliest inhabitants of the Western Sahara, and were followed by the Serer and some Arabian tribes, before being replaced completely by Berber-speaking populations that ultimately merged with the Beni Hassan Arabian tribe.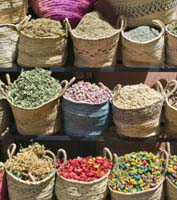 Trade developed with the arrival of Islam in the 8th century, and by the 11th century, Maqil Arabian tribes had settled in Morocco.
The Maghreb tribes of North Africa and some of the Berber tribes mixed with the Maqil Arabian over a span of 500 years, ultimately creating a culture that became unique to the regions of Morocco and Mauritania.
An agreement amongst European colonial powers at the Berlin Conference in 1884 was proposed for the division of spheres of influence in Africa, and Spain was given control of the Western Sahara. The area was administered by Spanish Morocco in 1939, however as time went by, the Spanish rule began to deteriorate. As World War II came to an end, Europeans as a whole began to lose control of North Africa possessions and protectorates.
The Western Sahara is considered by the United Nations to be a non-self governing territory and has been that way since the 1960's when it was a Spanish colony. There continues to be an ongoing dispute between the Sahrawi Arab Democratic Republic (SADR) government and the Kingdom or Morocco and the Polisario Front regarding its status.
Since a ceasefire agreement in 1991, sponsored by the United Nations, the majority of the territory has been controlled by Morocco. However, the ceasefire agreement was contingent upon a referendum regarding independence. The UN, for more than a decade, has failed to retain the referendum with disputes over voter eligibility the major stumbling block along with Morocco's opposition to the referendum.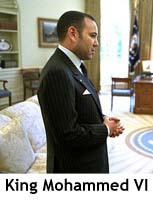 Former U.S. Secretary of State, James Baker, urged Western Sahara to consider becoming an autonomous region of Morocco in 2001. The Polisario rejected the proposal and in 2002, King Mohammed VI of Morocco confirmed that he would not "renounce an inch of" the Western Sahara.
In 2003, another peace plan was introduced that would have Western Sahara become a semiautonomous region of Morocco for five years. At the end of that period, a referendum would be held to determine the final status: independence, autonomy or integration into Morocco. The Polisario agreed to this plan, but Morocco would not give it any consideration.
Its legal status is still in question and a proposal from the government of Morocco suggesting that a self-governing entity should oversee the territory with a certain degree of autonomy for Western Sahara, which was presented to the UN Security Council in 2007, has stalled. The two entities have been asked to enter into "direct and unconditional negotiations to reach a mutually accepted political solution" by the UN Secretary-General.
Displaced Sahrawi people - angry about their living conditions - set up Gadaym Izik camp near Laayoune in October 2010 as a form of protest, and it became a home for more than 12,000 people. Nearly a month later, Moroccan security forces entered the camp forcing the people to leave, sparking outrage and protests by the residents.
Western Sahara's Information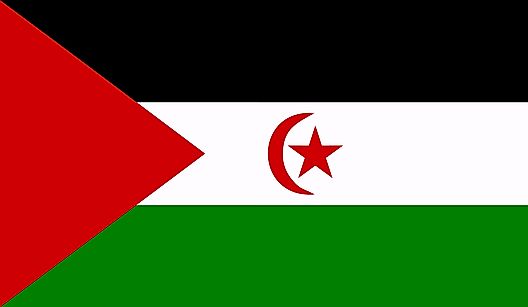 | | |
| --- | --- |
| Land Area | 266,000 km2 |
| Total Area | 266,000km2 |
| Population | 587,020 (#169) |
| Population Density | 2.21/km2 |
| Government Type | Legal Status Of Territory And Issue Of Sovereignty Unresolved - Territory Contested By Morocco And Polisario Front (Popular Front For The Liberation Of The Saguia El Hamra And Rio De Oro), Which In February 1976 Formally Proclaimed A Government-in-exile Of The Sahrawi Arab Democratic Republic (SADR), Near Tindouf, Algeria, Was Led By President Mohamed ABDELAZIZ Until His Death In May 2016; Current President Brahim GHALI Elected In July 2016; Territory Partitioned Between Morocco And Mauritania In April 1976 When Spain Withdrew, With Morocco Acquiring Northern Two-thirds; Mauritania, Under Pressure From Polisario Guerrillas, Abandoned All Claims To Its Portion In August 1979; Morocco Moved To Occupy That Sector Shortly Thereafter And Has Since Asserted Administrative Control; The Polisario's Government-in-exile Was Seated As An Organization Of African Unity (OAU) Member In 1984 - Morocco Between 1980 And 1987 Built A Fortified Sand Berm Delineating The Roughly 80 Percent Of Western Sahara West Of The Barrier That Currently Is Controlled By Morocco; Guerrilla Activities Continued Sporadically Until A UN-monitored Cease-fire Was Implemented On 6 September 1991 (Security Council Resolution 690) By The United Nations Mission For The Referendum In Western Sahara (MINURSO) |
| GDP (PPP) | $906.50 Million |
| GDP Per Capita | $2,500 |
| Currency | Dirham (MAD) |
| More Information | Western Sahara |
This page was last updated on July 12, 2016.