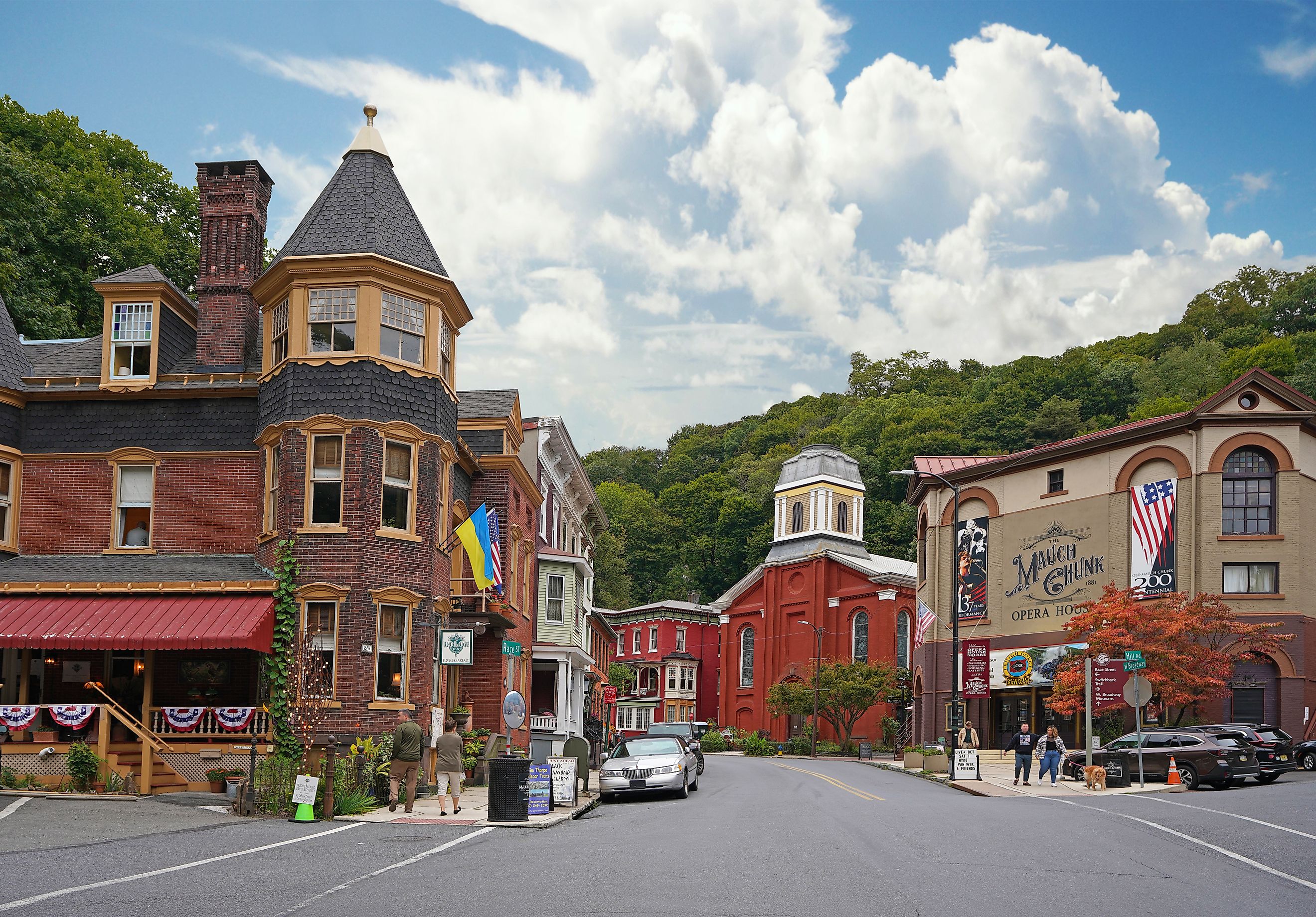 7 Most Underrated Towns In The Poconos To Take A Trip To
It is truly no surprise that the Poconos are favored as a vacation destination, with nearly 30 million people visiting the area each and every year. Between the region's rugged mountain peaks and 170 miles of racing rivers, whether you are looking for a weekend of serene wilderness hikes or would prefer a lazy lake day, there is something to fit every traveler's needs.
The region's small towns are particularly underrated and have a variety of breathtaking landscapes, unique accommodations, and fascinating historic attractions to make your trip beyond worthwhile. Whether hiking to Pennsylvania's tallest waterfall in the spring or taking a historic train ride to a Christmas Tree Farm in the winter, each season brings its own excitement. But regardless of the seasonal changes, the region's beauty and history remains intact year-round. And even if you come for the outdoors, you may just find yourself wanting to stay for the charms back in town, whether that means catching a modern show at a historic opera house or exploring the grounds of a mansion museum.
The region encompasses four gorgeous counties (Monroe, Pike, Wayne, and Carbon) across 2,400 square miles, so your options may feel overwhelming. To get you started, here are seven of the most underrated towns in the Poconos to take a trip you will never forget.
Tobyhanna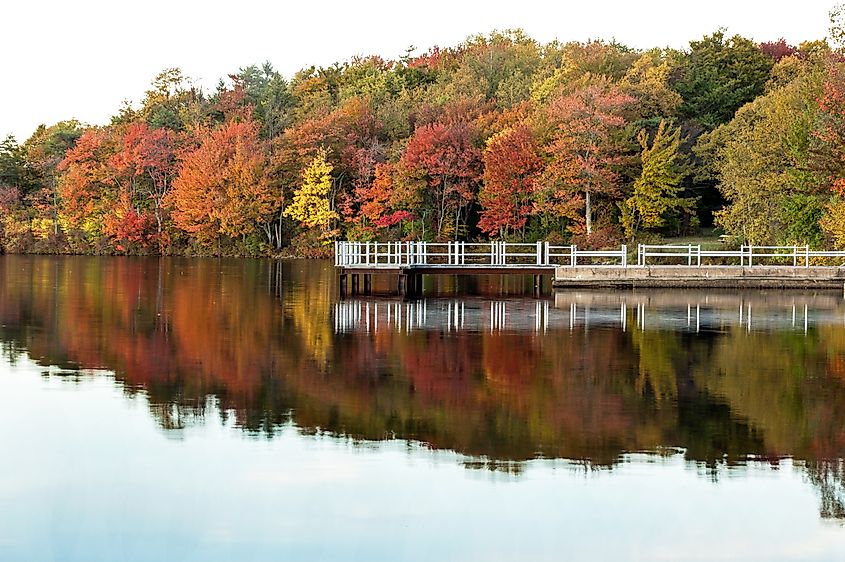 Imagine the bliss of a scenic lake getaway surrounded by acres of vibrant birch, beech, and maple groves. If Mother Nature beckons you away from the stresses of everyday life, Tobyhanna (one of the oldest-founded towns in the Poconos) is the place for you. This Monroe County town is by all means, a hidden gem, and the town is as easygoing as they come. Visit Tobyhanna State Park, whose shimmering 170-acre Tobyhanna Lake and sandy shores call for one thing: relaxation. But if you are feeling adventurous, have no fear. Active travelers can enjoy the 5,440 acres and 10 miles of hiking trails, like the easy 5-mile Lakeside Trail. For a closer look at the waters, rent a rowboat, kayak, or electric motorboat at the park from Memorial Day Weekend through Labor Day. 
With so much to see and do, you may just want to set up camp. From April through October, 135 sites are available for rent. But if you would prefer a bed over a night under the stars, just 10 minutes from town, you can book a stay at the historic lakefront Pocono Mountain Hotel and Spa. A visit to this Tudor-style inn will have you reaching levels of relaxation you may have never known possible. Savor the surrounding forest and lake on a hike, horseback ride, or even from the comforts of your deck or terrace–each room comes with an amazing lake view.
Dingmans Ferry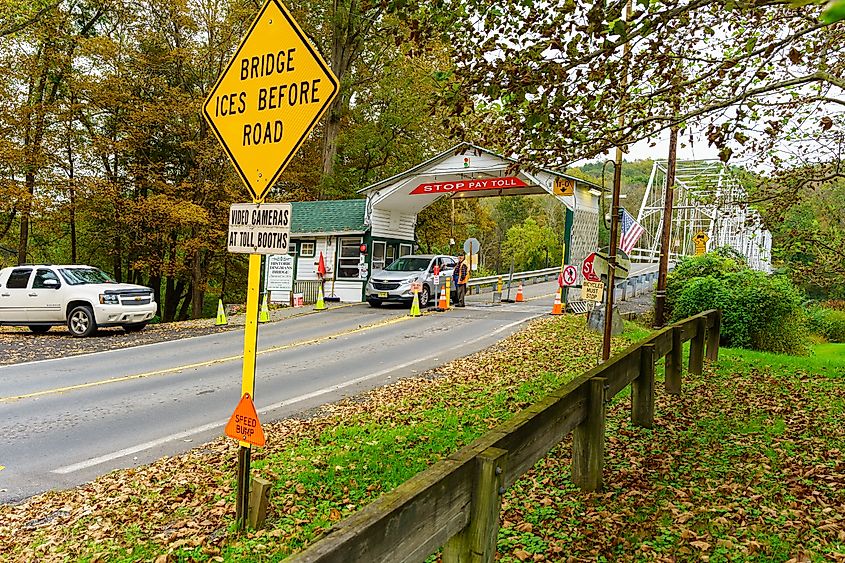 Dingmans Ferry is another underrated Poconos town whose bewitching nature makes it a fantastic getaway destination. With a scenic river bridge, a stunning waterfall, and fairytale cottages, Dingmans Ferry is one of the prettiest towns in the Poconos. If you are traveling from New Jersey, you will find yourself crossing the historic Dingmans Toll Bridge, whose picturesque path sets the scene for your stay. From here, you can make your way to the Delaware State Forest, whose name confuses some, but simply comes from the Delaware River whose waters flow through the landscape. With over 30 miles of biking and hiking paths, and 13 glacial lakes and ponds, it is no wonder the area invites millions of visitors every year. 
Dingmans Falls (Pennsylvania's second tallest waterfall) is another enchanting site in town you will not want to miss. You can access the town's visitor center and waterfall in one go, both located 1-mile up an access path off Johnny Bee Road. Keep in mind, entry to the falls is closed during the winter months, so spring and summer are the best times to visit. But the wait is definitely worth it for views of the majestic 130-foot plunge. The viewing platform offers an easier vantage point, but the staircase hike offers a spectacular overlook of the upper falls. To enjoy the storybook charms of Dingmans Ferry, just 3 miles from the Falls, you can extend your stay with an accommodation straight from the pages of a fairytale storybook. Babbling Brooks Cottages offers a unique, cozy stay surrounded by the serene cover of the forest.
Bushkill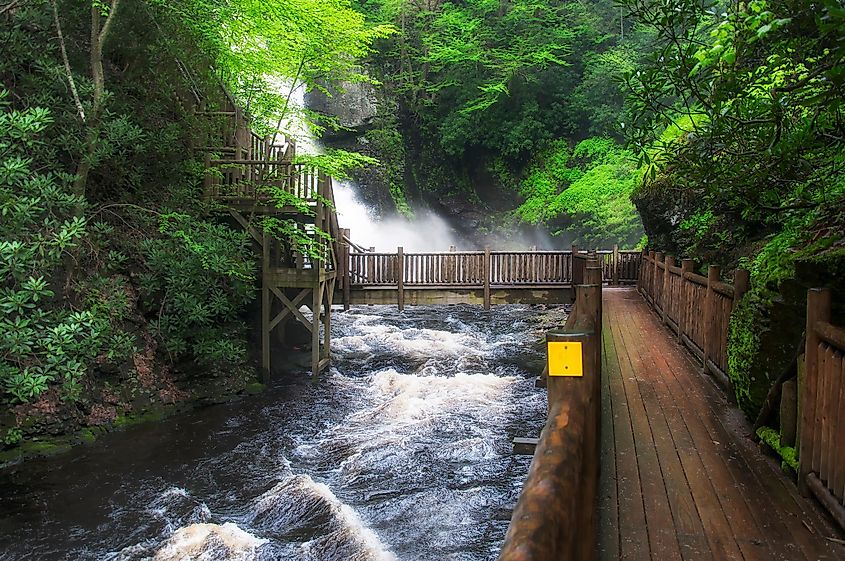 If beautiful waterfalls entice you, add Bushkill to your travel bucket list. The friendly town is home to "The Niagara of Pennsylvania", also known as Bushkill Falls, a breathtaking collection of 8 waterfalls. Nature enthusiasts of all hiking abilities can bask in the beauty of these natural wonders, making it a great place for families and less experienced hikers. The Main Falls (whose waters fall from a 100-foot cliff) can be easily accessed from the main observation deck, while more complicated trails offer different angles of the other cascades. The Red Trail, for example, is better for more experienced hikers, taking people an average of 2 miles to complete with the reward of all eight waterfalls. 
But Bushkill's outdoor adventure does not end with its waterfalls. The town also acts as a gateway to the Delaware Water Gap National Recreation Area, whose 70,000 protected acres encompass 40 miles of the Delaware River. Hike the forested mountains during the summer and cross-country ski in the winter on trails like the McDade path on River Road. Like Dingmans Ferry, nature lovers will want to extend their stay in Bushkill, and thankfully, there are a ton of great accommodation options nearby. Echo Valley Cottages offers a more secluded and peaceful stay just 10 minutes from town, while places like Deerfield Inn Poconos are a little further (about a 14-minute drive) and offer a tranquil bed and breakfast-style experience. Back in town, you can end the night with a show at Poconos Park, a 10,000-seat amphitheater hosting a range of world-class performers.
Honesdale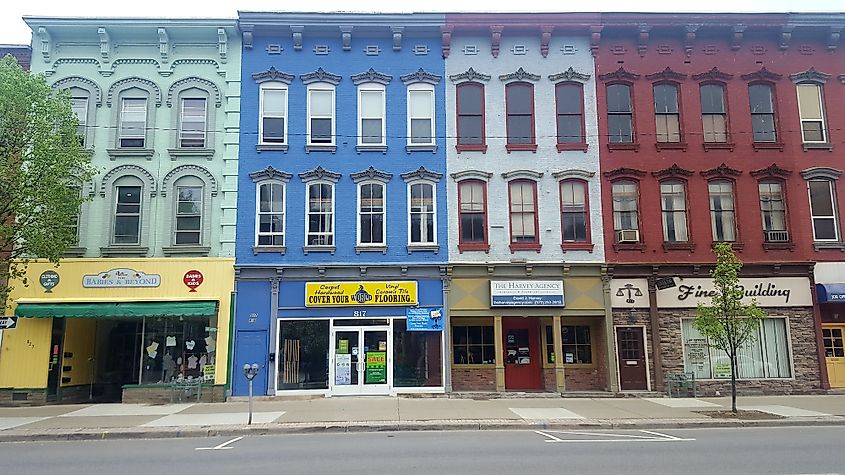 For a trip centered around Poconos history and old town charm, Honesdale offers a celebration of America's rich railroad past. The town is known as the "Birthplace of the American Railroad" after it welcomed the country's first-ever steam locomotive in 1829. This appreciation for the tracks still thrives today, with fabulous attractions like The Stourbridge Line, whose scenic passenger train rides take you on a journey through the winding mountains. Sit back in vintage railroad coaches and enjoy the passing landscapes. Themed train rides are offered from Presidents' Day through the holidays, including the Honesdale Christmas Tree Express. Hop aboard the heated train cars, sip complimentary hot chocolate, and enjoy visits with Santa at the main stop: the Christmas Tree Farm. Here, you can choose a tree for an additional cost, but the memories are priceless. 
Once you are back from the tracks, the historic Hotel Wayne is a great place to rest your head,  especially if places with a fascinating history are your cup of tea. And if Hotel Wayne's walls could talk, they would tell quite the story. It was originally built in 1827 before being reconstructed in 1895, so you can imagine the range of figures who have passed through. Its history is visible in the lobby's grand staircase, along with the original brick walls and tin ceiling in the dining hall. If you head to the 2nd floor, an antique balcony also offers a really pretty view of Main Street below. The hotel's location is also great for accessing all the nearby attractions, including the downtown historic district where other architectural gems (many dating back to the 1800's) can be spotted. Eclectic antique shops are another popular feature of the area, and a great way to sort through treasures from the past at places like Crazy Otto's Vintage or A Picker's Find.
Jim Thorpe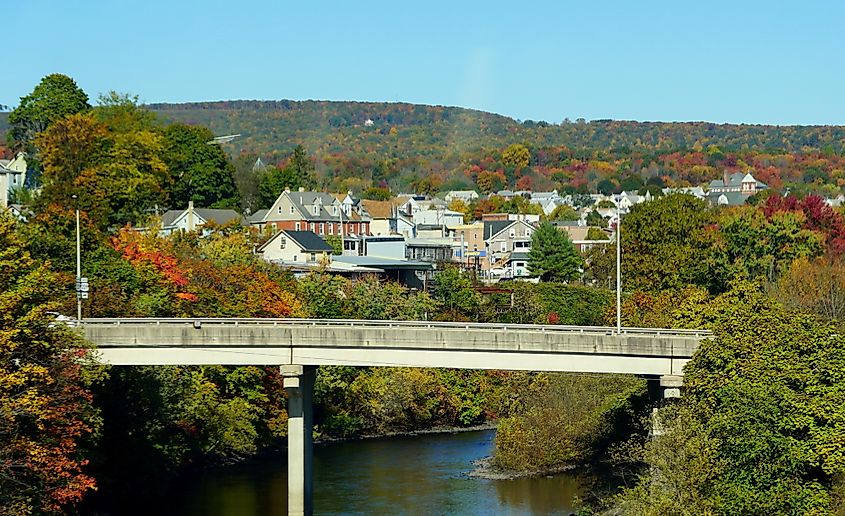 No list of underrated Poconos towns would be complete without the gorgeous Jim Thorpe, named after the world-famous athlete and Olympic gold medalist. Settled in the beautiful Lehigh Gorge, the town offers a gateway to outdoor adventure and historic charms. Whitewater Rafting Adventures offers a range of excitement just a short drive from town, making it a popular gateway for thrill-seekers. Ride the waters of the mighty Lehigh River or soar above Red Rock Cliff on their 900-foot-long zipline at 30 MPH.
Like Honesdale, historic train rides are all the rage in Jim Thorpe. Board a scenic train ride right from the heart of town for a 70-minute adventure through the Lehigh Gorge. The open-sided cars offer photo-perfect views of the passing forest, and the overhead views of the river are especially phenomenal. Back in Jim Thorpe, deboard and explore the historic town by foot. The 1800's Old Jail offers tours on weekends, and the historic Mauch Chunk Opera House has shows year-round. It was founded in 1881, making it one of the longest-running vaudeville theaters in the United States. But don't worry if opera is not your thing; musicians of all genres light up their stage. History lovers will also appreciate the town's range of historic bed and breakfasts, including the Dolan House B&B, which is right across from the opera house. A ton of other historical attractions are within walking distance, like the Mauch Chunk Museum & Cultural Center and Asa Packer Mansion Museum.
Milford 
The scenic town of Milford shares a similar vibe to Jim Thorpe, so if you are after a blend of outdoor recreation and historic attractions, this is another great place to take a trip. Its surrounding nature and historic downtown are enjoyed by many throughout the year, but the town is still vastly underrated. Begin your stay by checking into one of Milford's many historic hotels, like the Historic Dimmick Inn, one of Pennsylvania's oldest buildings and pubs. It originally opened in 1828, and the structure has truly seen it all. It has served as a hotel, saloon, pub, stagecoach stop, and even a post office, but today it serves as a comfortable inn with modern amenities while maintaining its historic roots. 
If you choose to rest your head here, you will also have the benefit of historic and natural attractions right in your backyard. The Columns Museum of the Pike County Historical Society is a 2 minute drive from the inn, and the Grey Towers National Historic Site is less than 5. This National Historic Landmark offers tours of the elegant French château-style mansion and grounds, which once belonged to Gifford Pinchot, the "Father of Forestry" (aka, the very first Chief of the US Forest Service). To appreciate Milford as "the birthplace of the American Conservation movement", a 2 minute drive (or 9 minute walk) from the inn will take you to the Milford Knob, a scenic hiking trail that ascends the Raymondskill Ridge. The hike is a bit steep so make sure to have good shoes with you, but the overlook offers a great view of the town and is well worth the climb.
Hawley 
Hawley, like most other Poconos towns, lures people from all over with the promise of a picturesque nature getaway. In this case, the town offers access to the third-largest artificial lake in Pennsylvania, making it a hotspot for water recreation and lazy lake days. Hawley sits at the northernmost end of Lake Wallenpaupack, whose 13-mile length and 52-mile shoreline are some of the main reasons so many are drawn to this quaint town. Boating, fishing, swimming and any water sport you could imagine are popular here in the summer months, but the lake's tranquil beauty is enjoyed throughout every season. From mid-June through Labor Day, you can book a lake cruise or ride solo with Wallenpaupack Scenic Boat Tours and Rentals.
While the lake definitely anchors Hawley, a deeper look will show that this historic town is more than its waters. A drive or stroll through town is easy on the eyes, the streets lined with century-old homes and structures. The historic Hawley Silk Mill (built in 1880) is the largest bluestone building in the world, and ran silk production up until 1956. Today, it has been repurposed to house a collection of charming businesses, cafes, and galleries. Stop in at places like Mountain Laurel Pilates, Cocoon Coffee House & Bakery, and the Looking Glass Art Gallery, whether you are hoping to get in a quick sweat, a refreshing brew, or an afternoon of culture. 
If repurposed historic buildings enchant you, consider staying at the Ledges Hotel, just 1 minute from the old Silk Mill. This Hawley hotel is another bluestone building that was originally constructed back in 1890 as a glass manufacturing factory. Now, the hotel is one of Hawley's most sought-after stays. Its views overlooking Paupack Falls are out of this world, and there are several other glorious waterfalls in the area that can be toured through the Spring Waterfall Tour Lodging Package. Two waterfalls in the package are nestled in other nearby towns on this list (Dingmans Ferry and Milford) each respectively owning the second and first highest waterfalls in the state: Dingmans Falls (over 130-feet-tall), and Raymondskill Falls, (over 150-feet-tall).
Whether spending the night in a fairytale cottage or a historic hotel, the accommodation options are half the fun in these Poconos towns. But as tempting as it may be to spend all your time in these magnificent temporary homes, adventure awaits beyond their walls. Explore Tobyhanna's vibrant hiking paths to take in the open mountain air, or enjoy the Poconos landscape from Honesdale on a railroad adventure. Make your way to Jim Thorpe, Milford, or Hawley to experience charming historic districts with outdoor recreation right in your backyard. These seven small towns may be underrated, but their landscapes and attractions are world-class.