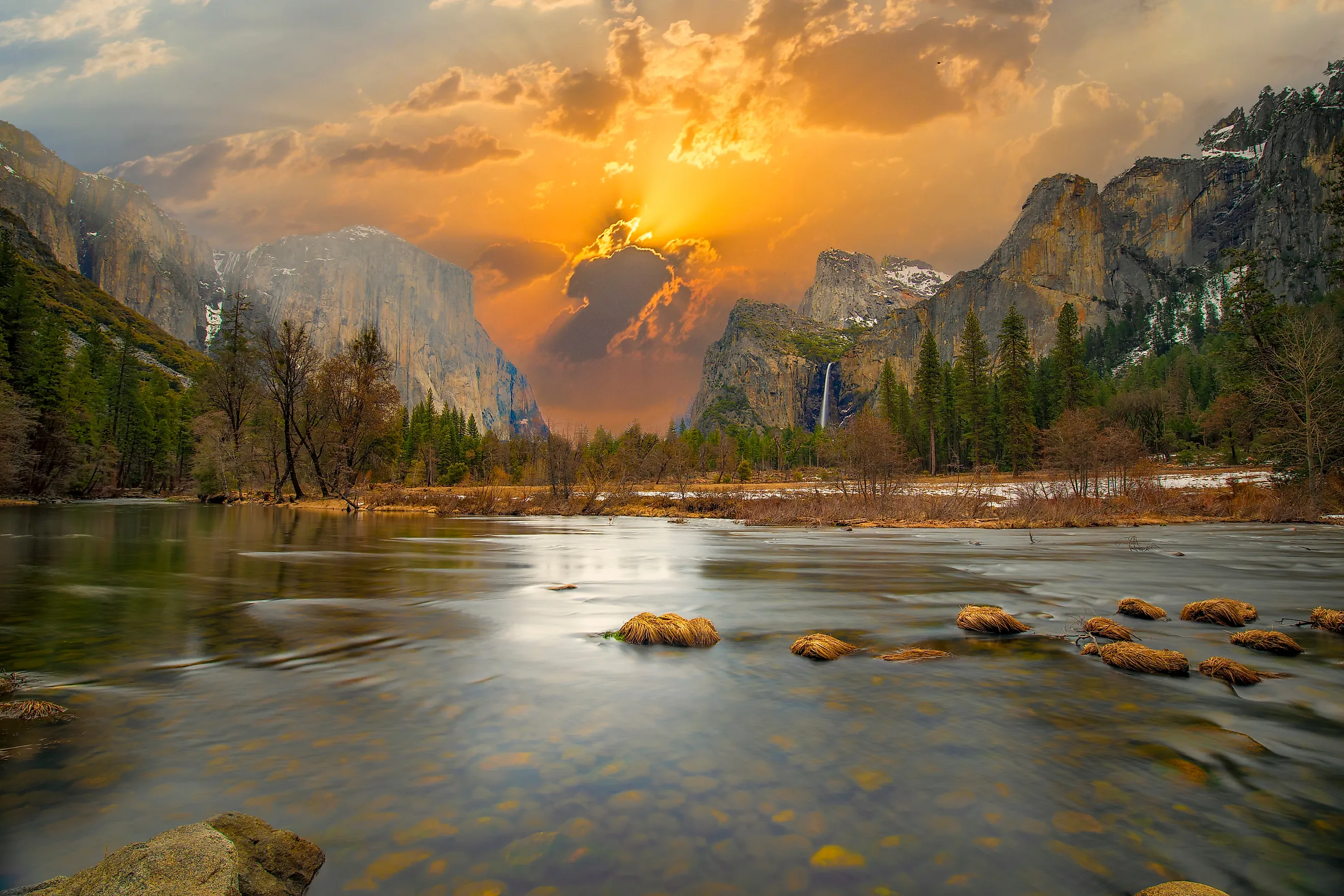 9 Most Beautiful Rivers in California
California is renowned for its magnificent rivers and rolling hills, scenic waterfalls, and lush vegetation, forming an awe-inspiring landscape. These natural wonders draw visitors from near and far, especially outdoor enthusiasts and nature lovers who flock to the rivers for a range of recreational activities, such as fishing, kayaking, and hiking. For those who wish to truly appreciate the beauty of California's rivers, it is worth taking a closer look at the state's most beautiful rivers. Each river has its unique attributes, including stunning scenery and a range of recreational opportunities. Whether you're an experienced river-goer or a nature lover looking for a new adventure, California's rivers are an experience not to be missed.
American River 
The American River, located in Northern California, is a prized natural wonder. The river runs 30 miles from the Sierra Nevada Mountains to downtown Sacramento where it merges with the Sacramento River.
Its winding path through the mountains offers a lush green landscape for outdoor enthusiasts to explore. The river played a significant role in the California Gold Rush and still attracts visitors with clean and clear waters ideal for swimming, kayaking, and fishing. Along the river's winding path, an array of wildlife, including vibrant species in their natural habitats, can be found. Over 40 native and non-native fish species inhabit this river, while its basin is home to many other animals like deer, coyotes, raccoons, and over 100 bird species. 
The American River also features several awe-inspiring waterfalls, offering breathtaking views and a serene atmosphere for picnics or quiet moments in nature. The river is protected under the California Wild and Scenic Rivers Act, ensuring preservation for future generations. The American River, with its natural beauty, is the perfect destination for nature lovers seeking adventure and outdoor enthusiasts looking for a peaceful escape. The river provides an opportunity to reconnect with the beauty of the natural world.
Eel River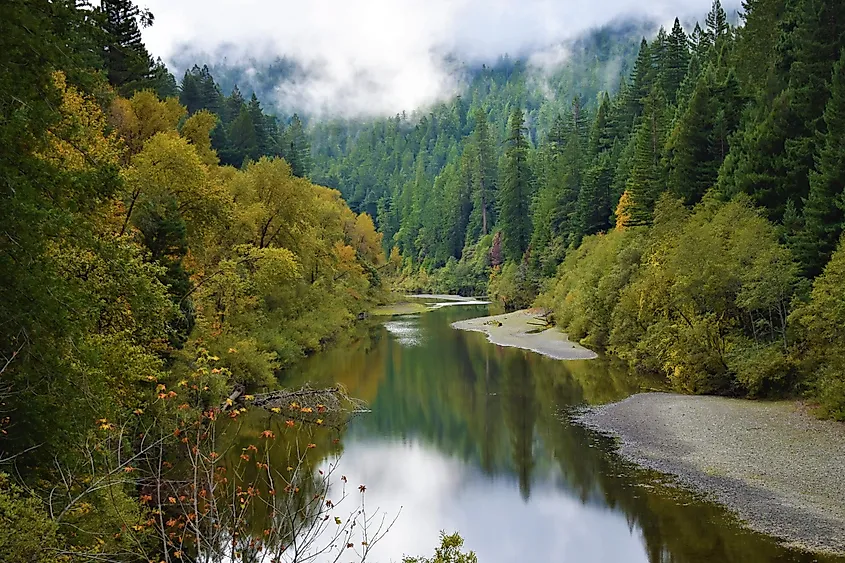 The Eel River, one of the largest rivers in California, boasts diverse habitats and abundant wildlife, making it a prime destination for nature lovers. The river, which originates in the Mendocino National Forest in northwestern California, winds its way through rolling hills and wine country before reaching the Pacific Ocean. Its crystal-clear waters are a haven for activities such as fishing, swimming, and kayaking, and its lush vegetation and diverse wildlife offer a plethora of opportunities for birdwatching and wildlife viewing. Observing an array of species, including unique birds, mammals, and fish, in their natural habitats is a must-see for visitors.
The Eel River is a major water source, recharging the groundwater basins that support agriculture, municipal and domestic water supplies, and it is home to an abundant population of salmon. The Eel River's mainstem is approximately 200 miles long and connects to four tributaries: the Van Duzen River, North Fork, Middle Fork and South Fork. Whether you're an avid fisherman, a wildlife enthusiast, or simply seeking a break from the hustle and bustle of city life, the Eel River provides the perfect opportunity to immerse yourself in the beauty of the natural world.
Merced River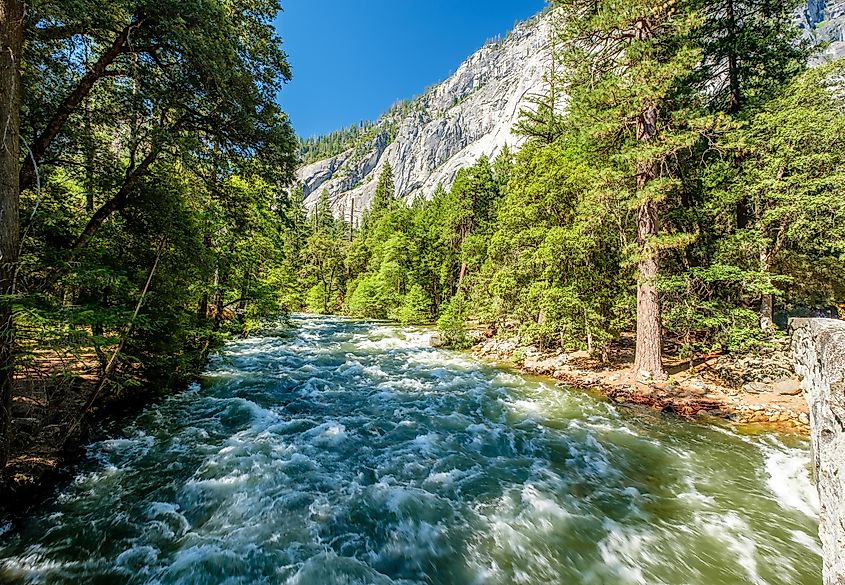 The Merced River is a prime example of California's stunning natural beauty and diversity. This 145-mile-long river is a tributary of the San Joaquin River. It traces its headwaters to the Sierra Nevada Mountains, from where it flows into the San Joaquin Valley. On its way, it passes through Yosemite National Park, showcasing breathtaking views of iconic landmarks such as Half Dome and Yosemite Falls. 
The river offers diverse recreational activities such as kayaking, fishing, and rafting, allowing visitors to experience the beauty of the river and the surrounding landscapes. Wildlife viewing is also a popular activity, providing visitors the chance to observe black bears, deer, and coyotes in their natural habitats. The Merced River also plays an important role in ecological restoration, providing water to the Merced Irrigation District and supporting the native fish species salmon and steelhead. With its stunning scenery, diverse recreational opportunities, and importance to the ecosystem, the Merced River is an essential destination for those seeking an intimate connection with the natural world.
Sacramento River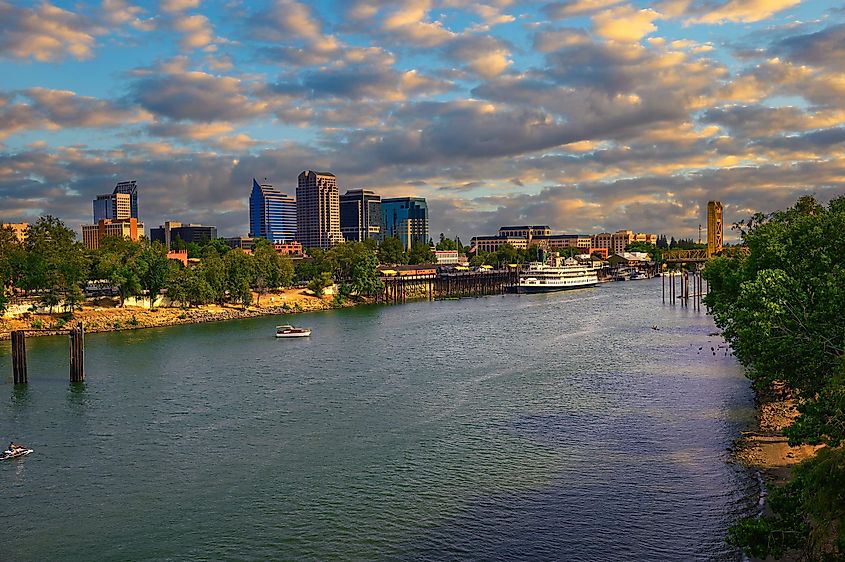 The Sacramento River, one of California's most precious natural wonders, winds its way through the state with majestic grace and undeniable beauty. From its source in northern California's Klamath Mountains near Mount Shasta, it stretches over 400 miles, flowing through rolling hills, verdant farmlands, and towering mountains, offering breathtaking views at every turn. The river ends in Suisun Bay, San Francisco Bay's northern arm, forming a common delta with the San Joaquin River.
With its crystal-clear waters and clean air, the river provides the perfect setting for outdoor enthusiasts who love to fish, boat, kayak, or simply enjoy scenic walks along its banks. Additionally, the Sacramento River is the largest source of freshwater in California, making it a vital resource for agriculture, commerce, and domestic water supplies. The river's abundant wildlife and diverse habitats also make it a must-visit destination for nature lovers and birdwatchers. Along its banks, visitors can spot an array of bird species and other animals in their natural habitats, including some endangered species. Whether you're seeking a peaceful escape from city life, a new adventure in the great outdoors, or just a chance to connect with the beauty of nature, the Sacramento River is the perfect destination to fulfill your desires.
San Joaquin River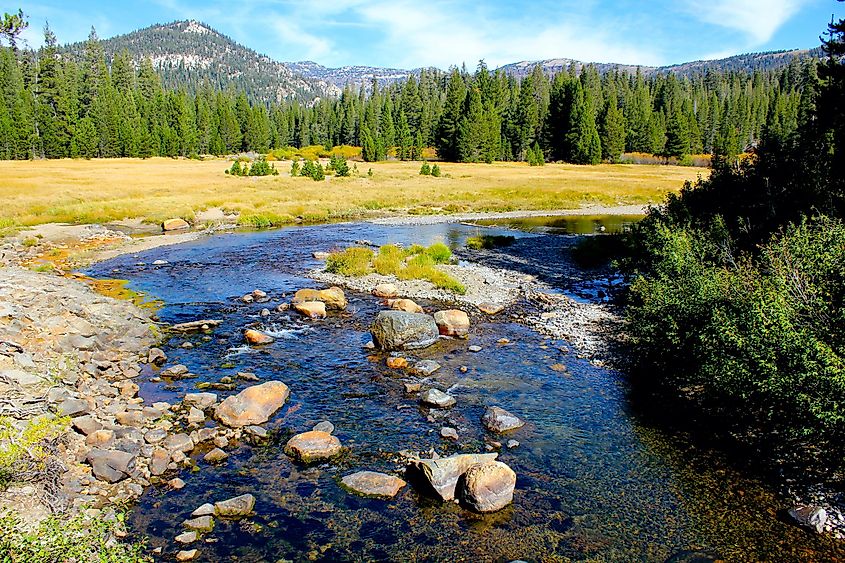 The San Joaquin River, an essential water source in California, boasts not only its crucial role in agriculture and hydroelectric power generation but also its scenic beauty and rich wildlife.The river that starts in the Sierra Nevada flows through the lush Central Valley, providing a vital water source for the area's thriving agriculture while also offering a range of recreational opportunities. Fishermen, kayakers, and rafters flock to the river for its abundant opportunities for outdoor activities, while nature lovers are drawn to the diverse wildlife, including majestic bald eagles, powerful ospreys, and playful river otters.
After flowing for 366 miles, the river drains join the Sacramento River to form a common delta before draining into Suisun Bay. The San Joaquin River is a destination not to be missed, offering a unique blend of natural beauty, recreation, and human-made resources. Its reputation as a crucial hub of commerce and industry, combined with its role as a vital Pacific salmon fishery, make it an integral part of California's history and landscape.
Klamath River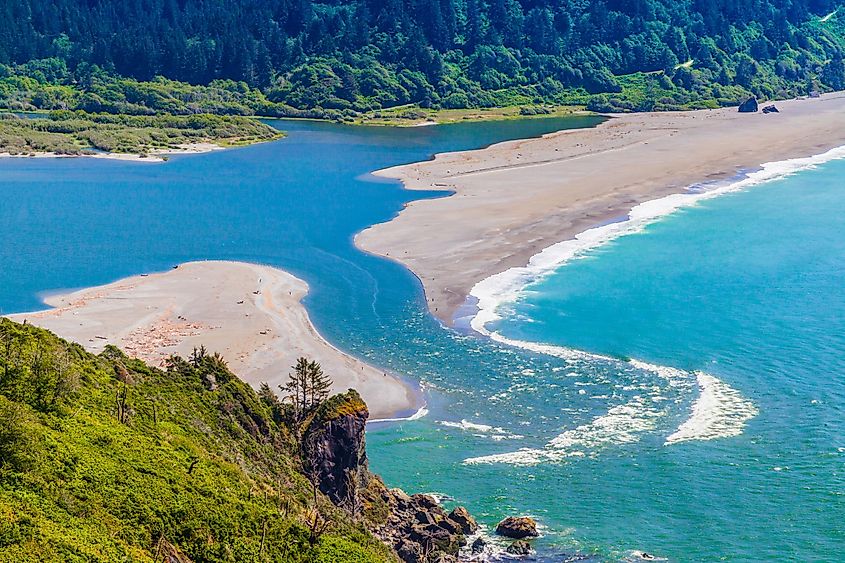 The Klamath River, with its remote and pristine surroundings, provides a breathtaking and unforgettable experience for those who visit. This river, one of California's most iconic, winds its way through the scenic Klamath Mountains and offers visitors a wealth of recreational opportunities. It flows for 257 miles from Oregon to northern California to drain into the Pacific Ocean. From fishing and kayaking to hiking and wildlife viewing, the Klamath River is the perfect destination for outdoor enthusiasts and nature lovers. The diverse array of species that call the river home, including black bears, elk, and bald eagles, add to the river's allure, making it a prime location for wildlife observation and appreciation.
Visitors will also have the opportunity to experience the rich cultural heritage of the Native American tribes with a long-standing presence along the Klamath River, adding to its historical significance. Despite its remote location, the Klamath River is renowned for its crystal-clear waters, providing a perfect setting for activities like swimming, rafting, and tubing. The stunning scenery, diverse wildlife, and rich cultural heritage of the Klamath River make it a must-visit destination in California. However, the river also faces challenges, including the impact of hydroelectric power generation on endangered species and the importance of preserving the unique and fragile ecosystem of the Klamath River.
Trinity River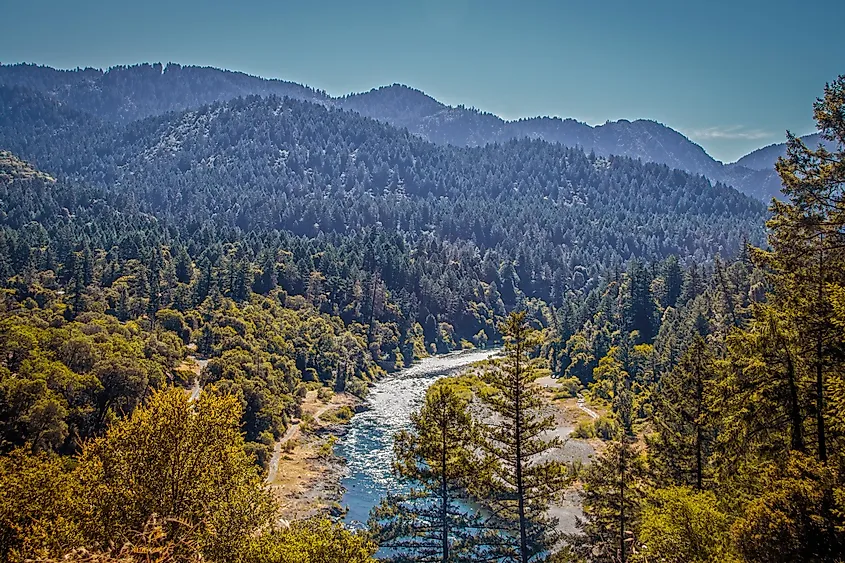 The Trinity River, a major tributary of the Klamath River in Northern California, offers a spectacular setting for outdoor enthusiasts to enjoy. Surrounded by the majestic Trinity Alps, the 165-mile-long river provides a stunning backdrop for activities like fishing, kayaking, and picnicking. The river's clear waters support a wide variety of wildlife, making it a popular destination for nature lovers. In addition to its recreational opportunities, the Trinity River is also home to a thriving salmon and steelhead fishery. These species are an important part of the river's ecosystem and support both commercial and sport fishing. However, this fishery faces challenges due to environmental perturbations such as water diversions, habitat degradation, and overfishing.
One of the biggest threats to the Trinity River and its fishery is the Trinity Dam, which diverts water from the river for use in Central and Southern California. The dam and its associated water diversions have dramatically altered the river's flow and temperature patterns, reducing habitat quality for salmon, steelhead, and other aquatic species. Despite these challenges, the Trinity River remains one of California's most beautiful and ecologically rich rivers. Visitors are encouraged to experience its beauty, learn about its unique ecosystem, and help protect its fragile environment for future generations to enjoy.
Kings River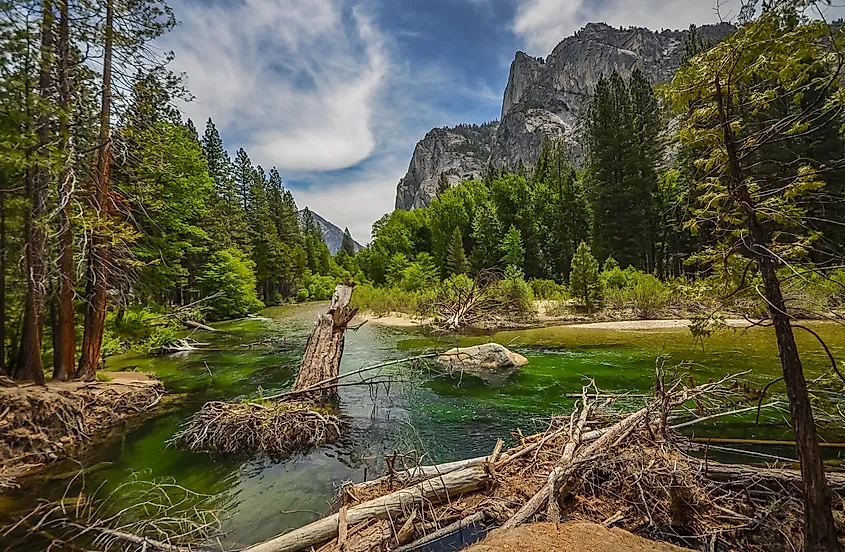 The Kings River in the Central Valley of California offers visitors a chance to explore its scenic beauty and abundant recreational opportunities. This 132.9-mile-long river originates in the Sierra Nevada Range and flows along the Kings Canyon National Park, where it forms the deep river gorge of the Kings Canyon. It then flows through the San Joaquin Valley to divide into several branches in Kings Country, with most joining the San Joaquin River and some water feeding into the Tulare Lake.
With its winding path through rolling hills and fertile farmlands, the river presents breathtaking views that are perfect for outdoor activities such as fishing, rafting, and taking in the scenery. As visitors traverse the river, they will have the opportunity to observe a diverse range of wildlife, including black bears, deer, and coyotes, which call the banks of the Kings River their home. This rich and thriving ecosystem is a testament to the beauty and diversity of the river. The Kings River starts its journey in the glacial lakes of the High Sierra and offers a range of experiences for visitors to choose from, including adventure and relaxation in nature. With its clear waters and stunning landscapes, the river invites all to pack their gear and embark on a journey through nature, immersing in the tranquility of the environment and creating memories that will last a lifetime.
Feather River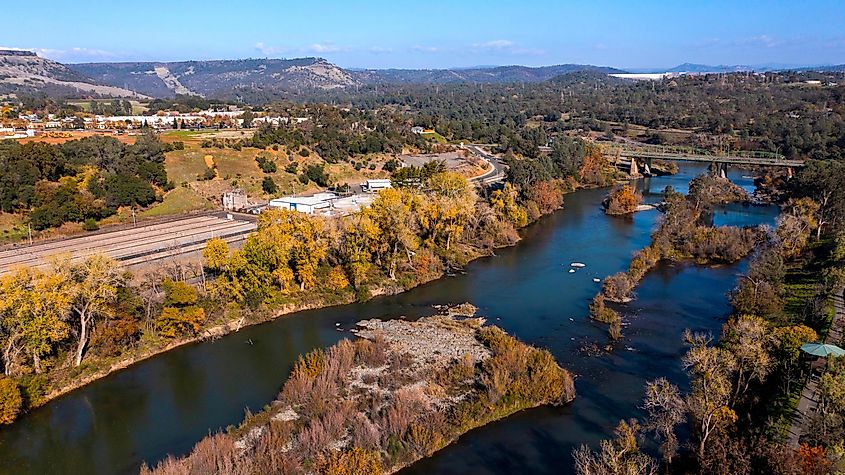 The Feather River, located in Northern California, invites exploration for outdoor recreation and adventure. The river winds through the magnificent Sierra Nevada Mountains and presents stunning views, offering an array of activities for all levels of adventure seekers, including fishing for trout in its crystal-clear waters, kayaking through rapids, and rafting down its calm stretches. The river's main stem rises in Lake Oroville, from where it flows for 73 miles to join the Sacramento River.
The lush vegetation along the river's banks and diverse wildlife, such as bald eagles, river otters, and beavers, add to the natural beauty and make the Feather River a prime destination for nature lovers. Don't miss the chance to immerse in the great outdoors, take in the scenery, and create unforgettable memories. The Feather River has formed valleys and is part of the national wild and scenic rivers system. It is the perfect place to escape the hustle and bustle of daily life and explore the beauty and tranquility of nature.
California boasts some of the most magnificent rivers in the country, offering a wealth of opportunities for nature lovers and outdoor enthusiasts. These nine beautiful rivers captivate visitors with their stunning scenery, plentiful recreational activities, and diverse wildlife. From fishing to kayaking and hiking, these rivers cater to all interests. Don't miss out on the chance to explore and experience the beauty of these magnificent rivers. Whether you're searching for an outdoor adventure or simply want to take in scenic views, California's rivers offer something for everyone. Embark on an unforgettable journey and discover the beauty of these California gems.